Editor's Note: Mary E. Lovely is a professor of economics at Syracuse University and non-resident senior fellow at the Peterson Institute for International Economics. The opinions expressed in this commentary are her own.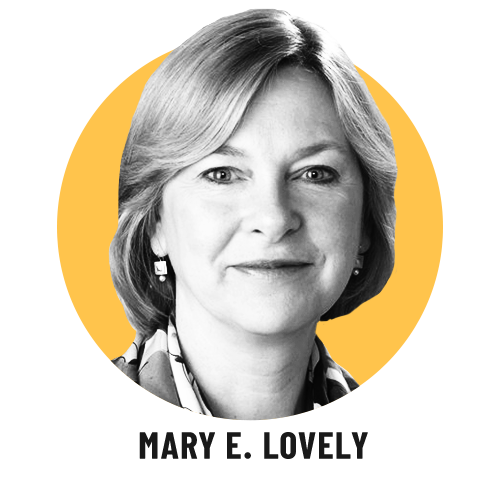 In a sign of how far down the wrong road he has gone, President Donald Trump threatened new tariffs on Chinese imports last week. That move spurred China to halt all purchases of US farm products, and to allow the yuan to fall below a key benchmark value, making its exports more affordable in the United States.
President Trump's decision to levy a 10% tariff on another $300 billion of imports from China will do additional harm to US consumers, producers and workers. This new bundle of taxes falls heavily on final goods, such as clothing, shoes, household goods and baby products. If the tariffs start on September 1st, as suggested by the president's tweet, shoppers will see the impact immediately, as they begin their back-to-school shopping.
The resulting higher prices are likely to be unpopular with American families, especially low and middle-income households, which spend a larger share of their incomes on traded goods than wealthier households. Import taxes thus reduce their real incomes by a larger proportion.
Trump's move reflects anger over his inability to regain agricultural markets lost in previous rounds of his trade war. The USDA recently lowered its forecast for 2019 US agricultural exports, citing lower demand from China and weakening prices. Farm bankruptcies have risen, despite the distribution of emergency aid to farmers, and the administration has found it difficult to locate alternative markets for American grains and meats.
The pain of Trump's trade war is not confined to farm country. Recent research from the National Bureau of Economic Research finds that revenue generated by tariffs levied in 2018 came from the pockets of American buyers, not Chinese suppliers, even as import and export volumes decline. A second major study confirms that the 2018 tariffs were completely passed through to higher prices for American importers. The study also identified workers in heavily Republican counties as those most negatively affected by the trade war, largely due to foreign retaliation aimed at US agricultural exporters.
While the latest round of China tariffs will hit consumer goods largely spared in earlier rounds, computers and electronic products make up almost half of the imports that will be newly taxed, according to my own analysis of US Census and USTR data. Let that sink in: About half of the new tariff revenue probably will come from Americans paying more for investments in information technologies, including laptop computers and iPhones.
More Markets & Economy Perspectives
Some tech companies are already responding to earlier tariff rounds by moving production away from China to other locations, especially in East Asia. Google and Nintendo are reportedly looking to move production outside of China. While this disruption to supply chains certainly hurts China, it also hurts American consumers and producers who alone will face higher prices for goods not produced domestically.
China is the final exporter of many IT products (which contain substantial value added by US manufacturers, such as Apple, Intel and Micron) and switching to non-Chinese assemblers will be slow and costly. In the meantime, Americans trying to keep pace with rapidly evolving technology will face higher prices and many may choose not to upgrade or invest in new equipment.
US factories, which have largely ceased adding new workers, also will be hit again with higher costs for parts and equipment sourced from China, such as electric motors used in recreational boats. As manufacturer after manufacturer testified during public hearings on the proposed tariffs in May, higher prices for imported parts reduce their ability to sell competitively both in the United States and abroad. Many US-based companies also stated that there is no domestic source for the parts they now import. Since both industrial and manufacturing production registered negative 2.2% annualized growth in the first quarter of 2019, despite overall growth in the US economy, the newest round of China tariffs adds more drag to a sector that is already sagging.
Rather than pushing China to reform its industrial subsidies and end alleged technology theft, the Trump administration persists in reducing the competitiveness of American factories, taxing American households and closing markets for American farmers. The latest expansion of Trump's trade war with China will bring more pain and no gain.