(CNN) —
The Texas and American flags at the MacArthur School in El Paso, Texas, fluttered at half-staff, signaling a state and a nation in mourning.
A "Looking for Family or Friend" sign hangs above the front doors of the elementary-intermediate school. Inside, family and friends await news of loved ones they haven't seen since a gunman went on a rampage at a Walmart on Saturday, killing 20 people and wounding at least 26.
This is the place authorities designated as a reunification center in the hours after the shooting, a place for people to find one another after the chaos saw people run for their lives – and, in so many cases, becoming separated.
On Sunday, it was the place where many found out a loved one was killed or wounded.
Most people who walk in and out of the school don't want to talk. When asked if they would like to share their story, they wipe away tears and say no.
Outside the building, near the marquee reminding parents to register children for school, a group of people sobbed and hugged one another.
A woman who did not want to disclose her name said she was visiting with a friend who was told her loved one had died and was waiting to learn where she needed to go to identify the body.
Still others came to the school to get information because they didn't know where else to go.
Erika Contreras, 29, said she went to the school to ask about retrieving her car from the Walmart parking lot. Authorities told her it is part of a crime scene and she would have to wait.
Contreras was at the Walmart, like so many, to buy back-to-school supplies for her 7-year-old daughter, who was with her. Contreras'$2 70-year-old mother was also there, she said.
She says that's when she heard what she said sounded at first like clapping. Then, she says, she saw a large crowd of people running towards them. And beyond the rush of people, she says she saw a gunman wearing protective ear wear.
"It was chaos. You could see people on the floor that had gotten hit," she said.
That's when they ran, escaping out of the back of the store, Contreras said.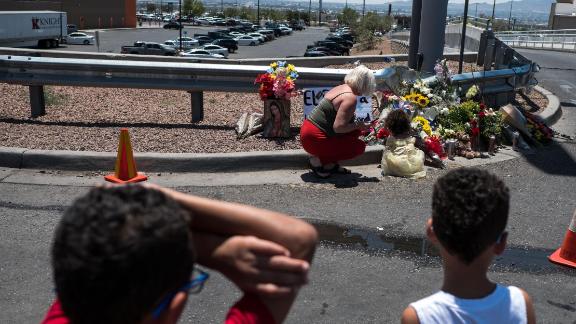 The aftermath of the shooting has been difficult for the Contreras family. Contreras' daughter can't stop crying.
"She couldn't breathe. She was hyperventilating. She was crying and crying," Contreras said, crying as she recounted the story.
After church on Sunday, she said she went to another Walmart in another area of El Paso to finish her daughter's school shopping. She was nervous the whole time, looking back over her shoulder.
"We have to continue," she said.
Still, she worries about her daughter, who is scheduled to begin second grade next week in the school that has been doubling as a reunification center.
"I'm praying to God she can overcome it," Contreras said.
CNN's Rosa Flores reported from El Paso, and Chelsea J. Carter wrote from Atlanta.