Watch the Democratic presidential debates on CNN and CNNGo at 8 p.m. ET on Wednesday, July 31.
The drama on night two of CNN's presidential debate starts at center stage on Wednesday.
In the Democratic debate's first night, the race's two leading progressives, Massachusetts Sen. Elizabeth Warren and Vermont Sen. Bernie Sanders, commanded the stage, beating back attacks from moderates who were clamoring for attention to boost their low-polling campaigns. The dynamics will shift Wednesday, with former Vice President Joe Biden and California Sen. Kamala Harris at center stage and progressive agitators like New York City Mayor Bill de Blasio and Washington Gov. Jay Inslee on the stage's outer edges trying to make their marks.
Biden will be sandwiched between his two fiercest critics in the party's 2020 Democratic primary field: Harris and New Jersey Sen. Cory Booker. The two black senators have both sharply criticized Biden over racial issues in recent weeks.
Harris stole the show in the first debate when she went after Biden over his early-career opposition to federally mandated busing. Booker has said – again and again – that he plans to confront Biden over his role in the passage of the 1994 crime bill, which included policies that played a role in mass incarceration.
Other candidates who desperately need breakout moments to lift themselves out of the low-single digits and into contention – such as former Housing and Urban Development Secretary Julián Castro, New York Sen. Kirsten Gillibrand and Hawaii Rep. Tulsi Gabbard – are wild cards.
Here's what to watch in Wednesday night's debate:
1. Who goes at Biden first?
Sanders: Biden 'disingenuous' about Medicare for All
It took until the second hour at the first primary debate last month for Harris to launch her broadside against Biden. And it paid off: She rocketed into the top tier of Democrats in the polls and saw an uptick in donations.
But her opening to go after the former vice president was really just the luck of the draw: With 20 candidates divided into two nights, Harris got a shot at Biden, while others – including Booker – had gone the previous night.
Booker, who has struggled with single-digit polling numbers, needs a boost similar to the one Harris got.
He hasn't been shy about his intentions to criticize Biden's record. In a statement after Biden released his criminal justice reform plan last week, Booker said, "Joe Biden had more than 40 years to get this right. The proud architect of a failed system is not the right person to fix it."
But Biden also must be wary of other candidates who could try to make their marks by attacking him as too moderate. One to watch: Washington Gov. Jay Inslee, who has said Biden's proposals on climate change "lack teeth." De Blasio also showed in the first debate that he is eager to interject – particularly when he sees openings to lambast the private insurance industry, which Biden has argued in favor of keeping in place in a prominent role in his health care plan, which largely builds on Obamacare.
2. Biden on the attack
The former vice president entered the race hoping to stay focused on showing voters how he would take on President Donald Trump. But the realities of a competitive Democratic primary have caught up to him, and now Biden is signaling he's ready to brawl.
"I'm not going to be as polite this time," he said at a fundraiser in Detroit last week.
He previewed lines of attack against both Harris and Booker on the campaign trail in recent days.
He criticized Booker over the Newark police department's practices while the senator was mayor. "His police department was stopping and frisking people, mostly African-American men," Biden said, adding that Booker "objected to federal interference" at the time.
Biden also cast Harris – who supports "Medicare for All," a proposal to ditch private insurance in favor of a single-payer, government-funded system – as being less honest than Sanders about its costs after Harris said that unlike the Vermont senator, she would implement Medicare for All without increasing middle class taxes.
"Come on. I mean, what is this? Is this a fantasy world here?" Biden told reporters after a campaign stop in Dearborn, Michigan.
Harris on Monday rolled out her own health care proposal, which would essentially be Medicare Advantage for All: Using private insurance as the vehicle to cover everyone through the program, and funding it through a tax on stock trades.
Biden deputy campaign manager Kate Bedingfield previewed Biden's line of attack against the Harris plan in a statement, saying Harris' plan amounts to a "Bernie Sanders-lite Medicare for All and a refusal to be straight with the American middle class."
3. Will Harris be put on defense?
Sanders: Harris' plan is not 'Medicare for All'
Harris' climb in the polls has largely taken place since the last debate, which means Wednesday night will be the first time she'll step on stage as an obstacle other candidates need to take down.
Gabbard was critical of her on foreign policy. Biden has taken shots at the former California attorney general on health care.
Harris' rollout of her health care plan means she now has something to point to as she faces questions she has struggled with in recent months about how she'd maintain a role for private insurance while shifting to a Medicare for All system. But it also gives ammunition to her opponents, including Biden, whose campaign argues there is no feasible way to pay for Harris' plan without increasing middle-class taxes.
Harris' plan seeks to strike a middle ground between the most progressive and moderate proposals in the Democratic race, but being in the middle means she could face fire from all sides on the debate stage.
4. Can Castro make another move?
Castro: Beto feud about 'policy' not 'personality'
Castro seemed to win the battle of the Texans in the first round, knocking former Texas Rep. Beto O'Rourke off course with a surprise attack from the left on immigration.
The exchange with O'Rourke didn't lift him out of the ranks of low-polling candidates. But it gave Castro a boost in media attention and fundraising – which could be reason enough to try again.
Quietly – and with a smaller staff than those polling at the front of the pack – Castro has amassed a voluminous set of policy proposals, giving him more material to draw from than many other candidates have.
He told reporters late last week that on issues like immigration and health care, the Democratic candidates "are going to, you know, exchange ideas" – a polite way of saying he expects clashes to come.
5. The Bennet-and-Yang buddy show
Biden won't be the only moderate voice on stage Wednesday night. Colorado Sen. Michael Bennet, who is positioned to viewers' left on the edge of the stage, has also chastised Democrats for proposals such as Medicare for All.
Bennet turned in a strong first debate, but is among the Democrats who need a boost to meet the 130,000-donor minimum qualification threshold for the third debate in September – and a breakout moment is an instant fundraising magnet.
Then there's Andrew Yang, the entrepreneur who is campaigning on universal basic income, his $1,000-a-month "freedom dividend" for all Americans. The two gently mocked media coverage of the run-up to the debate on Twitter Friday when they engaged in a satirical feud, with Yang tweeting that he "would like to signal to the press that I will be attacking Michael Bennet at next week's debate. Sorry @MichaelBennet but you know what you did." Bennet shot back: "Andrew, how did you know I got a C in precalculus in high school — on the retake."
Yang got only two questions and spoke the least in the first debate. But he has a committed online following, and he's ahead of some established Washington veterans in the polls. But for that outside-the-box appeal to catch on broadly, he needs to show what his "Yang Gang" sees to a national audience.
Could Bennet and Yang find a way to team up to produce a memorable moment?
6. Gabbard a wild card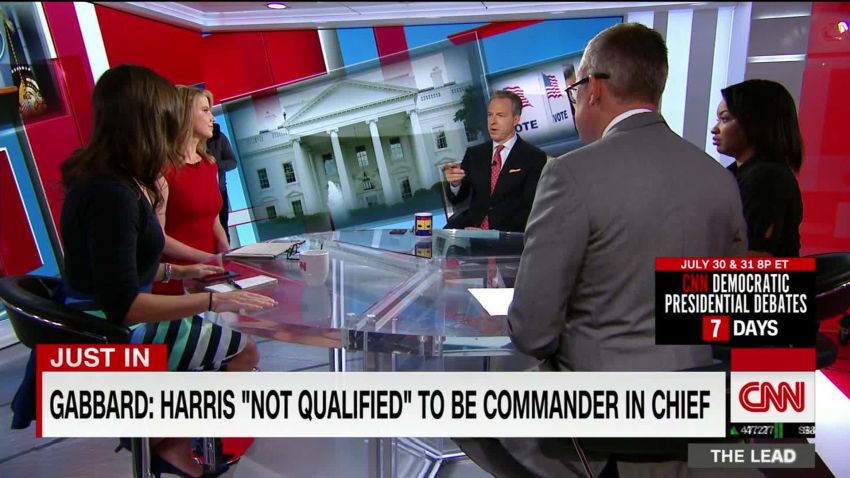 Tulsi Gabbard claims Kamala Harris is 'not qualified to serve as commander in chief'
Gabbard could have a different target than many other Democrats: Google.
She is suing the internet search giant for suspending her Google Ads account during the first debate, which her campaign alleged cost Gabbard a valuable opportunity to direct those who'd seen her on stage and wanted to learn more to her campaign website. It was no small matter: She was the most-searched candidate during the debate.
As Democrats such as Warren campaign on breaking up big tech firms, Gabbard's battle with Google could present an interesting opening.
She's also taken shots in recent days at Harris. Appearing on the podcast "The Coverage with Clay Travis," she said, "She has no background or experience in foreign policy and she lacks the temperament that is necessary for commander in chief."
Harris' communications director shot back on Twitter: "Definite hard pass on taking national security advice from Assad's cheerleader."