The British car industry has been written off before. It now faces its biggest challenge since the 1970s.
UK auto production dropped by a fifth in the first half of the year and investment plunged 70% as carmakers spent money on Brexit contingency plans instead of the technology they need to survive the disruption reshaping the global industry.
Falling global demand for cars meant less work for British factories and the 168,000 people they employ. But Britain's lurch towards the EU exit is also hurting output and costing hundreds of millions of dollars.
The dire figures from the UK Society of Motor Manufacturers and Traders come days after the group's CEO issued a stark warning to Prime Minister Boris Johnson: Leaving the European Union without a deal on October 31 could doom the British car industry.
"A no-deal Brexit presents an existential threat to our industry," Mike Hawes wrote in a letter to the new prime minister. "We are highly integrated with Europe, and a no-deal Brexit would result in huge tariff costs and disruption that would threaten production."
Carmakers have already spent £300 million ($365 million) to mitigate the risks from a disorderly exit, according to SMMT. That's more than three times the £90 million ($110 million) they invested in the first six months of the year. In recent years, annual investment has totaled £2.7 billion ($3.3 billion).
"Today's figures are the result of global instability compounded by ongoing fear of 'no deal'," Hawes said in a statement on Wednesday. "This fear is causing investment to stall, as hundreds of millions of pounds are diverted … money that would be better spent tackling technological and environmental challenges."
Production has declined for 13 consecutive months because of weak demand in key markets and temporary factory closures that were pulled forward in anticipation of Brexit.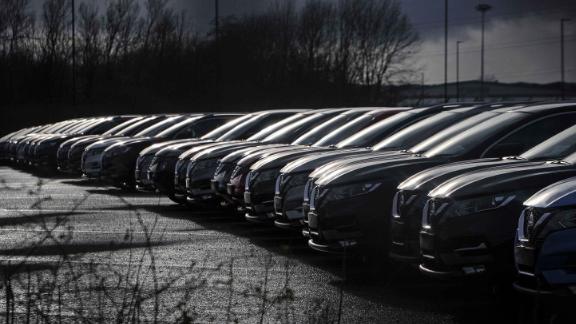 ANDY BUCHANAN/AFP//Getty Images
But that's nothing compared to disruption that would be caused if Johnson follows through on his threat to leave the European Union without a deal, ending tariff-free trade with a market that takes 57% of British car exports. That would snarl the supply chains that carmakers depend on, disrupt production and erode profit margins that are already razor thin.
According to SMMT, tariffs alone would cost £4.5 billion ($5.5 billion) a year. It estimates the industry would lose £50,000 ($63,300) a minute.
Saved by Japan
The UK carmaking industry has faced long odds before, only to be revived with help from savvy political maneuvering that convinced Japanese carmakers that they could use Britain as a base to sell cars into the European Union's vast unified market.
British brands struggled to compete with foreign rivals throughout the 1970s, when the industry produced cars of dubious quality and companies suffered from protracted battles with labor unions. Difficulties continued even after the industry was partly nationalized in 1975 under British Leyland, a company that was kept afloat with billions of pounds provided by taxpayers.