Miners on Tuesday blocked the tracks of a coal train in Kentucky for a second straight day as part of a standoff between a coal company that filed for bankruptcy and left nearly 400 workers without work and pay for a month.
The protest, which has remained peaceful, began Monday after a train was seen going onto property of Blackjewel, the mine operator that filed for bankruptcy without warning on July 1.
Word quickly spread through the community around Cumberland, a town of about 2,200 in Harlan County in southeastern Kentucky. Dozens of miners began showing up to block the tracks – angry that they mined the coal, but didn't get paid for the work.
"We're doing without money, food and everything else before our kids are starting back to school. We can't even get clothes or nothing else for them, so it was like a kick in the face," miner Chris Rowe told CNN affiliate WYMT. "That's basically what it was."
At one point, more than 100 people were at the scene. Miners occupied their time playing cornhole on the train tracks; other times, they took turns forming a human chain to make sure the train could not move.
A handwritten sign on a piece of cardboard read: "No pay we stay."
"We get our money, this load of coal that's on this train can go by," miner Shane Smith told WYMT. "But until then, there'll be no trains coming in, there'll be no trains going out,"
Kentucky Attorney General Andy Beshear said he was monitoring the situation and that he fully backed the miners.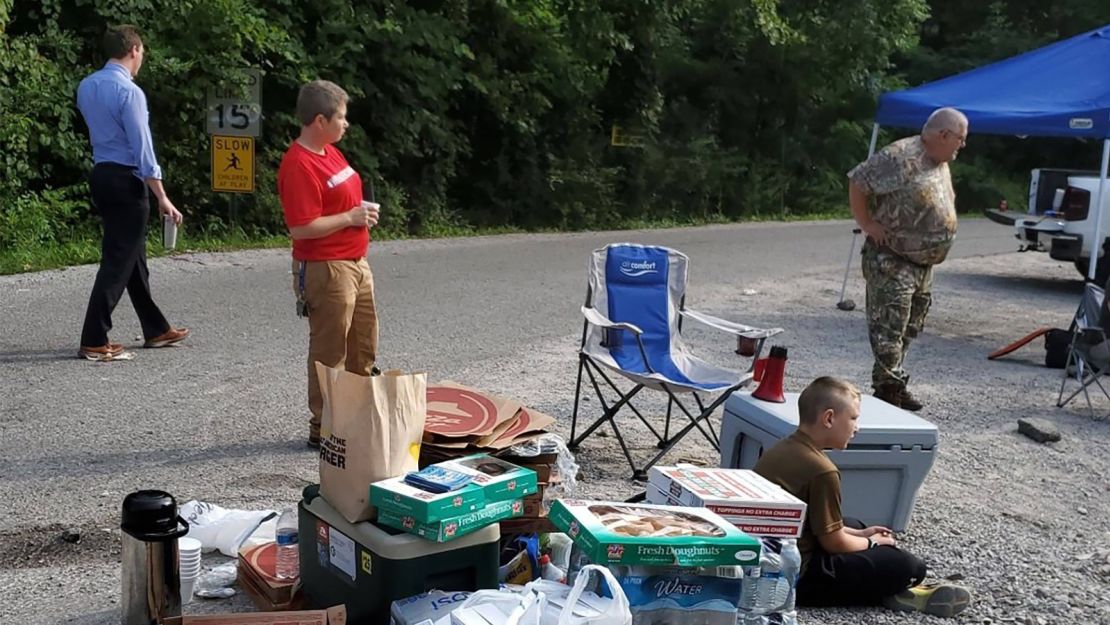 "Blackjewel failed to pay them for weeks of hard work and the way the company filed for bankruptcy prevents miners from accessing their 401ks, making it even harder for them to feed their families during this trying time," Beshear said. "What this company is doing to them is wrong – and I am doing everything I can through my office to help these families. Every Kentuckian should see their plight and support them."
CNN has been unable to reach Blackjewel for comment.
CSX, which owns the rail line, said it has taken "precautions to ensure the safety of our employees and hopes for a quick resolution."
Cumberland Mayor Charles Raleigh said the bankruptcy has forced an array of hardships on the miners, from them bouncing checks to losing health insurance.
"The miners can't draw unemployment because they technically were not fired and they didn't quit," the mayor said. "They can't get medical insurance, so they are stuck between a rock and a hard place."
He said the situation will grow more desperate as the miners begin their second month without pay. "The miners showed up one day and the gates were locked with no notice," the mayor said.
He said some protesters have traveled two to three hours to support "their brother miner." He said many members of the community were pitching in to support the miners by bring food, water and chairs.
"Why are they not entitled to get paid for the coal they mined?" Raleigh asked.
CNN's Wayne Drash contributed to this story.