Editor's Note: Michael Bennet is one of 10 presidential candidates taking part in a Democratic debate at 8 p.m. ET Wednesday, July 31, on CNN. Ten others will debate on Tuesday evening. Bennet is the senior US Senator for Colorado. The views expressed in this commentary are his own. View more opinion at CNN.
The chances of getting struck by lightning are one in a million. Our second daughter, Halina, was at the losing end of those odds while rock climbing in Wyoming. Just three months ago, we rushed our youngest daughter, Anne, to the hospital for an emergency appendectomy. And Caroline, our oldest daughter born six weeks premature, spent 21 days in the hospital before we could bring her home.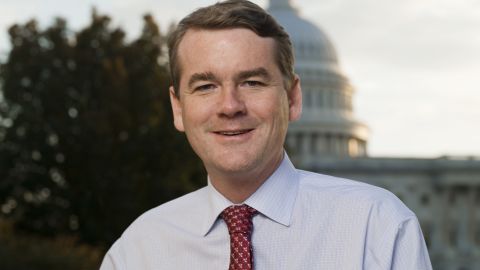 While our girls were sick, my wife Susan and I spent every second focused on their recovery. After all, there is almost nothing more alarming to a parent than a sick or injured child.
Too many parents have the added fear of knowing their family is a sickness away from bankruptcy or that a loved one may have to go without the care they need. Today, 28 million Americans have no health insurance. Forty percent of Americans say they don't have the money to cover a $400 emergency. In the most affluent country in history, this is a disgrace.
It is a moral imperative that we reach universal health care in America. But right now, we're headed in the opposite direction. President Donald Trump has made repeated efforts to repeal the Affordable Care Act, slash Medicaid and strip coverage from millions of Americans. This creates a historic opportunity for Democrats to unite the country around an agenda that actually delivers for the American people with universal health care and lower costs.
As president, I would build on the Affordable Care Act to cover everyone, rather than doing away with our current system. My Medicare-X plan gives every family the choice to buy an affordable public option or keep the plan they have today. It starts in rural areas, where there is very little competition and requires the federal government to negotiate drug prices. I have fought for this approach for almost a decade, because it is the most effective and fastest way to cover everyone and drive down costs.
I trust Americans to make their own health care choices, unlike many of the other candidates, who would impose a $32 trillion one-size-fits-all, government-run system on everyone.
It defies common sense to strip coverage from 180 million Americans by outlawing private insurance with Medicare for All. It is wrong to force every labor union in America to abandon the health plans they collectively bargained to secure. And it is unfair for more than 22 million seniors – half of all those on Medicare – to lose Medicare Advantage.
That is not only bad policy; it is terrible politics. To win the health care debate in 2020, as we did in 2018, we need a plan like Medicare-X that can find a broad coalition of support in key states, including Iowa, Colorado, North Carolina and Arizona.
When I think about the cost of our inaction on health care, my mind always returns to Jackson County, Colorado. When I was last there, I sat down with about 25 people. Only three had health insurance. One couple owned a restaurant with a bowling alley attached. They were working long hours but still couldn't afford health insurance. They also wanted to expand their business but couldn't hire anyone. They explained that new employees would lose their Medicaid.
Get our free weekly newsletter
Sign up for CNN Opinion's newsletter.
In other words, people who wanted to work couldn't because they'd lose coverage, and people who were working still didn't have coverage because they couldn't afford it. From any vantage point, this situation is ludicrous. Yet it is playing out across the country.
Slogans that light up Twitter may be useful in politics, but they are of no use to the people in Jackson County, or to the parents across our country who will stay up tonight hoping they won't have to mortgage their home if their child gets sick.
They need a president who will make progress on health care. That's why I'm running.