Mark Restivo says he brought in nearly $5,000 a month selling prescription drugs.
"I had to feed my habit as best I could. I was constantly buying and selling and using pills," the former New York police officer said.
"I went from a police officer to a drug dealer within a matter of months," Restivo, 39, explained. "I abused Adderall, cocaine, oxycodone, methadone and suboxone."
Restivo battled alcoholism and drug addiction long before becoming an officer, he says. He was just 14 when he had his first shot of vodka.
"Looking back, I was an alcoholic. I didn't drink like everybody else did, because for some people, they were able to have a few drinks on the weekend and stop. I just continued to go in, and I never really stopped."
Battling drug addiction and alcoholism
A root canal sparked Restivo's prescription drug addiction at the age of 22.
The dentist "prescribed me Vicodin. It kind of felt like my first drink. It was something that's supposed to numb the pain and relax you, but it had the opposite effect on me. It was almost like speed for me. I was taking them quite frequently … as prescribed at first, and then once every six hours and then six every hour."
But Restivo did more than just get by. In 2008, he joined the New York Police Department.
"I was 28. I went cold turkey on the first day of police academy from using painkillers again. I remember getting into the police academy and just thinking how surreal it was."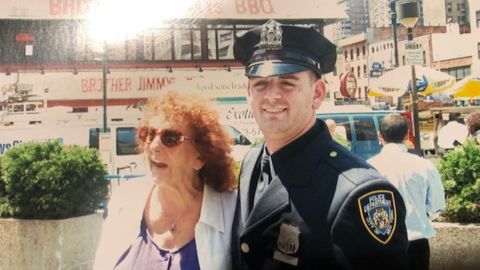 Restivo served for four years, until he was injured on the job.
"I was chasing after a few guys in the subway station and ended up getting attacked. I got thrown down a flight of stairs, and I busted up my knee and my back."
The painful injuries led to the reermergence of Restivo's old demon.
"Before I left the hospital, they gave me a prescription for 10 Vicodin. And by the time I got home that night, I was already through that prescription."
Restivo retired from the department in July 2012. That's when, he says, he began selling and using.
"There were many moments where I was internally struggling with what I was doing. I knew that I needed to stop this. I just did not know how to. There were many times that I had stopped on my own or tried to stop on my own and ended up going back to it wondering why or how I got back to where I was. I was disgusted with myself. I hated myself. If life was fair, I'd be dead 10 times over. I don't know how I'm walking and talking or even alive."
His healing begins
Restivo credits his ex-wife with helping him overcome his addiction. "She did for me what I was not able to do for myself. She forced me to go to treatment."
In September 2013, Restivo checked into a 28-day treatment facility. With therapy and opioid-free medication, he has been sober for nearly six years.
"After I went to treatment, I was devastated that I couldn't be a police officer anymore. The facility I went to had a program for first responders. I saw people like me helping other people."
In 2015, Restivo drew on his own experiences and went to work at the Phoenix House in East Hampton, New York, a long-term residential treatment facility that helps men 18 to 30 years old overcome addiction.
"I was extremely and heavily addicted to heroin. Mark has played a huge role in my sobriety and me being able to stay sober," said Brian Ahrans, a former client of Restivo's – and now a friend.
Restivo added, "I like to share that I was a police officer. It could be anybody. There's no face to this addiction."