Editor's Note: Bernie Sanders, a senator from Vermont, is running in the Democratic primary for president. Earl Blumenauer, a Democrat, serves in the House, representing the third district in Oregon. The opinions expressed in this commentary are their own; view more opinion at CNN.
(CNN) —
President Trump is used to inventing crises. He declared a fake national emergency to seize funds that Congress refused to give him to build a wall on the border with Mexico. He declared another phony national emergency over Iran in order to sell Saudi Arabia the weapons that Congress had blocked. Meanwhile, on climate change – a real and urgent threat to the entire planet – Trump just calls it a "hoax."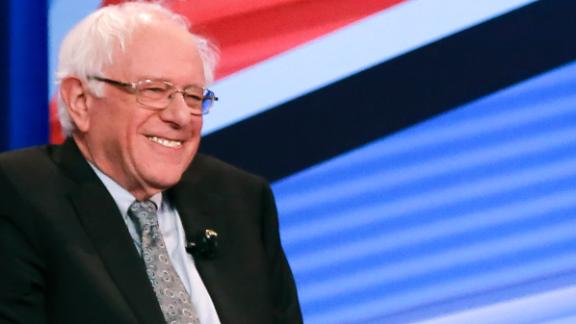 CNN/Elijah Nouvelage for CNN
Courtesy Earl Blumenauer
It's time to push back on this insanity. That's why we are introducing a resolution in both the Senate and the House of Representatives so that Congress recognizes climate change for what it is: an emergency requiring immediate and aggressive action. While Trump denies reality, more than 650 cities and four other countries have already declared a climate emergency.
In the face of dangerous presidential ignorance, we are saying that Congress must mobilize all available resources to tackle this crisis now.
The Intergovernmental Panel on Climate Change recently warned that we have 11 years to bring this planet together to stop the worst impacts of climate change. And we are seeing the effects of this emergency today.
Epic floods and tornadoes have devastated the Midwest. Intensifying wildfires burned almost 2 million acres in California last year, killing more than 100 people and costing billions in damages. Puerto Rico and the US Virgin Islands are still recovering from massive hurricanes nearly two years later. Abroad, melting ice, heat waves, reef die-offs and desertification are signs of an international crisis that threatens the world's poorest people the most.
We're seeing the impacts even in our own states. In Vermont, high-intensity Tropical Storm Irene caused costly flood damage, while shorter, warmer winters are expanding the threat of Lyme disease. On the other side of the United States, in Oregon, we see record-setting droughts and intensifying wildfires, the loss of the snowpack that sustains our agricultural system, and ocean acidification that threatens our seafood industry.
Over the past five years, the hottest on record, billion-dollar disasters have become twice as common as they were before 2013. Even the US military recognizes the climate-change emergency, calling it a "national security issue" as recently as January of this year.
If people cannot grow the crops they need or find clean water to drink, there will be massive migrations of people, causing international havoc and possibly even war. In just 15 years, hundreds of thousands of Americans will have homes and businesses that are expected to flood 26 times every year because of the rising sea levels. By the end of the century, an estimated 5 million people will have homes at constant risk of flooding.
If we hesitate to respond to this emergency, we will experience irreversible and catastrophic changes to global human health, quality of life, food security, access to clean air and drinking water, and our economy. These impacts will not be distributed along political lines. We're all in this together – from farmers to urban residents, inland and coastal communities, conservatives and progressives alike.
Here's the good news: If Congress takes the climate threat seriously and deploys a full-scale emergency response, we can create millions of good-paying jobs, save working families money, rebuild the communities that have been impacted most by climate change, and improve the health of millions of Americans. Tackling air pollution could prevent 100,000 annual deaths across America, for example.
What our resolution recognizes is that aggressive climate action creates a strong economy for working people, better health for our communities, and a sustainable habitat for future generations. In other words, acting on climate change is a win-win-win.
This is not the first emergency the United States has faced. The Wall Street Crash of 1929 ushered in the worst economic depression in our history. The rise of fascism in Europe in the 1930s threatened the stability of the world. How did we respond to these crises? America did not throw its hands up in despair. Instead, we came together and mobilized on a massive scale to meet the challenges head on.
Get our free weekly newsletter
In short, neither America nor the world can afford to simply wait Trump out. Congress has to take the first step toward the bold federal action necessary to tackle the scale of this crisis right now. It is time for us to acknowledge the plain truth and pass our resolution declaring climate change a national emergency. The window for meaningful action is closing. Our job: come together to take on the powerful fossil fuel industry and mobilize a national response as large and serious as the emergency itself. Our future depends on it.