Impossible Foods, the plant-based protein company that had been struggling to meet demand, is no longer facing a shortage.
Impossible on Monday sent a letter to its distributors, which sell the product to restaurants, announcing that a cap on ordering has been lifted. The product is now "fully stocked" within the ordering systems of its over 400 US distributors, said Rachel Konrad, the company's chief communications officer.
"We are absolutely back in business," Dennis Woodside, the company's president, told CNN Business.
Some restaurants will have to reorder the product through their distributors, Woodside noted, and it might take some time before customers see Impossible burgers back on the menu at locations that were out.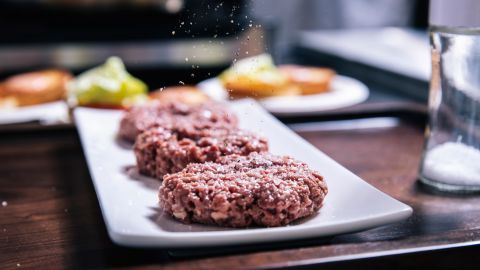 Health and environment-conscious consumers have been so eager to try Impossible's plant-based alternative to meat that the company ran low on product.
To meet the surge in demand, Impossible has tripled its weekly production since March, Woodside said. The company has increased the number of employees at its Oakland, California factory, started packing its protein into five-pound bricks instead of patties, and switched from two 12-hour shifts to three eight-hour shifts per day, which Woodside said is more sustainable.
The changes have allowed Impossible to make "a record amount of product in June," the company said in its letter to distributors, adding "we are on track to break that record in July."
And the company has more improvements in the works.
Later this year, Impossible plans to announce a partnership with a major manufacturing operator that will "dramatically increase our production capacity," Woodside said. Plus, Impossible plans to open another manufacturing facility. He did not name the operator.
More production capabilities will make it easier for Impossible to bring new products, like plant-based fish, to market, Woodside added.
"The pace of innovation, and the time from lab to table, is going to decrease," he said.
Still, Impossible could face more shortages in the future, Woodside noted.
"I can't say 100% with certainty that in nine months — if there's a massive spike in demand — that we won't see some spotty shortages," he said.
If a fast food chain decides to add an Impossible product to the menu, orders can spike. One recent example is Burger King, which plans to serve the Impossible Whopper at its 7,300 locations by the end of the year. Impossible has implemented a new planning system to help it better anticipate those changes.
Impossible plans to start selling its products on grocery shelves in the fall.