Immigration authorities have begun a series of raids targeting about 2,000 undocumented immigrants in major cities around the country. These raids, promised by President Donald Trump for weeks now, have sparked panic and concern among immigrant communities and immigration advocates.
US Immigration and Customs Enforcement will focus on a specific group of undocumented people: those who have already received removal orders from an immigration judge, with a specific interest in apprehending violent criminals and aggravated felons, acting US Citizenship and Immigration Services director Ken Cuccinelli told CNN.
Camerota spars with immigration head over Trump tweet
But some political leaders and advocacy groups say they fear that a broad swath of people may be targeted or affected—including some US citizens—and so have been openly sharing advice and support to undocumented immigrants who fear they may be targeted by ICE. Here is what they have to say:
The New York Immigration Coalition: Plan ahead
The NYIC shared a toolkit that helps immigrants understand their rights in general. They suggested talking to a lawyer and discussing what should happen if they are confronted by ICE.
"If you are worried about immigration, talk to a trusted lawyer to understand your unique situation and risk. Keep the lawyer's information in case of an arrest," the literature reads. "Make a safety plan with your family, and practice what you'll say if Immigration stops you."
De Blasio slams Trump immigration raids in NY
NYIC's immigration advice is presented as a specific response to Trump's policies and rhetoric.
"We know that the community is worried," they say. "We do not know exactly what Donald Trump will do, but we want you to know we are here with you to fight and protect our rights."
Local leaders: Get informed
In response to the announced ICE raids, US Rep. Shelia Jackson Lee organized an open house in her Houston office for those "seeking further information on the administration's order of mass deportations…for those who believe they have a right to stay in the country." Jackson Lee says this is the third time she has organized such an open house to share immigration resources and information with the Houston community.
Local leaders nationwide have responded to the anticipated raids with similar sentiments, whether in word or deed. Chicago Mayor Lori Lightfoot said the Chicago Police Department would not assist with ICE raids or provide information to ICE that could be used in such raids. Houston Mayor Sylvester Turner made a similar statement. "Houston Police Department is not ICE, we are not going to be participating with ICE on these type of raids," Turner told NPR last week.
San Francisco Mayor London Breed reinforced the need for reliable information. "We want our entire community to be prepared and know their rights. We will continue to offer services for all immigrants," he said in the statement.
The ACLU: Know your rights
The American Civil Liberties Union often shares literature regarding immigrants' legal rights, and they did so again days before the raids were supposed to begin. Among their pieces of advice, shared in English and Spanish: Ask for a signed warrant when an agent comes to the door, exercise your right not to discuss your immigration status and exercise your right to remain silent until you see a lawyer.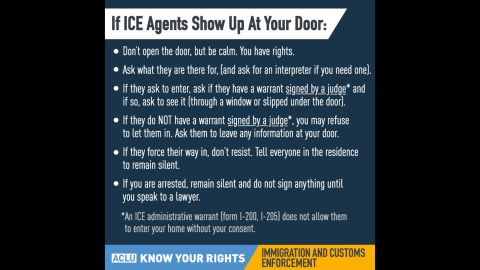 Immigration lawyer: Know when you can say no
Attorney Patrick Young wrote a series of highly-shared immigration guides for Long Island Wins, a non-profit promoting "practical immigration solutions that work for everyone." In his advice on what to do in the event of an ICE raid, Young says undocumented immigrants should invoke the legal rights they are entitled to by virtue of being on American soil.
"[U]ndocumented immigrants confronted by ICE should stand on their Constitutional right to not answer ICE's questions. Lying is not an option, but remaining silent is an advisable course of action," he writes.
National Immigration Law Center: Know your legal options
In addition to a rundown of legal rights, the National Immigration Law Center recently reminded people on Twitter that undocumented immigrants are entitled to legal representation and advice – even those with orders to leave the country, like those said to be targeted in this week's raids.
"People with deportation orders still have legal options!" the NILC said. They also provided a list of legal resources in every state, maintained by the Immigration Advocates Network.
Fellow immigrants: Use technology to connect
Due to the Trump administration's approach to immigration enforcement, several apps have cropped up that are designed to help immigrants, both documented and undocumented, connect with each other and their allies and stay vigilant about raids and other immigration issues.
Some of these apps were created by undocumented immigrants themselves, such as "Notifica," an app that lets a user send a customized message to 15 personal contacts in case they are apprehended by ICE. "Tarjimly" anonymously connects immigrants and refugees with volunteer translators. "RedadAlertas," created by a formerly undocumented immigrant, hosts crowdsourced data on ICE raids, checkpoints and other important events.