(CNN Business) —
Workers at Amazon facilities in Germany have gone on strike in a protest over pay and working conditions as Prime Day gets underway.
The strikes, held under the slogan "No more discount on our incomes", started Sunday night at Amazon sites in Werne, Rheinberg, Leipzig, Graben, Koblenz and Bad Hersfeld, German union Verdi said in a statement.
The protests were expected to continue at least through Monday. They are being held to coincide with Amazon (AMZN) Prime Day — a discount event held on Monday and Tuesday for Amazon (AMZN) Prime customers.
"While Amazon throws huge discounts to its customers on Prime Day, employees lack a living wage," said Verdi retail specialist Orhan Akman.
The union also called for collective bargaining agreements to be made binding across Germany's retail sector.
"The company must finally recognise collective agreements for the retail and postal sectors; wages and salaries cannot be determined in the style of lord of the manor," Akman said.
A spokesman for the union told CNN Business that more than 2,000 people had participated in the strike.
Amazon has been embroiled in a dispute with German trade unions over pay and working conditions for years. The company's workers in Germany have staged frequent strikes and protests since 2014, according to Verdi.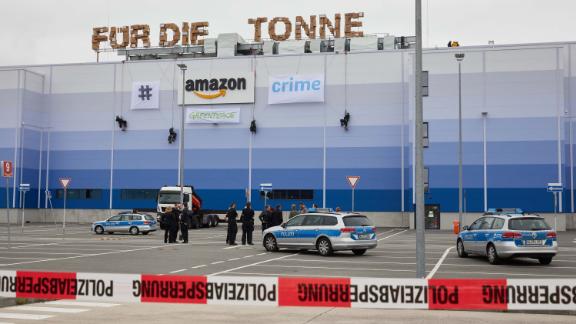 Georg Wendt/picture alliance via Getty Images
The online retail giant said the strike was having no effect on operations.
"While we don't provide exact number