CNN Special Report 'The Hidden Workforce: Undocumented in America' airs at 10 p.m. ET.
Worthington, Minnesota
CNN
—
The encounters unfold in countless border towns along the Rio Grande. In ramshackle shelters and bus terminals, reporters at the southern border record the stories of undocumented immigrants crossing into the United States, hearing their plans to start new lives in every corner of America.
But that's only the beginning of the immigrants' journey. Once the interviews are finished, these undocumented immigrants disappear into the fabric of American society, where the vast majority become vital to our economy in ways most might not fully realize.
These are some of the stories we uncovered investigating the country's hidden workforce.
Politics vs. reality
When we talk about undocumented workers, we often think about their presence in America's biggest cities – places like Miami and New York; Los Angeles and Washington, DC.
But with an estimated 7.6 million undocumented workers in the US, you'll find them working in the shadows of America's small towns and rural communities, too – communities like Worthington, Minnesota.
Take a stroll through Worthington's downtown and you'll quickly spot homemade job postings from local farms and ranches plastered on storefront windows. Any farmer will tell you that the only people really answering those calls for help are newly arrived immigrants.
This is where political purity and economic reality get murky.
Critics of undocumented workers say these immigrants drive down wages for American citizens, don't pay taxes, and strain social services. But as dairy farms across the Midwest go out of business at an alarming rate, Minnesota farmers like Pat Lunemann say they need the labor.
"When we say that we're in dire need of more people to help us do the work and we talk about them being immigrants, not a lot of people want to hear that. We do the best that we can here to make sure that we're legal and in compliance," said Lunemann, the owner of Twin Eagle dairy farm in Clarissa, Minnesota. "We've got to find the people to produce the food. And we're just not finding the people here in rural America."
It's become harder to convince the next generation of farmers to stay in small, rural towns, Lunemann said, and those who do stay find the jobs to be too tough. Lunemann, whose farm sits on 1,500 acres and includes 800 cows, recalls the time that he went through five different US-born hires for a single position in a matter of weeks. Two people never showed up, and the rest said they couldn't handle the work.
"Others in the dairy industry – not only in Minnesota but across the country – will give you that same story," Lunemann said. "Our country doesn't understand how important immigrant workers are to our agriculture and to our economy in general."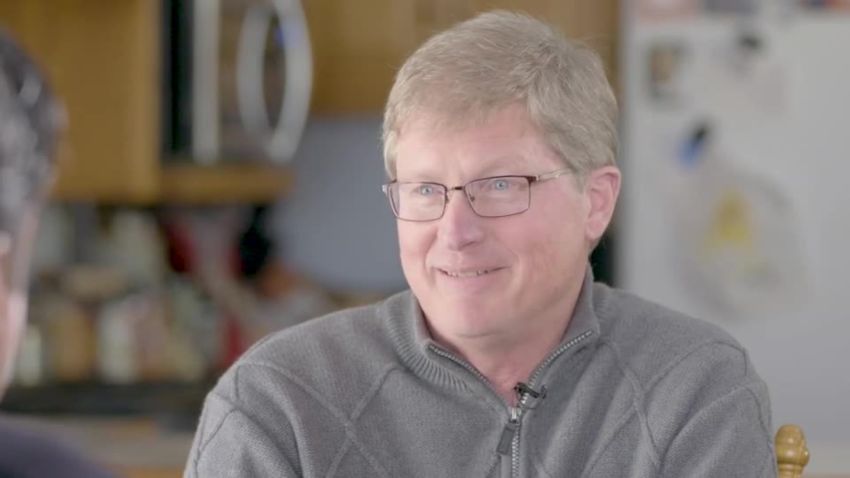 This is how hard it is to find workers for a dairy farm
The US Department of Labor's most recent survey of hired farm workers found that 76% were born outside of America – the vast majority coming from Mexico. The survey also found that 49% of all workers did not have work authorization, according to the Department of Labor report.
None of this was easy for Lunemann to talk about, and he grappled with doing this interview. He said he agreed to speak out because he wants more Americans to really think about where their food supply comes from.
"What we're finding is the only people that are willing to do these jobs are immigrants," he said. "We need food security. If we don't have the workers to produce the food here in the US, the food is going to be produced somewhere else. And that's not a good plan for America."
A parish split in two
Worthington is a farming community of about 13,000 people in rural southwest Minnesota, right across the border from Iowa. Immigrants have flocked here for years to work on hog and chicken farms, and to work in the hundreds of dairy farms that fill the Midwest landscape.
Today, just more than 40% of Worthington's population is Hispanic.
When Father Jim Callahan came to the city's St. Mary's Catholic Church in 2011, he found a parish literally divided in two: There were organizations for English speakers, and separate ones for Worthington's growing Latino community.
"The majority of the Latino population living here are undocumented," Callahan said. "You could feel the fear within the community the morning after the 2016 election. And one of the things that we found out is because of the anti-immigrant feelings, within the community issues are developing. People are suffering from depression. We have a rise in alcoholism, drug addiction, abuse and domestic violence. And it's all as a result of what's taking place within our country."
In response, the community organized a group called "Faces of Worthington." The meetings are hosted in the homes of longtime residents, and an immigrant is invited to share his or her story. They describe the homes and family they left behind and share gritty details of the work they do in America.
It's a glimpse into a life many residents have never fully understood. Callahan says the meetings peel away at the misconceptions many residents have about undocumented immigrants.
"We've really grown to love them and care for them," he said. "They're part of who we are and defines us as a parish."
Callahan has also unapologetically designated St. Mary's a sanctuary church.
"As a Catholic priest this is exactly what I should be doing," Callahan said. "Often times, people don't see what's actually happening in their communities. If all the immigrants were to leave tomorrow, this town would die."
Undocumented in the Land of 10,000 Lakes
There are an estimated 95,000 undocumented immigrants across Minnesota, according to Pew Research Center. CNN spoke with two who are working around Worthington; they asked not to be identified because they fear losing their jobs and deportation.
One worker has spent the last four years working on a hog farm, feeding the animals and cleaning pens. He manages more than 10,000 pigs a day on this ranch. The stench, he says, is often unbearable, and the undocumented workers had to petition their bosses repeatedly to provide masks.
He earns roughly $1,200 per paycheck every two weeks, and says every worker around him is undocumented and his bosses know it.
He occasionally sees a US-born worker show up, but they usually last half a day.
The second worker CNN spoke with has lived in the United States for more than 20 years, working on farms across the Midwest. He's spent the past seven months working a dairy farm near Worthington.
He says he earns $12 an hour to manage almost 1,600 cows a day and usually works about 60 hours a week. He says his employer doesn't pay overtime and that taxes are always deducted from his paychecks. He says he gets eight vacation days a year.
He believes his employers know that most of these immigrant workers are undocumented but no one really talks about it. If all the undocumented workers were to be rounded up and deported, he said, the farms in the area would cease operating.
"It's better not to know," he said. "He (my boss) doesn't want to know. Their only concern is that we work."
He lives near Worthington with his wife and three children. Every day, he says, he and his family live in fear of deportation.
"We can't go places freely," he says. "We simply avoid traveling from one place to another."
And yet if he had to do it all again, he would still choose to come to the United States to seek a better life for his family.
"We want to see our children become more than us," he said.