Something extraordinary is happening behind the scenes at Impossible Foods.
The company has seen a huge surge in demand. And though you wouldn't know it from stepping into its Bay Area headquarters, it's in a frenzy.
The problem: Impossible is running low on fake meat.
The company makes a plant-based protein that can be fashioned into burgers. Its audacious goal is to help eliminate the need for animals from the meat supply by 2035. Today, Impossible is a marquee brand in one of the hottest sectors of the food business.
Impossible's main office in many ways fits the startup mold: Employees work at desks in an open-concept layout, pausing to play ping pong or meet in conference rooms with cute names like "Jello" and "Ice Cream."
But the calm order is deceptive. It's not business as usual there.
The number of orders for Impossible Burgers just keeps rising, and the company, founded in 2011, is struggling to keep up.
Some of the office workers have been voluntarily reassigned to Impossible's factory in Oakland, where they work 12-hour shifts in what is essentially a warehouse-sized refrigerator. The temperature is 38 degrees, and the tasks include packing boxes and operating machinery. They've given up weekends, toiling from 3 PM to 3 AM or vice versa.
To appease frustrated customers including high-end restaurants, Impossible, which usually sells its product through a network of more than 400 distributors, has started FedExing shipments directly. And it's shifted from making patties to selling only five-pound bricks of the plant-based protein. The bricks, though not ideal for most restaurant customers, are more efficient to make and require less packaging.
It's been a "company-wide scramble," said CEO Pat Brown. But a welcome one.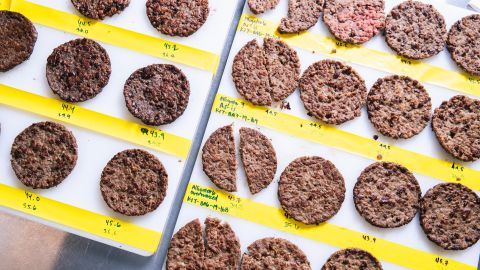 Shortages aside, it's a good time to be Impossible. Interest in plant-based protein has spiked as consumers, looking to eat healthier and reduce their impact on the planet, give meat substitutes a try. Impossible's main competitor, Beyond Meat, has impressed investors so much that its stock has more than doubled since debuting on the stock exchange in May — a sign that Wall Street thinks the trend has legs.
But interest in the product also means that young companies like Beyond and Impossible, which is still privately held, may not be able to dominate the trend for long. Nestlé, which sells a meatless burger in Europe, plans to introduce a US version this fall. And big meat producers like Tyson and Perdue are putting their own spin on the trend with blended products made with real meat and vegetables. They may launch closer alternatives to Impossible's protein, as well.
As the field gets more crowded, Impossible will have to figure out a way to not only keep up with skyrocketing demand, but also to maintain its competitive edge.
The question is: how?
All hands on deck
Impossible Foods enjoyed some early successes after Brown, who is now 64, founded the company in 2011. A biochemist and former pediatrician, he speaks passionately about the company's environmental mission. He points to meat production as the leading cause of a global decline in wildlife over the last 50 years, and gave up what he has described as his "dream job" as a tenured professor at Stanford University's School of Medicine to devote himself to developing a better alternative.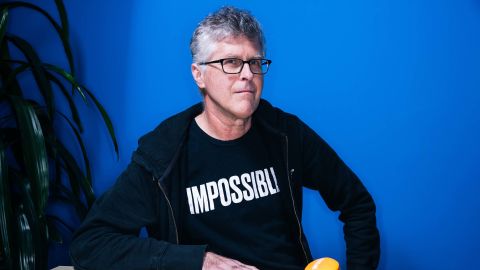 Five years in, Impossible started selling plant-based burgers, which gained notoriety in part because they seemed to bleed like real meat. The company attracted funding from Bill Gates and launched in White Castle restaurants.
But in January 2019, Impossible went into overdrive.
It was then that the company launched the Impossible 2.0. Earlier versions of the protein had been optimized to cook well on a flat-top stove as a burger patty. The new iteration, however, is more versatile, designed to mimic meat when grilled, sautéed, braised or stewed. Of course, the company hoped it would be a success. But the speed at which the product took off was surprising, said David Lee, the company's chief financial officer.
Impossible 2.0 quickly drove up orders. Burger King started testing an Impossible Whopper in 59 restaurants in St. Louis. That test went so well that a month later, in May, the chain shared that it would start selling the Impossible Whopper in its 7,300 US restaurants by the end of the year.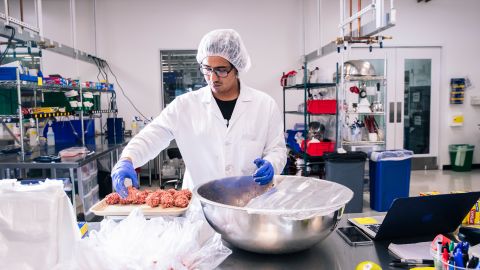 For Impossible, that meant that orders were coming in from every direction: Old customers, new customers and a national chain with thousands of locations. To put that hockey-stick like growth in context: At the end of April, Impossible products were in about 7,000 restaurants total. Two months later, they're in nearly 10,000. By the end of the year, if Impossible's product is served in every Burger King as planned, it could be available in at least 17,000 restaurants altogether.
At the end of April, Impossible issued a mea culpa to customers, acknowledging a shortage. The company "sincerely apologizes to all customers, particularly those who have come to depend on the additional foot traffic and revenue that the Impossible Burger has generated," it said in a statement at the time.
The shortage required an all-hands-on-deck approach. But executives didn't panic. "I wasn't scared. I was ecstatic," Lee said. "We've been preparing for some time to have a runaway success."
Impossible's product "was designed at the very beginning to scale globally," Lee said.
The company's secret weapon is heme — an iron-containing molecule found in plants and animals that, according to Impossible, is responsible for meat's flavor and aroma. Before launching commercially in 2016, the company had spent hundreds of millions of dollars and many years figuring out how to make heme in a way that was easy to scale. By sourcing heme from fermented, genetically-modified yeast, rather than harvested soy plants, Impossible could prepare it in large batches with minimal environmental impact.
Equipment is also key. To make sure that the company can grow quickly, Lee explained, Impossible uses machines that are already available on the market. It doesn't have to make or customize them.
The process means that Impossible should be able to produce a lot of material, quickly. But with such an unexpected surge in demand, it still has had trouble keeping up.
That led Impossible to implement a new planning system, stochastic modeling, that factors in large fluctuations in demand. For Impossible, it could be a better way to plan ahead for large orders from new clients like Burger King.
Labor is the other crucial part of the equation. Overall, the company employs about 440 people, including 110 in research and development and 180 in its manufacturing plant. The rest are general business professionals in fields like sales, marketing and finance, working mainly out of the Redwood City headquarters, and some remotely. While about 40 those employees have recently taken up manufacturing shifts to help with production, Impossible is focused on bringing on more factory workers.
Eventually, the company would like to have three, shorter shifts instead of two 12-hour ones.
Brown is confident this approach will help Impossible catch up on orders and prevent future shortages. "We are absolutely committed and determined to get ahead of the demand and never be in a position where we can't serve our customers again," he said.
But shortages may not be the biggest threat Impossible faces.
Enter Big Food
Right now, consumers seeking plant-based proteins may feel like they have two main options: An Impossible Burger or a Beyond Meat burger.
Beyond is in itself a formidable opponent. Unlike Impossible Burgers, Beyond's plant-based product, made from pea protein, is sold in both restaurants and grocery stores. The company had a blockbuster IPO in May, and has since continued to floor investors. It reported an impressive spike in sales in the first quarter.
Impossible plans to launch in grocery stores by the end of the year. And though it hasn't announced any plans for an IPO, hype around the sector has helped the company raise another $300 million. The recent round of funding included cash infusions from celebrities like Jay-Z, Katy Perry, Serena Williams, Jaden Smith, Trevor Noah and Zedd.
But competition is growing. Food giants, attracted by predictions of massive, sector-wide growth, are entering the market.
Food industry analysts agree that the plant-based protein sector has huge potential. The meat substitute market will grow to $22.9 billion in 2023, compared to $18.7 billion in 2018, predicts research firm Euromonitor International. In the United States alone, Euromonitor said, those figures will jump from $1.4 billion in 2018 to $2.5 billion five years later.
Euromonitor's numbers are modest compared to others. Barclays estimates that the alternative meat sector could reach about $140 billion over the next decade, capturing about 10% of the global meat industry.
Nestlé is already taking an aggressive position in Europe by supplying patties to McDonald's for its meatless burgers in Germany. When Nestlé launches a meatless burger in the United States in the fall, it could start scooping up big restaurant partners.
Nestlé's scale, volume and extensive distribution channels could make it a game changer, said Arash Azadegan, an associate professor at Rutgers Business School with expertise in supply chain management. The company's large, well-established system can help keep costs down and supply plentiful.
"There's a Goliath entering into the market," Azadegan said.
But it's not just about Nestlé. Tyson and Perdue have launched their meat-and-vegetable blended products, and may well come out with others that more closely resemble Impossible and Beyond's burgers. Smaller players, like Dr. Praeger's, are experimenting with their own meat-like, plant-based proteins.
Eventually, every meat seller will have some version of Impossible and Beyond's product, predicts William Rosenzweig, faculty director of the sustainable food initiative at UC Berkeley's Haas School of Business.
"Being a first mover does not constitute a long-term position," he said, pointing to Blue Apron as an example of another hyped startup in the food industry. Although it initially led the meal kit trend, Blue Apron later struggled to succeed among a crowded field of competitors.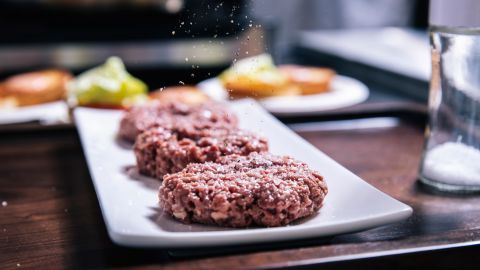 Impossible, similarly, has a recognizable brand. The company "has done a fantastic job of creating an identity for its product early on," Rosenzweig said. By making sure that its products keep the Impossible branding when served in restaurants (the Impossible Whopper, for example, isn't called the "Vegan Whopper") Impossible has made sure to get its name out there.
But that may not be enough. "Scale matters in food," Rosenzweig said. And branding doesn't tend to impact how people select foods that they think of as ingredients, like burger patties. You might order a grass-fed burger at a restaurant, but you're not likely to request one made by Tyson. As plant-based protein burgers hit the mainstream, people may be perfectly satisfied with whatever they're served, Rosenzweig said.
"If it's in a bun, and it's filled with delicious ketchup and mustard and pickles and onions," he said, nuances in taste or appearance may not matter.
Ultimately, consumers may go for the cheapest, most accessible option. For now, Impossible Burgers are sold at a price that's slightly more expensive than real meat burgers. The Impossible Whopper costs about a dollar more than the regular Whopper. At White Castle, the Impossible slider costs $1.99.
If Nestlé and others introduce a cheaper, comparable product, it could crowd Impossible out.
Beefier than beef?
Impossible argues that taste is what matters most, and that its army of scientists will make the most appealing burger.
The company's research and development team is constantly tinkering with Impossible's protein, looking for ways to make it more realistic. Experts spend hours smelling different aroma combinations, teasing out odors like salami, pepperoni and even cheese to help Impossible hone in on the exact scent of cooking meat.
Other employees are encouraged to participate in elaborate taste tests in a dedicated room, where blue lights are used to mask the real color of the food samples. (Color can influence the way people interpret flavor, the thinking goes.) In addition to the lab, Impossible also has an industrial test kitchen where scientists experiment with different cooking techniques, fashioning the protein into meatballs, lasagnas and sausages.
The goal is not to target vegans and vegetarians, per se, but meat eaters.
"We're going to go after the vast majority of people who are still buying meat as our customers," Brown said. He believes that one day, consumers will prefer the taste of Impossible protein to meat from animals. The approach also allows Impossible to shrug off concerns that it could lose customers who want a healthier, less-processed product, or for whom a blended meat and veggie product is preferable.
Using heme, the company plans to develop a product that will be "beefier, more craveable" and "tastier" than real beef, Lee said.
Time will tell if people prefer plants to meat, or meat to plants — or something else altogether.
"I don't think anyone else has come close to us in terms of being able to make a plant-based product that really delivers as meat," Brown said. "But I love the fact that a bunch of people are acknowledging the value of it, and jumping in," he added.
"The more the merrier."