(CNN) —
Toby MacFarlane's daughter said in her college application essay that on the soccer and lacrosse fields she looked like "a boy amongst girls with my hair tied up, arms sleeveless, and blood and bruises from head to toe."
She never played soccer. She didn't write the essay either.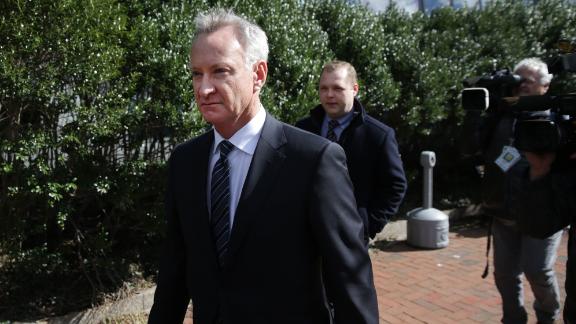 Jonathan Wiggs/The Boston Globe/Getty Images
The essay was crafted by William "Rick" Singer, the mastermind behind the national college admissions scandal, and sent to MacFarlane and his daughter, federal prosecutors said. She got into the University of Southern California.
MacFarlane, a former executive at a title insurance company from California, appeared in a Boston federal courtroom on Friday and pleaded guilty to conspiracy to commit mail fraud and honest services mail fraud.
Prosecutors are recommending 15 months in prison, one year of supervised release and a fine of $95,000. MacFarlane is scheduled to be sentenced November 13 by US District Judge Nathaniel Gorton.
MacFarlane was one of 33 parents charged earlier this year for allegedly participating in the scheme. In addition, a dozen coaches and test administrators were indicted on a racketeering conspiracy charge in March. Some of the defendants have plead guilty, and others not guilty.
'I can be a bit intense'
Prosecutors say MacFarlane gave Singer $450,000 to get his son and daughter admitted into USC as star athletes, when neither of them was.
MacFarlane's daughter had never played soccer when she submitted her application to USC in 2013 with an essay that said in part: "My parents have a hard time attending my soccer matches because our opponent's parents are always making rude remarks about that number 8 player who plays without a care for her body or anyone else's on the field. It is true that I can be a bit intense out there on the field."
She was able to graduate from the school before anyone knew of her involvement with Singer.
MacFarlane's son was accepted as a basketball recruit in 2017. His application listed his height at 6 feet, 1 inch, when he was 5 feet, 5 inches tall, and said that he played on the varsity team from 2014 to 2016, even though he only played his senior year.
MacFarlane could not be reached for comment on Friday. CNN is reaching out to his lawyer.
Singer pleads guilty
Prosecutors are sifting through mountains of evidence, preparing for trial in some cases and using the emails, recorded calls, and witness testimony to strike plea deals in others.
The scams allegedly involved parents paying Singer or his charity to facilitate their child's entry to selective colleges, using two different schemes.
In one scheme, Singer paid others to arrange for cheating on students' standardized tests, prosecutors said.
In the other, authorities said, Singer would bribe college coaches, who then helped the prospective students gain admission to a university by falsely claiming the students were athletic recruits, though in reality the students never would play for the schools' teams.
Singer confessed to carrying out the scheme and pleaded guilty to charges of racketeering, money laundering conspiracy, conspiracy to defraud the United States and obstruction of justice.
The landmark investigation that authorities say is the largest collegiate admissions scam ever prosecuted has remained active. And though students could find themselves in the crosshairs of federal prosecutors, it's unlikely they'll be serious targets.
"They're using the kids as leverage. It's fair game to say, if you play ball, we'll go light on the kids," said CNN legal analyst Elie Honig.
MacFarlane's kids were not the only ones who appear to have been implicated themselves.
Both of actress Lori Loughlin and fashion designer Mossimo Giannulli's daughters had pictures taken of themselves on rowing machines as a ploy to appear as crew team recruits for USC, prosecutors said.
Loughlin and Giannulli, who allegedly paid Singer $500,000 to get their daughters into USC, have pleaded not guilty.
Will the students be charged?
Despite the egregious participation, charging the students could be a major misstep.
"I probably would not charge any of the kids unless they had a major role in the scam," Honig said. "They (prosecutors) may lose public sentiment. At a certain point if you are seen to be piling on, things could turn against you. And not just in terms of public opinion but a jury's opinion as well."
Since the 50 defendants were charged in March, prosecutors have been chasing leads trying to identify who else may have worked with Singer.
Federal prosecutors have sent so-called target letters to people associated with the college admissions scandal, a law enforcement official with knowledge of the investigation previously confirmed to CNN.
The letters, which are used to inform a person that a grand jury is reviewing evidence that could be used to charge him or her with a crime, were sent to students, graduates and other adults, and they are not all related to the same charge, the official said.
Former USC athletic director investigated
Since the letters first went out, at least two recipients have been identified.
Prosecutors said Napa Vineyard owner Agustin Huneeus conspired with Singer to bribe senior athletic director Donna Heinel and Jovan Vavic, the USC water polo coach, to get his daughter into the school.
Huneeus pleaded guilty in May to conspiracy to commit mail fraud and honest services mail fraud and is expected to be sentenced in October. His daughter has not been charged.
Another target letter was sent to Yusi Zhao, a Chinese student who was admitted to Stanford University after her family gave $6.5 million to Singer. Neither Zhao nor her mother have been charged in the case.
In a statement through her attorney, the woman identified as Mrs. Zhao admits giving $6.5 million to Singer's foundation, saying she'd sought college advisory services from him because she was not familiar with the admission process for colleges in the United States.
Former USC athlet