In the time it took me to type this sentence about Slack, I received more than a dozen messages in a private Slack group and more posts than I can count in several team channels. I typed many words in response to those messages — some of them even borderline good words — but came no closer to completing my job for the day: writing this article about Slack.
If you don't know what Slack is, chances are you don't work in media or tech. Congratulations, you have probably made better life choices than I have. Most of the time, Slack is described blandly as a workplace communication tool. But that barely scratches the surface of its impact on teams, internet culture and, most importantly of all, my own damn life.
Slack is many things: an engine for collaboration and a distraction machine; a community-builder for an office and a facsimile of high school cliques; a service to streamline work and to blur the lines of your work/life balance. It is the bane of my existence and also, at times, the only salve for a stressful day.
Think of AOL Instant Messenger, but for people with jobs. Better yet, think of coworking space provider WeWork, with its promise of delivering office culture as a service. Slack does that too, but online rather than in a physical space. At a time when more people are working jobs behind screens, sometimes remotely in distributed workplaces, Slack is the new office watercooler. It is the work environment you have when you're stuck at your desk for hours and can't hover by the glorious office plant wall or the craft beer taps in the kitchen. (For the record: Our office has neither.)
Slack is where you welcome new employees with a procession of GIFs. It's where companies divide themselves between channels devoted to cats and channels devoted to dogs. It's where you find endless combinations of group chats to gossip and backchannel your own team, and then backchannel your backchannels. It's where a company can bond with a party parrot emoji for every occasion: a coffee parrot and a beer parrot, a sad parrot and a fiesta parrot, a chill parrot and an exploding parrot.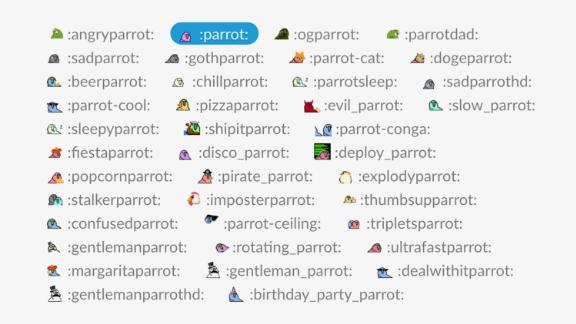 Slack / CNN
And if Slack has its way, its service could soon shape your office culture, too.
The company is making its Wall Street debut on Thursday, six years after it launched and quickly became a fixture for teams at companies like IBM, Lyft and, disclosure, CNN. In a public filing, Slack said more than 10 million people were using it daily in the first three months of 2019.
"Our users, whether on a free or paid subscription plan, are highly engaged," the company wrote in the filing. "During the week ended January 31, 2019, more than 1 billion messages were sent in Slack." On a typical workday, Slack said users at the companies who pay for the service "averaged nine hours connected to Slack through at least one device and spent more than 90 minutes actively using Slack."