(CNN) —
Former Vice President Joe Biden pointed Tuesday evening to two segregationist senators as examples of colleagues he could work with during an era where "at least there was some civility" in the Senate.
Biden's remarks provoked strong criticism from his 2020 Democratic rivals, with New Jersey Sen. Cory Booker saying Biden was "wrong" and calling for an immediate apology and New York City Mayor Bill de Blasio saying the former vice president is "out of step with the values of the modern Democratic Party."
During a fundraising event in New York, the Democratic presidential candidate recounted being a member of the Senate in the 1970s with southern Democrats who opposed civil rights and desegregation. He specifically named Mississippi Sen. James Eastland and Georgia Sen. Herman Talmadge, who Biden called "one of the meanest guys I ever knew."
"I was in a caucus with James O. Eastland. He never called me 'boy,' he always called me 'son,' " Biden told donors.
"Well guess what? At least there was some civility. We got things done," Biden said. "We didn't agree on much of anything. We got things done. We got it finished."
"But today, you look at the other side and you're the enemy. Not the opposition, the enemy. We don't talk to each other anymore," he said.
Democratic rivals attack
Biden's remarks drew sharp rebukes on Wednesday morning from his rivals for the 2020 Democratic presidential nomination.
"To coddle the reputations of segregationist of people who if they had their way I would literally not be standing here as a member of the United States Senate, is I think it's just it's misinformed," California Sen. Kamala Harris told reporters.
"To suggest that individuals who literally made it their life's work to take America back on the issue of race is a real problem for me," Harris said.
"You don't joke about calling black men 'boys.' Men like James O. Eastland used words like that, and the racist policies that accompanied them, to perpetuate white supremacy and strip black Americans of our very humanity," Booker said in a statement.
"Vice President Biden's relationships with proud segregationists are not the model for how we make America a safer and more inclusive place for black people, and for everyone. I have to tell Vice President Biden, as someone I respect, that he is wrong for using his relationships with Eastland and Talmadge as examples of how to bring our country together," he added. "And frankly, I'm disappointed that he hasn't issued an immediate apology for the pain his words are dredging up for many Americans. He should."
Booker personally "is pissed off and disappointed" by Biden's comments, a senior Booker campaign aide said. "The impact of those words are cutting for a lot of folks, and the fact that there wasn't an apology issued immediately is just very disappointing to him."
De Blasio on Twitter highlighted some of Eastland's racist views, saying it's "past time for apologies or evolution" from Biden and that the former vice president "repeatedly demonstrates that he is out of step with the values of the modern Democratic Party."
And former Maryland Rep. John Delaney said, "Evoking an avowed segregationist is not the best way to make the point that we need to work together and is insensitive; we need to learn from history but we also need to be aggressive in dismantling structural racism that exists today."
Connie Schultz, the journalist and wife of Ohio Sen. Sherrod Brown, tweeted: "There is no punchline here, no emoji or funny meme to soften the harm of your words. That segregationist never called you 'boy' because you are white. If you want to boast about your relationship with a racist, you are not who we need to succeed the racist in the White House."
Biden adviser: "He didn't praise their positions"
Biden's campaign on Wednesday declined to comment further to CNN on his remarks.
Anita Dunn, a Biden adviser, appeared on MSNBC on Wednesday afternoon to discuss the former vice president's comments about segregationists, arguing that the "point of his story is that you have to be able to work with people even if they hold positions repugnant to you in order to make some progress."
"It's a story that he has told many times. As he said last night, you know, these were people, the senators in the story were people who he fundamentally disagreed with on the issue of civil rights," Dunn said. "As he says in the story, that he didn't agree with them, and he absolutely did not agree, but they were able to disagree and there was civility involved. He didn't praise them. He didn't praise their positions. He certainly didn't endorse their positions."
Biden had previously been warned by advisers not to use Eastland as an example of someone he could work with despite many sharp disagreements, two people familiar with the matter said Wednesday.
"He needs to use a new, less problematic example," one person close to Biden told CNN.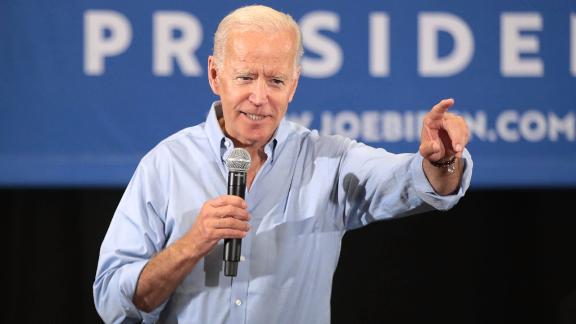 Scott Olson/Getty Images