Correction: A previous version of this story provided the incorrect number of games available for Project xCloud. It also provided an incorrect number for Microsoft's data center locations.
(CNN Business) —
Streaming has upended the movie and music industries. Now, it's spreading to the video game business.
Several video game publishers announced titles coming to Google's cloud system, Stadia, during last week's E3 conference, and Microsoft (MSFT) showed off its own Project xCloud in a demo.
The companies promise that very soon, through the cloud, it will be possible for many people around the world to play high-end video games on a tablet or phone without the need to lug around a console or PC. Once video games become easily accessible, companies are hoping it will attract new gamers, while making mobile games more sophisticated.
But the budding technology also prompts a lot of questions — like how many publishers are willing to jump onboard, whether internet connections are fast enough and which tech company will bring on the most adopters.
What is cloud gaming, and who are the big players?
Unlike traditional video game consoles, which do all of their computing on their own, most of streaming games' computing takes place on massive computers in faraway server farms. Players can sign up for a cloud service that allows them to stream and play the games directly on a phone, tablet or TV — although in most cases, an add-on controller is still needed.
Although graphics may be a bit blurrier depending on devices' screen resolution and internet connection, the gameplay will otherwise be the same as it would on a console.
If it takes off with consumers, cloud gaming could open up new markets for the industry. And several major tech companies are diving in.
One of the major players is Microsoft, which demonstrated its cloud gaming technology Project xCloud and made it available for the public to try during last week's E3 video game convention. Attached to Xbox One controllers, Android phones ran games like Gears 4, Forza Horizon 4 and Halo 5.
Microsoft has yet to release details, such as pricing and launch date. But it says Project xCloud has the capacity to play all 3,500 games in the Xbox catalog, and the additional 1,900 games still in development.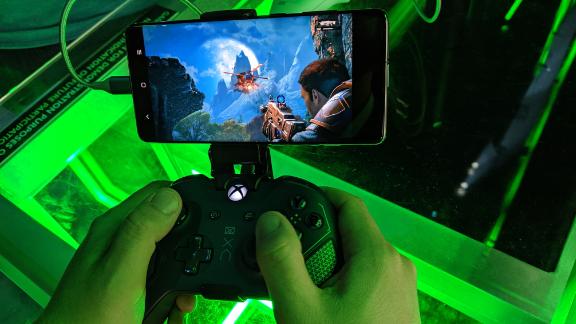 Shannon LIao
Google's Stadia is coming in November and will cost $129.99 for a Founder's Edition bundle which includes a Chromecast dongle, a Stadia controller and three months of a subscription service. That service costs $9.99 a month and includes "free games on a regular cadence," and it's the only way to access Stadia upon launch. An a la carte, free-to-play version of the system is coming next year, in which players can simply buy individual games.
Google (GOOGL) initially announced 31 Stadia titles and it recently added several dozen more, including titles from Ubisoft and a new Avengers game. Google (GOOGL) Stadia will work on Chrome browsers and Pixel phones, and it can stream on TVs through Chromecast.
As the larger players in the space, Microsoft and Google have major advantages.
"There's only a handful of companies that we believe can do this globally," said Bill Stillwell, director of product planning for xCloud. Microsoft Azure services 140 countries worldwide, and that reach means people are less likely to experience lag in gameplay.