(CNN Business) —
India's decision to slap new tariffs on American goods over the weekend escalates a trade battle with the United States that may not be worth fighting and could backfire.
The Indian tariffs on 28 US products including almonds, apples and some chemicals went into effect Sunday. While New Delhi says the heightened duties are in retaliation for US tariffs on steel and aluminum imposed last year, it has a lot more to lose.
"India's decision to retaliate with higher tariffs … is a strategic miscalculation," Priyanka Kishore, India head at Oxford Economics, wrote in a note Monday. "Such a hardline stance in India's trade negotiations with the US may do more harm than good," she added.
A much bigger target
Like China, which is locked in a full-blown trade war with the United States, India sells a lot more to America than it buys. It imported US goods worth $33 billion last year, while exporting goods worth $54 billion. Trade in services between the two countries — worth $54.6 billion last year — is also slightly skewed in India's favor thanks to IT companies like Tata Consultancy Services, Infosys (INFY) and Wipro (WIT).
That gives Washington a much bigger target, should it choose to hit India back.
"If the US chose to respond with retaliatory tariffs on labour-intensive exports such as gems, jewellery and textiles, [or] more pushback on IT services, it would cause far more damage to [India's] economic outlook," Kishore said.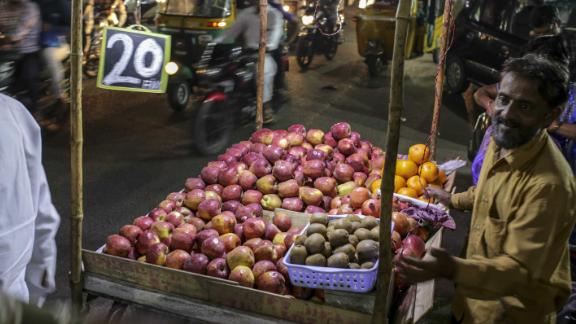 Dhiraj Singh/Bloomberg via Getty Images
President Donald Trump has repeatedly slammed the US trade deficit with India, as well as India's high tariffs on products like motorcycles and alcohol. The Trump administration recently removed India from a preferential trade program that exempted Indian goods worth over $6 billion from tariffs, citing complaints from the American medical and dairy industries.
India takes a tougher line
The limited nature of the retaliation — India has said the goods targeted are worth around $240 million — means the new tariffs are largely symbolic.
"I think it's a signal that is going out from India … that we are going to act, if not tough, we're going to be firm in our response," said Rajat Kathuria, director of the Indian Council for Research on International Economic Relations, a New Delhi-based think tank.
It also represents a significant change of approach by Prime Minister Narendra Modi, who was recently elected for a second term by a thumping majority. Modi's government first announced the