(CNN Business) —
Walmart wants to attract customers to its stores by offering high-quality steaks. It also wants to keep prices low.
So, for the first time, Walmart is working directly with cattle ranchers to create its own Angus beef supply chain.
The company announced in April that it will work with ranchers, a beef processor and a cattle-feeding company to supply steaks and roasts to 500 of its stores in the southeast. Walmart has not revealed a name for its new steak line, which will start hitting stores this fall.
During Walmart's shareholder meeting last week, executives said entering the meat supply chain would enhance its credibility with customers on a key item in the grocery aisle.
"This became a really important priority for the company," Scott Neal, Walmart's senior vice president of meat, said in an interview with CNN Business. "Meat is center of the plate" and "drives the customer to the store," he added.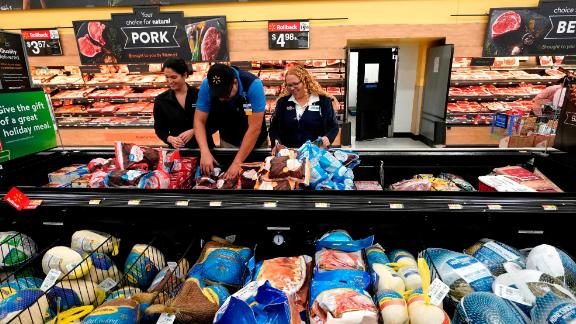 David J. Phillip/AP
Customers are demanding transparency in how their food is produced. Neal said: "Trust in our food system is becoming more important." Working directly with cattle ranchers and feeders will give Walmart greater visibility into the meat supply chain.