(CNN) —
Two years after a gunman nearly killed him, Matt Mika's ribs hurt when the weather gets too hot or cold. Some of his fingers feel swollen all the time, and the nerves are still growing back in his left hand.
Mika, who was shot at a Republican congressional baseball practice two years ago Friday, has made a full recovery, but says his life is forever changed by the event.
"There's a close bond between everyone who was on the field that day, from members of Congress to staff, that no one can ever understand or break," Mika told CNN in a recent interview.
On June 14, 2017, a man who posted online about hating conservatives and President Donald Trump fired a semi-automatic rifle and a semi-automatic handgun at Republican lawmakers, staff and coaches practicing for an upcoming charity baseball game in Alexandria, Virginia. The shooter fired at least 70 rounds before he was killed.
Rep. Steve Scalise of Louisiana was gravely wounded, and his determined recovery has been widely reported on, but for the four others who were struck by bullets and shrapnel, their road to recovery has been largely out of the spotlight in the years since the attack.
Mika, a lobbyist, nearly bled to death from bullet wounds to his chest, millimeters from his heart, and his left arm. Zack Barth, who works for Texas Rep. Roger Williams, was shot in the leg. Crystal Griner and David Bailey, both Capitol Police officers who returned fire on the shooter, were wounded – Griner was shot in the ankle, and shrapnel hit Bailey.
Griner and Bailey, who were on Scalise's protective detail, have been hailed as heroes for their actions that day.
Capitol Police officials declined to make the officers available for interviews, but Mika and Barth described their paths to recovery in interviews with CNN, giving a picture of long-term impacts of the shooting and the lessons they have learned. While their stories are different, both agreed that the violence that day showed the need for a return to civility and respect in politics.
"Hopefully people will learn the lesson from that day, but I'm afraid that they won't," Barth said.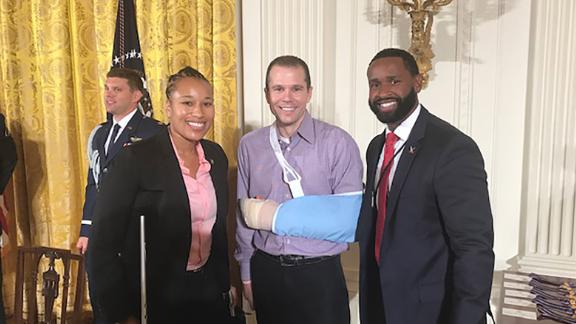 In the days leading up to the two-year anniversary, Scalise tweeted his gratitude to the Capitol Police officers.
"I think about the heroes when I think about June 14, 2017. This morning, I was honored to welcome one of those heroes—Special Agent Crystal Griner—back to the field at our #CongressionalBaseballGame practice. We'll forever be grateful for the courageous action of Capitol Police," Scalise tweeted Wednesday.
This year's congressional baseball game with be held on June 26.
'Everyone who saw me that day thought I was going to die'
Mika, a lobbyist who works at Tyson Foods, said his wounds were so serious that "I'm not supposed to be here."
"You don't suffer that type of chest wound and make it," he said.
The first bullet went through his right side under his arm and came out through his chest, missing his heart by less than half an inch. The second bullet hit his left arm when he was lying on the ground by the SUV that Bailey and Griner were using to take cover and return fire. The shot severed a nerve.
Mika suffered a collapsed lung and several broken ribs. He spent the next 10 days in the hospital and about a year in physical therapy.
"Everyone who saw me that day thought I was going to die," Mika said.
Mika, 40, is a volunteer coach who plays on several sports teams in his free time. He threw himself into physical therapy to get back into sports and find what he calls his "new normal."
"Sports is kind of why this all happened because we were playing baseball, but it's also something to look forward to and a way to move on and get better," Mika said.
Mika helped start and is the head of a DC chapter of a national nonprofit, Sports Business and Leadership Association, that takes underprivileged youths to sporting events.
In the beginning, just walking around the block was a victory. Six or seven months after the shooting, Mika said he was running again and playing basketball, baseball, softball, golf and hockey. But his recovery hasn't been linear – "you fix one thing," he said, "and then something else comes up."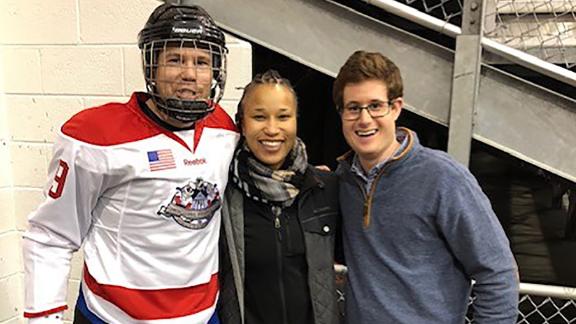 In addition to managing the physical pain, the shooting caused Mika to think about his priorities, and reevaluate how he wants to spend his time.
"In this town, people flip out all the time, or yell and scream and think what they're doing is the most important thing," Mika said.
Work is important to him, but he spends more time with family and friends now. When he's at dinner, he tries to turn his phone off or leave it in another room. When a friend is in town, he makes sure to see them.
He is close with the Capitol Police officers, paramedics and doctors who treated him. He goes to basketball games with Bailey, and texts frequently with the surgeon who operated on him, who he said nicknamed him "Wolverine" because he seemed to be healing so fast.
He has also connected with survivors of the mass shootings at Virginia Tech and in Las Vegas, and they share stories and text about their lives and recoveries.
'I'm not going to let this get me down'
Barth still works for Rep. Roger Williams, who was also injured that day. Barth was shot in his left calf, and said he didn't need surgery and was on crutches for a few days.
He said he has "moved on" from the shooting. When asked how the shooting changed his life, he replied, "I wouldn't say that it has."
"Sometimes it's a little painful, but it's not debilitating," he said, on whether he had lasting pain from the bullet wound. "I'm very blessed it wasn't worse."
Barth said he has been determined not to let the shooting define him. And, he said, "I'm not going to let this get me down."
"This was a terrible thing that happened," Barth said, "But the way I look at it is, it was seven to 10 minutes on a baseball field."
The shooting underscored to him that important work is being done on Capitol Hill on both sides of the aisle.
"We can agree or disagree, we need to do that with civility and with respect," he said. "… Politics should never rise to a level where there's violence introduced, and where the rhetoric gets to such a point that people do crazy things like that."
'We shouldn't first be thinking of promoting our political agenda'
For many, mass shootings often spark a call for more gun legislation. Since the shooting, however, Scalise – who has had an A+ rating from the National Rifle Association – has said the attack "fortified" his opposition to stricter gun laws.
"I think it's fortified it, because first of all you've got to recognize that when there's a tragedy like this, the first thing we should be thinking about is praying for the people who were injured and doing whatever we can to help them, to help law enforcement," Scalise told Fox News months after the congressional baseball shooting, and shortly after the 2017 Las Vegas shooting. "We shouldn't first be thinking of promoting our political agenda."
Though in the years since, gun reform advocates see some, if not enough, progress.
In December, the Justice Department banned bump stocks, a device that enables a semiautomatic weapon to fire bullets almost as fast as machine guns. The Las Vegas shooter used bump stocks in 2017 when he killed 58 people and injured hundreds more.
In 2018, following the Parkland, Florida shooting, 26 states and the District of Columbia passed new gun laws, according to the Giffords Law Center to Prevent Gun Violence.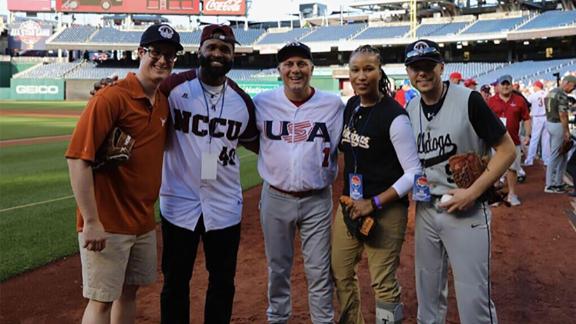 Earlier this month, days after a gun silencer was used in the massacre of 12 people in Virginia Beach, President Donald Trump said he was going to "seriously look at" banning silencers.
The Supreme Court this week rejected a challenge to a federal law requiring the registration of silencers. The justices did not comment on why they turned away appeals from two Kansas men who argued their conviction for not registering silencers violated their Second Amendment rights.
When asked if anything has changed since the shooting, Barth said, "If anything, it's made me more convicted towards what I believe and towards the attitude I approach my work." He said that includes "believing in the Constitution, believing in the rule of law, my conservative beliefs," and "being a big proponent of the Second Amendment."
Mika said his position on guns is one he keeps to a close circle of friends, but said we have bigger issues with mental health and social health, including bullying and people not knowing how to handle stress.
One month after the shooting, Mika went back to the baseball field with a few others who were there that day. They talked about what they all went through, and Mika said he realized how easily this could've been a massacre and "how lucky we all were."