Editor's Note: June 6, 2019 marks the 75th Anniversary of D-Day.
If you ever want to know what it takes to put together one of the most impressive casts ever assembled for a television miniseries, it would be worth digging through Meg Liberman's archives.
By her admission, she kept "every piece of paper" from her time casting HBO's "Band of Brothers," the award-winning miniseries about Easy Company, a group of tight-knit soldiers from the U.S. Army 101st Airborne Division, and follows their stories before, during and after D-Day.
She has the impressively specific character breakdowns she was given. ("Perconte, from Joliet, Illinois. Son of Chicago mafia. A real joker, compulsive, hygienic, uses only Philips toothpaste from home.") She has photos of the men who inspired those characters. She has video from the auditions that Steven Spielberg filmed himself because he didn't like the static feel of their first set-up.
The collection of mementos is Liberman's reminder of what she calls "the best job I've ever had."
She won awards for the gig, sure (including an Emmy). But her fondness for the project stems from something much deeper.
"I describe it as it [being] touched by fairy dust in some way," says Liberman, now executive vice president of casting for CBS Television Studios. "We were short on material sometimes, but the underlying material, the emotion and the relationships that these people had created this environment where everyone felt very connected to what they were doing and to each other."
The cast still gets together every year on the anniversary of their reporting to boot camp, usually at actor Michael Cudlitz's house. Liberman's only missed two of these gatherings. Next year will be their 20th.
"This is next year is going to be a big year because I think everybody is going to try to really make it," she said.
"Band of Brothers" was largely an ensemble piece, but at its center was a man named Dick Winters. Throughout the ten episodes, the audience sees Winters's rise through the ranks and his unwavering leadership and bravery on display.
While the show was heavy in British actors, Liberman felt strongly the role of an American hero should be played by an American. That is, until Damien Lewis came in.
"He just felt like a leader," she said. "He felt like the guy that these men would do anything for … that everyone would follow. And it was very clear to me the minute we all sat down that he was the guy."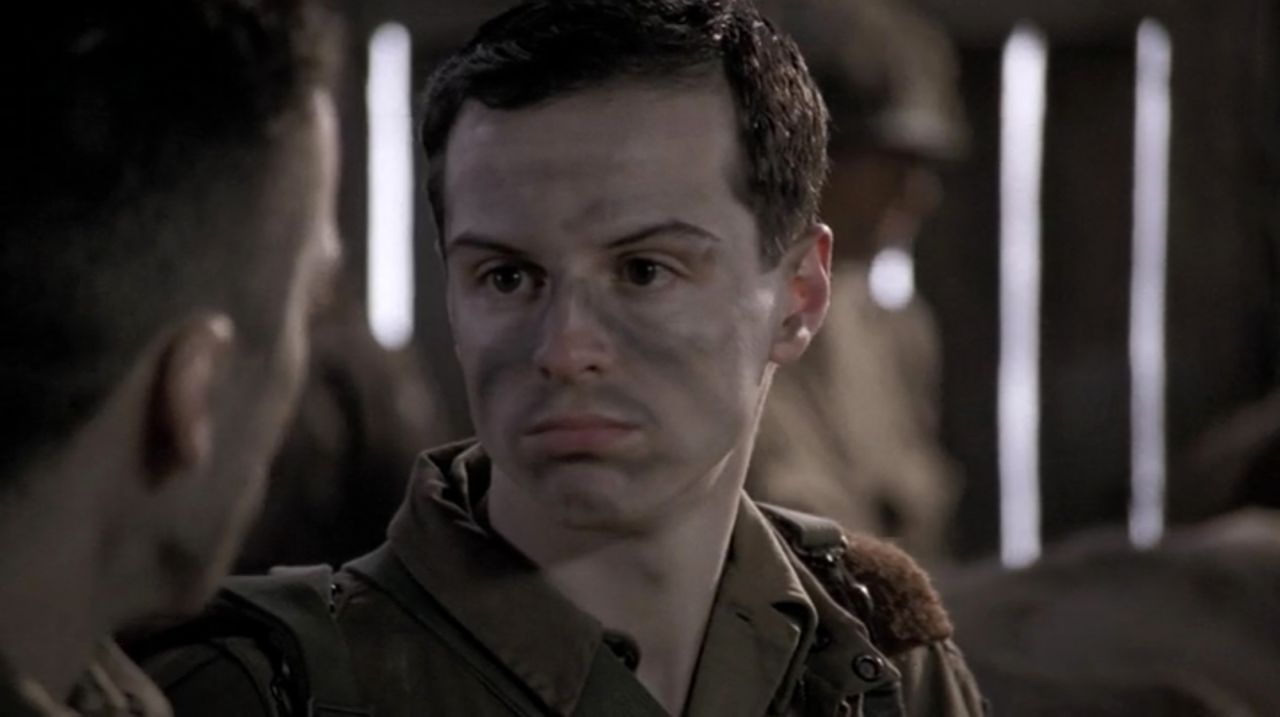 Actors you probably forgot were in 'Band of Brothers'
The cast was rounded out by actors like Scott Grimes, Ron Livingston, Donnie Wahlberg, Rick Gomez, Neal McDonough and Michael Fassbender.
Impressive, too, especially now, is the list of minor characters who went on to be big stars – Andrew Scott, Dominic Cooper, James McAvoy, Tom Hardy and more.
Actors like Norman Reedus, Jason Schwartzman and Peter Sarsgaard were among those who vied for roles but ultimately weren't cast, according to Liberman.
"I feel the best part of casting is making discoveries," she said. "And there's something about working on something [historical] because it goes beyond the casting. It goes beyond the actors themselves. It's like having them be a part of something that has such significance, that is so deep and heartfelt and true."
Production took place over 10 months on location in London and required the actors to take an intense two week bootcamp prior.
One actor, who Liberman declined to name, was close to getting a part in the miniseries, but ultimately withdrew after considering some of the demanding the requirements.
"You have to want, in your bones, to do this kind of a job," Liberman said.
Those who were cast committed to the experience, often choosing to spend time in the cold and mud with one another between takes, versus retreating to their trailers. Or so she was told.
Looking back, Liberman is proud of her work on the show. (Just don't credit her for the Jimmy Fallon cameo. "That was, in my mind, ridiculous, and I was opposed," she says, with a laugh.)
She's prouder, however, that they did the real men and their stories justice.
"It resonated to me, specifically, because it was not like casting a piece of fluff, it was casting history. I think there's a responsibility in that, which I think the actors took very seriously," she said.