(CNN) —
Fernando Díaz left his job, his family and his home to join a movement to bring down the government of Nicolás Maduro. Now, the former Venezuelan National Guard sergeant sounds hopeless – and angry. He's fed up with waiting for the revolution to come, and there's fatigue in his short, quick sentences.
"I'm mad," the 27-year-old, whose name has been changed to protect his identity, told CNN. "I thought we were going to take back Venezuela, liberate it. That we were going to go back in, organize in groups to put a stop to the usurpation, but in the end we didn't do any of that." He almost regrets his decision to defect from the Venezuelan military.
Now he faces his last days in the Colombian border town of Cúcuta, as he prepares to become a civilian again, at the urging of the Colombian government. After months of waiting to join a rebellion in Venezuela, his main concern has shifted to supporting himself and his pregnant wife.
Defecting from Venezuela's military
Diaz is one of more than 1,500 soldiers who heeded calls from the US, Colombia, and Venezuela's opposition movement to turn their backs on their embattled President Nicolás Maduro and stand beside the upstart leader Juan Guaidó. Since stepping forward in January this year, Guaidó, the head of the opposition-controlled parliament, has been recognized by more than 50 countries around the world as Venezuela's legitimate interim president.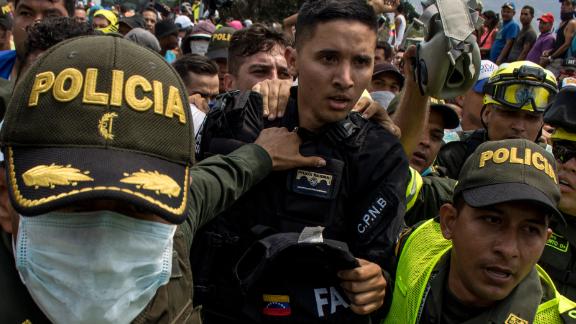 The loyalty of a country's armed forces is often key to successful regime change, and defecting Venezuelan soldiers and police were warmly welcomed to what Guaidó described as "the right side of history." Many believed their skills would be used in an armed overthrow – they were "on the Constitution's side," after all, as the charismatic young leader said.
In the days leading up to February 23, Guaidó called on the military to rise up against Maduro. Scores of Venezuelan soldiers defected to Colombian territory that day.
Díaz also heard the call, and defected from the military on March 1. Wearing his military uniform to avoid suspicion, he traveled with his wife from capital city Caracas to the border. Then he changed into civilian clothes and paid "colectivos," pro-government militia groups, to allow them to take one of the many illegal paths called "trochas" to cross into Colombia.
Then, on April 30, Guaidó appeared in a widely-shared social media video outside a military base in Caracas, again calling on the army to rise up against Maduro. In a shocking sight, Leopoldo López, the opposition leader and mentor long under house arrest, stood alongside him; the pair were flanked by soldiers. This seemed like a start to something revolutionary. It was "the beginning of the end of [Maduro's] usurpation," Guaidó declared.
But the revolution didn't materialize, and the excitement of that day was quickly repressed. Guaidó later admitted that he was not able to motivate enough members of the armed forces to join the opposition's side. Venezuelan Defense Minister Vladimir Padrino later said Guaidó was "trying to break the military's honor, which is the most sacred thing a soldier of the Bolivarian National Armed Forces has." Maduro, meanwhile, has sought to affirm through videos and statements that the country's armed forces are united behind him.
An endless, anxious wait
As the revolutionary momentum of Venezuela's opposition has lagged over weeks and months, the military defectors and their refugee families have waited anxiously in the confines of their hotels in Colombia. Díaz and his wife were directed to one by Colombian officials following an interview at the border.
Most defectors were sent to hotels by Colombian immigration, military officials or Venezuelan opposition officials. The United National High Commissioner for Refugees (UNHCR) has also assisted defectors like Díaz to get settled and to begin processing their paperwork as refugees. He said he does not know who has been paying for his hotel.
In response to queries by CNN, neither Colombia's Foreign Ministry nor the Venezuelan opposition has claimed credit for funding the defectors' accommodation. "The Colombian government has and will continue to seek financial resources for the strategic development that allows the best attention to ex-military and their families," Colombia's foreign ministry told CNN.
On May 15, a change finally came. But it wasn't the change in Venezuela that Díaz was waiting for; instead, it was a shift in policy from the Colombian government, which announced several initiatives to encourage the defectors and their 600 family members to become financially independent civilians again. A voluntary program called Permiso Especial de Permanencia (PEP) would allow them to live and work legally in the country. Another option offers the defectors a three-month stipend to help get them on their feet.
PEP is designed to allow Venezuelan ex-military a "temporary mechanism for protection," Christian Krüger Sarmiento, Colombia's director general of migration, said in a press conference at the end of May. Krüger Sarmiento added that Colombia wants these men and women to become part of its economic growth.
Díaz said he plans to take the Colombian stipend (250,000 pesos per month, or about $74 USD), and use the money to travel to Chile where he has friends and hopes to find a job. Eventually, he wants to return to Venezuela – just not right now. "I want to return and continue with my life and with my family, fight for everything that we left behind," Díaz said.
Deciding to move on
But other defectors are still waiting to be called upon. "I await[ing] instructions," defector William Cancino González, 24, told CNN. "I am ready and willing to return to Venezuela because the only solution is an armed one. Nicolás Maduro will not give up. This has to be armed and I am waiting." In the meantime, this former officer of the Special Armed Forces (FAES) said he would stay in Cúcuta, looking for work, "until the day comes."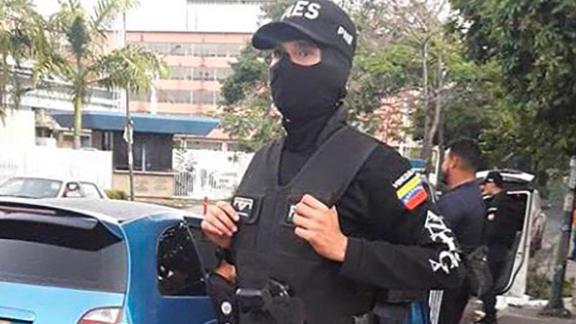 That could mean giving up arms. According to Cancino González, Colombia has forbidden Venezuelan defectors from working a security, or any job that requires contact with weapons. He said he would look into a job at a restaurant for now, or "whatever comes up."
Back in Venezuela, Guaidó continues to speak publicly in an attempt to keep some momentum going, as his parallel administration attempts negotiations. But neither Maduro nor Guaidó seem prepared to concede much; meetings between government officials and opposition envoys held in Norway last Wednesday ended without an agreement.
On Saturday, Guaidó promised a sea of supporters in the Venezuelan state of Barinas that a resolution would come within the year. "This did not start in 2019, but will end in 2019," he said. "Let the regime decide if they go out on good or bad terms."
But can he inspire a critical mass of the country's crucial armed forces to switch sides? If defecting means hiding, finding themselves jobless, risking their safety and that of their families, many might think twice.
This story has been updated to correct the date Fernando Díaz defected.
CNN's Natalie Gallón reported and wrote from Mexico City. Journalist Diana Castrillon reported from Bogotá, Colombia.