While most people run away from hurricanes, servicemen and servicewomen called Hurricane Hunters fly planes directly into the eye of these intense storms.
It may sound crazy, but they do it so we can have the most accurate, up-to-date information on hurricanes and know how to respond.
Hurricane season has officially begun. In the Atlantic Ocean, Caribbean and Gulf of Mexico, the season runs from June 1 to November 30 (it begins a little earlier in the eastern Pacific Ocean, on May 15).
According to NOAA, this year the Atlantic is expected to have a near-normal season with nine to 15 named storms – four to eight that will become hurricanes, and two to four that could become major hurricanes. An average season has 12 named storms with six hurricanes, including three major hurricanes.
A major hurricane is considered a Category 3 or higher, carrying sustained winds of 111 mph or higher.
This year's season began prematurely, with Subtropical Storm Andrea forming May 20 near Bermuda. The short-lived storm made this the fifth consecutive year that a named storm has formed before the season's official start, raising questions about whether the time frame should begin sooner.
Hurricane Hunters already performed their first reconnaissance mission for Subtropical Storm Andrea. In fact, it was data gathered from that Air Force Reserve Hurricane Hunter plane that led to the National Hurricane Center naming the storm. The data showed maximum sustained winds near 40 mph (65 km/h) within the storm.
"What I see when I'm out in the plane flying is a direct impact that we are able to make to help people protect themselves, and their loved ones, and their possessions," Maj. Christopher Dyke, an aerial reconnaissance weather officer with the US Air Force Reserve, told CNN.
A collaboration of different government agencies
The US Air Force collaborates with numerous agencies to track and analyze hurricanes and other tropical storms. It's this partnership that allows for the National Hurricane Center in Miami to get very detailed, scientific data to use in forecasts.
Separately, Dyke said, the National Oceanic and Atmospheric Administration has three aircraft that are primarily for research, but can be used for "operational tasking" if needed.
Other government agencies also provide aircraft and assistance, he said. "We all spend a lot of time coordinating around this time of year."
Dyke points out that for many service members, hurricane hunting is a part-time job.
He says about half of hurricane hunters are "citizen airmen" who have regular civilian lives but for two weeks a year carry out their reserve duty.
"I used to live in the Atlanta area and worked in corporate finance, and then went and did this on the weekends," Dyke said.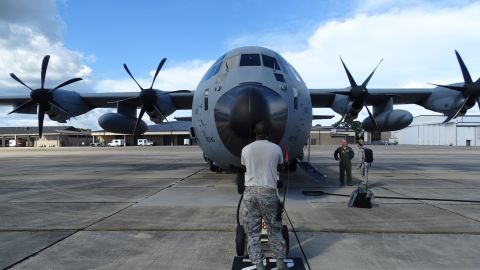 Gathering critical data
Meteorologists rely on a vast array of data and information to make their forecasts – and it comes from a variety of sources.
Satellites provide images that give a storm's accurate location and size, but they don't really provide detail on the inner workings of the storm.
It is difficult to tell from just looking at the satellite imagery whether the storm is strengthening or weakening or whether it is moving into a favorable or unfavorable atmosphere.
Buoys can provide measurements of the storm at the surface level, but they are sparsely located and often unreliable.
Hurricane Hunters such as Dyke, however, provide the most valuable and reliable data. They can compile real-time data from multiple locations in and around the storm, often gathering specific data requested by the National Hurricane Center for their forecasts.
CNN Meteorologists Haley Brink and Brandon Miller contributed to this report.