Correction: An earlier version of this article stated that Fox News aired a video of Nancy Pelosi. The network is Fox Business Network. The video, which President Trump retweeted, was a compilation of Pelosi stammering. In a statement last week, a Fox Business Network spokesperson said "The Fox Business segment featuring clips from Speaker Pelosi's speech today did not slow down any aspect of her address."
If Washington politics were a movie, this week might be the time you turn to your companion and say, "Who writes this stuff?": 
A President and "world-class deal maker," marveled Frida Ghitis, who demonstrates with a "temper tantrum," that he can't make deals. Who storms out of meetings with congressional leaders while insisting he's calm (and lines up his top aides to confirm it for the cameras). Who says, "I don't do cover-ups," with his administration on information lockdown – offering justifications "that wouldn't pass muster in an episode of 'The Simpsons,'" remarked Julian Zelizer. 
And who launches into a tirade – in the middle of an event about aid to farmers – to say I'm not crazy, she's crazy. 
"She" being House Speaker Nancy Pelosi, who offered Trump her thoughts and prayers, and wished aloud that someone would get him an intervention. There was no need, I'm an "extremely stable genius," Trump told reporters, adding that he'll talk to Democrats when they stop investigating him. He's right, suggested Marc Thiessen in the Washington Post: "Nancy Pelosi can't accuse him of engaging in a coverup in the morning and expect him to negotiate with her on a $2 trillion infrastructure package in the afternoon."
By week's end, Trump and supporters were previewing what critics believed his re-election campaign would look like. He retweeted a Fox Business Network video mashup of Pelosi stammering during a news conference on Capitol Hill on Thursday. "It's pathetic," protested SE Cupp, adding "childish" and "impotent." "But it's disgusting and disturbing to watch the president and leader of the free world do it time and time again." 
Nancy Pelosi: queen of shade?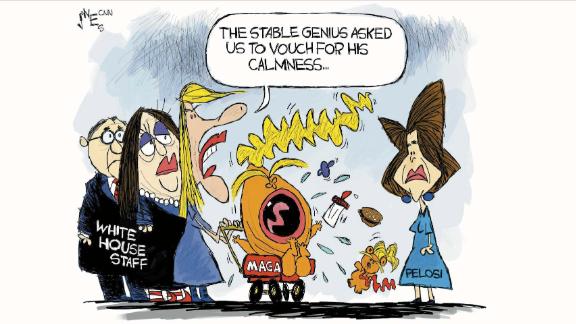 Clay Jones/CNN
The war of words began Wednesday, said Ghitis. Trump was "hurt because earlier in the day, House Speaker Nancy Pelosi said, 'We believe the President of the United States is engaged in a cover-up.'"
Nia-Malika Henderson explained: "In Pelosi, Trump has something he has never had. A person – a woman, at that – who challenges, frustrates and frequently doles out plenty of strategic shade." Pelosi "reminds him that his power isn't limitless. With every briefing and White House meeting, she flexes her own considerable power." 
But not toward impeachment, complained Zelizer –and that's a big mistake. Pelosi and her allies are trying to protect "their partisan prospects in 2020" rather than ensure that "our constitutional checks and balances are working to restrain Trump right now," he said. 
Courage, valor, humility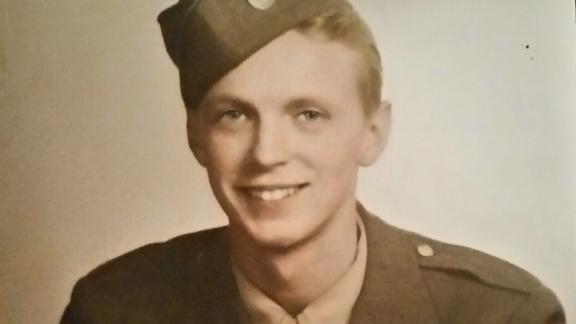 Courtesy Nease family
"The old man said he didn't do anything. I only half believed him," began retired Rear Adm. John Kirby. He was writing about Charles Nease, an Army private who survived the Battle of Anzio in Italy during World War II – and like many in his generation didn't want to take credit for his valor. Kirby visited him in a hospital when Nease was dying, and they talked about his love for his wife and his children. "He did everything, everything a man could hope to do with his life and still call himself a man." 
Memorial Day honors America's war dead, but Richard Morgan wrote that there also needs to be an occasion to "honor our forgotten fallen — the appalling number of children who have died and continue to die because our way of life." He wrote: "There is no Tomb of the Unknown Child," but thankfully, we have student advocates "leading the movement for our fallen children…Our prayer should be that these students succeed in schooling us."
To infinity and beyond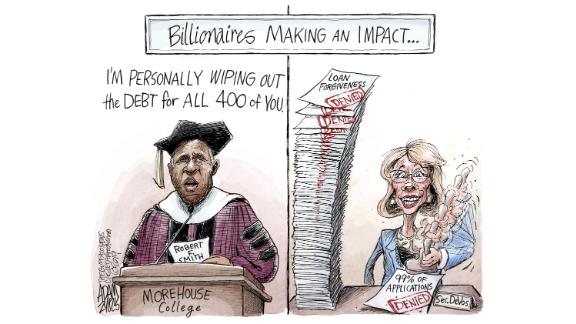 Adam Zyglis/The Buffalo News/Cagle Cartoons
Graduates were tossing mortarboards last week and rushing to meet their futures. But it's hard to imagine a more joyous nudge than the one Robert F. Smith, a billionaire philanthropist, gave to Morehouse College's class of 2019. He said he'd pay off their student loans. "Incredible generosity," wrote Issac Bailey, but "a lone billionaire – or a gaggle of billionaires – will never be enough to solve our growing student loan debt crisis."
As LZ Granderson watched his son graduate – debt free – from New York University last week, he reflected that "the hardest decision I ever made as a father was leaving the city where my then-5-year-old son lived with his mother (my ex-wife) so I could take a better-paying job. I did so with one singular goal in mind: to be in a better position to pay for his college tuition." His happiness at his son's achievement was wound up with a certain regret: "Presence over presents," he pondered. "Was I second-guessing the strategy with which I accomplished my mission?"
Elbie Seibert, 2019 valedictorian at Columbia High School in Nampa, Idaho, lost his father to cancer a week before graduation. He wrote his commencement speech anyway: "My body aches from missing him so much," Seibert said. "I can feel him in my bones, hear him in my dreams, see him in my shadows – and I find some small comfort in all of that." The last year brought many lessons, he said, among them, "never take anyone or anything for granted." 
For Evan Mandery, this weekend marks his 30th Harvard reunion. He's boycotting it over legacy admissions, which favor the already-privileged and furthers inequality, he wrote. "The influence of money is sanitized in the admissions process through the concept of legacy."
What Justin Amash did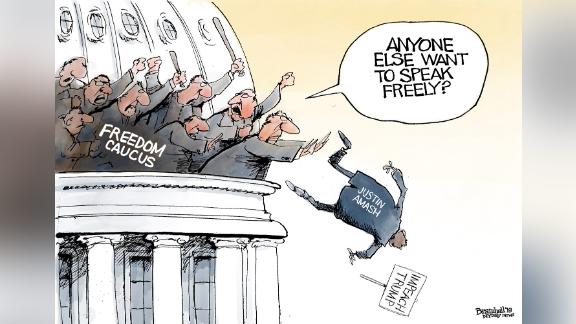 Bill Bramhall/Courtesy Tribune Content Agency
Michigan Congressman – and Tea Party Republican – Justin Amash took a giant step, all alone, away from his colleagues last weekend: "President Trump has engaged in impeachable conduct," he tweeted.  Republican lawmakers lined up to scorn him.  Trump tweeted "loser." But Dean Obeidallah cheered: "Finally, a deeply conservative member of Congress … has put the US Constitution before partisan loyalty to President Donald Trump." 
Mitt Romney disagreed, telling told Jake Tapper he'd "reached a different conclusion": the report does not establish that Trump obstructed justice. "The business of government can move on," he tweeted. 
Please explain, wrote Teri Kanefield. Mueller himself clearly laid out the evidence of obstruction (though declined to charge), she wrote; Romney and others should show the public "which particular parts of Mueller's analysis clear Trump and why. Otherwise, we really have no choice but to conclude that they are telling a politically expedient lie."
Trump vowed to fight every subpoena Congress delivers as it digs into the details of the Mueller probe. One called for his former White House counsel, Don McGahn, to appear before the Judiciary Committee Tuesday. The White House told him to skip it and he did. Trump is winning here, insisted former federal prosecutor Elie Honig: "The White House, fighting for its survival, is willing to bite, eye gouge and kidney punch, while Congress – torn between pursuing justice and political expediency – isn't even sure if it wants to fight at all."
Another smart take:
Michael D'Antonio: Don McGahn, the White House official who stood up to Trump. 
Don't get cocky, candidates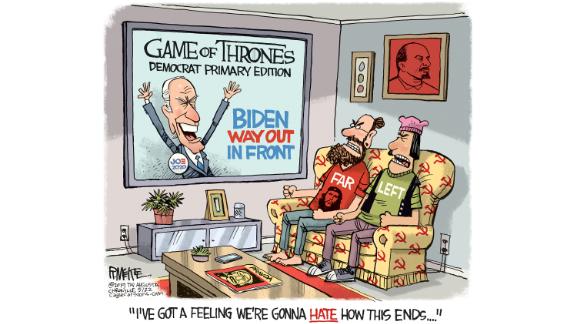 Rick McKee/Augusta Chronicle/Cagle Cartoons
Meanwhile, the 2020 Democratic candidates for president (all 23) continued to wave their arms. Hey, America: Look at us.
Texas Democrat Beto O'Rourke took the stage at a CNN Town Hall Tuesday intent on rebooting his flagging campaign. But first, in an op-ed for CNN, he turned his attention to America's rural communities, suffering both from President Trump's trade wars and massive flooding across the Midwest, he wrote.  "We need to go to forgotten places … and not only pay lip service to their problems, but listen to their ideas and welcome them to be a part of the solution." 
Granderson was appalled to hear during a recent big-ticket, Democratic fundraiser, that donors were reluctant to throw in for a gay presidential candidate, Pete Buttigieg, even though they really like the guy. "I couldn't ignore the irony of hearing so many blue-state-living/rainbow-flag-adjacent /'love-is-love' liberals in one room dismiss Buttigieg's bid for the White House largely because he's gay." He added: "There is a legitimate question about whether Democrats – for all their talk – believe it's worth fighting for a gay candidate." 
And Jill Filipovic warned Democrats not to get cocky after a Quinnipiac poll this week showed Joe Biden far in the lead among Democrats, with Trump failing to get much credit for the flourishing economy. Voters are "hungry for an alternative to Trump" but they need a forward-looking "dual message of integrity and opportunity," she wrote. "2020 could very easily be a big win for Democrats. But complacency, and even reliance on the perceived safest choice, could mean another four years of Trump." 
San Francisco's raid on a reporter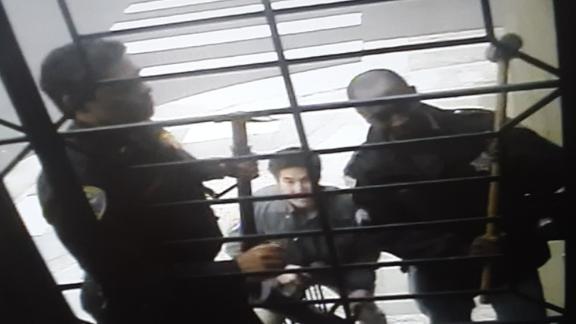 Courtesy Bryan Carmody
Carrying a sledge hammer and with guns drawn, San Francisco police recently raided the home of freelance reporter Bryan Carmody, handcuffing him for six hours and taking away thousands of dollars of equipment, photos and work materials. "A stunning intrusion on press freedom, similar to what we see in autocratic regimes," observed journalist Yashar Ali. "If there isn't more outrage and accountability…other local law enforcement agencies will feel free to engage in the same dangerous conduct."
To the moon, everybody!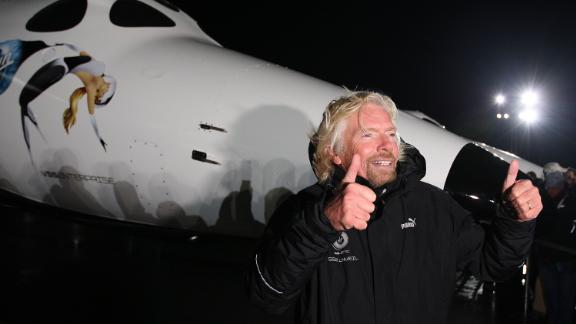 David McNew/Getty Images
Long before he was a billionaire and philanthropist, Richard Branson was a little kid watching the 1969 moon landing on a black-and-white TV, marveling at "the courage it must have taken – to turn something seemingly impossible into a reality. This fascination with flying, breaking boundaries and exploring the great unknown has never left me." Virgin Galactic's spaceship, VSS Unity – eventually to be used for private paying passengers –reached space for the first time in December and the second in February. "One of the most important and exciting things about exploring space is how it can bring us all together."
A looming problem for anti-abortion politicians?
Back in 2016, before Trump was President, New York Times columnist Maureen Dowd asked him: "When he was a swinging bachelor in Manhattan, was he ever involved with anyone who had an abortion?" Trump's response? "Such an interesting question. So what's your next question?"  "Imagine this for a moment," Joe Lockhart mused: President Trump "standing next to a world leader at a joint news conference while an aggressive reporter asks, Mr. Trump, have you ever paid for an abortion, impregnated a woman and encouraged her to get one, or in any other way supported the termination of a pregnancy?'" The legacy of restrictive laws on abortion in a slew of states may be a new, aggressive debate about the role men – including politicians – may have played in their sexual partners' abortion and how they might have benefited from it, Lockhart contends. 
It's later than you think
Spencer Platt/Getty Images North America/Getty Images
Tornadoes and floods are strafing the Midwest, sea level is rising, croplands are swamped, atmospheric carbon dioxide has spiked and animal species are vanishing. Is it too late to save the earth? It's not, but heads of state, ministers, mayors and business leaders better get serious quick, entreated Helen Mountford. "Global greenhouse gas emissions must peak no later than next year and rapidly decline thereafter" for humans to stall the worst effects of climate crisis. When world leaders gather next year – five years after the Paris Agreement of 2015 – their "revised plans will point humanity to a future that is either bright or bleak." 
Two recent studies that showed both extinctions and sea-level rise accelerating ought to slap humans awake, wrote Carl Safina. Instead, the "brutalizing affect" of humans – the tons of plastics found in the bodies of dead whales, the pesticide slaughter of pollinating insects, the disappearance of more than 80% of mammals – continues. "What then would you call something that is wiping out everything besides itself? Here's a short thesaurus of synonyms: disaster, cancer, Armageddon," he wrote.
A life full of treasure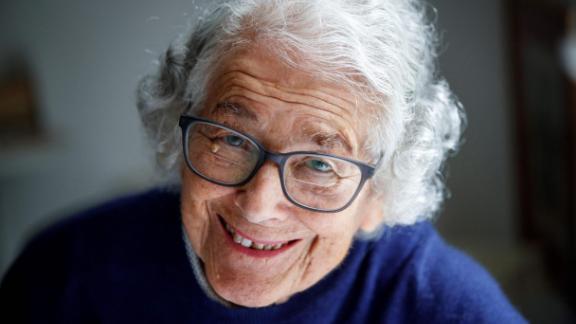 TOLGA AKMEN/AFP/Getty Images
"Buried at the heart of all great children's literature, even the loveliest and most innocent, is a thread of darkness," noted Holly Thomas. And Judith Kerr, beloved author of The Tiger Who Came To Tea, the Mog the Cat stories, and When Hitler Stole Pink Rabbit, knew just where to find it. Kerr died last week at 95.
Her family had fled Nazi Germany when she was a child, Thomas wrote, and her parents worked to shield her and her brother from the horrors swirling around them. "Her attitude about her early experience seems almost preposterously optimistic – she described life on the run as a child as 'wonderful,' and in her final years she said that given the chance, she'd not change a thing about her youth." Her books imagined a better world but were shaded by loss, wrote Thomas. "Kerr knew the possibilities and the perils life entailed, and chose to treasure every gift it offered."