As national security adviser John Bolton and Secretary of State Mike Pompeo jockey for influence amid a variety of pressing international concerns, including Iran, North Korea and Venezuela, there is growing tension between the two men, four people familiar with the matter say.
That tension, sources say, doesn't stem so much from policy differences as it does from clashes over their personal operating styles.
Multiple sources tell CNN that Bolton's more calculating methods have rubbed Pompeo the wrong way and caused him to feel that Bolton is overstepping the role of national security adviser and infringing on his turf as the country's top foreign policy official.
That has fueled a sense around the administration that, as one source puts it, "John Bolton is playing secretary of state," and that he has taken too vocal a role, including on Twitter, on some of the most critical conflicts.
While internal tension over national security matters is nothing new, a source who has witnessed the conflict between Bolton and Pompeo describes it as spilling over in national security meetings at the White House.
"There are disagreements and they're noticed," said the person. Other sources who have been in meetings with Bolton and Pompeo however say they have kept things cordial.
In the year or so that Pompeo and Bolton have been in their current jobs, they have been more or less aligned on policy. Both men consider themselves hawks on foreign affairs. Both favored tearing up the Iran nuclear deal and striking a harder line with Russia, China and even some of America's allies. Though they did not have a close relationship before they came into the Trump administration, Bolton's PAC did endorse and contribute to Pompeo's 2014 congressional race so there was a familiarity between the two.
Still, Pompeo and Bolton have diverged dramatically when it comes to how they operate, fueling a growing animosity between the two men, sources say.
While Pompeo is careful with his public statements, and more diplomatic in his efforts to build consensus, Bolton has taken a more vocal approach publicly, tweeting and putting himself front and center in certain policy debates. Bolton, a veteran government operative with experience in four Republican administrations, also prefers to use backdoor approaches to limit information and decision-making to small groups.
Appearing on the Hugh Hewitt radio show on Tuesday, Pompeo downplayed any notion of a split between him and Bolton on Iran policy.
"There's no difference between and amongst us. Those make great stories. They're wonderful for coffee klatches and social parties in Washington, D.C.," said Pompeo. "I get the parlor game. But make no mistake about it. These are complicated issues that we're all trying to work through, and we're trying to get to the right answer so that we can deliver to the President of the United States."
"This is another tall tale using gossip as sourcing," said National Security Council spokesman Garrett Marquis. "Amb. Bolton is pursuing the President's national security agenda, and has a strong working relationship with Secretary Pompeo."
"The Administration is united on policy," Morgan Ortagus, the State Department spokesperson told CNN.
Bolton the operator
As national security adviser, one of Bolton's primary responsibilities is to facilitate interagency coordination but he has, at times, opted to use his role to circumvent what he believes to be bureaucratic roadblocks and push his own message even if it is inconsistent with what is coming from Pompeo or other agencies.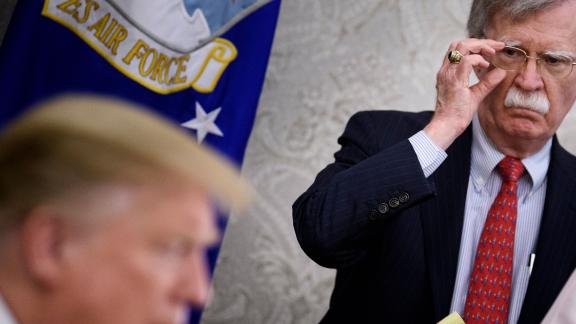 Brendan Smialowski/AFP/Getty Images
Since becoming national security adviser last April, Bolton has convened fewer "principals meetings" of top level cabinet officials to hash out foreign policy and strategy, according to people familiar with the matter.
Instead, Bolton has preferred to arrange shorter and more informal sessions with the President and other National Security Council officials, believing that a smaller environment is better suited to Trump's style. As a result, the NSC is now more effective in driving decisions than it was under McMaster, according to a source familiar with the internal process.
But Bolton's critics suggest the approach is designed to keep opposing views from reaching the President, and that he is centralizing the national security adviser role into a decision-making perch instead of a position meant to funnel information to the President.
At times, that's left other top-ranking officials, including Pompeo, feeling excluded and out of the loop.
During a recent debate over how to handle North Korea, Bolton left Pompeo off messages he sent to the CIA that included a list of questions he wanted answered, according to a source in the intelligence community.
That infuriated Pompeo, who as secretary of state has led negotiations with the North Koreans. In its replies to Bolton, the CIA started sharing information with both Bolton and Pompeo.
Afterward, as a way to keep intelligence to himself, Bolton started having Allison Hooker, the lead Korea specialist on the NSC, call up the CIA for information ahead of meetings with Trump. NSC spokesperson Marquis disputes this reporting.
Bolton regularly coordinates with core intelligence officials, those close to him say, as evident by his recent trip to CIA headquarters in Langley, Virginia, to review intelligence related to Iran.
Two former senior intelligence officials tell CNN that Bolton convened the meeting at CIA not because the material was so sensitive it had to be reviewed on site, but because it was an easy way to keep people out, namely State Department officials and career staffers on the NSC who are outside Bolton's inner circle.
"John's predilection is to do it all himself and that impinges on Pompeo," says one person with knowledge of the inner workings of both the White House and State Department. This person considers Bolton a friend yet believes he is not running the National Security Council properly. "The NSC is overreaching," this person says.
Bolton ruffling feathers
Traditionally, the role of the national security adviser is to give the President unbiased information and to enforce what the President wants. That's difficult, this person admits, when the President isn't always sure of what he wants and tends to change his mind. "What that leaves you with is John freelancing."
That's not only irritated Pompeo, but others around the administration.
"There is a real feeling outside of the national security council, across the board, that John has his own agenda, and is undercutting the President's policies," says one source close to the White House.
Bolton's methods have at times drawn the ire of the President, who sources say has repeatedly said that Bolton has undermined him on North Korea and nearly stalled the entire negotiation process. As for Iran, Trump believes Bolton has "a war agenda," the source added, saying Trump would rather do a deal with the Iranians.
The President also does not appear to be a fan of Bolton's public profile. "Sometimes Trump doesn't seem to mind but I think it gets on his nerves. Especially when Bolton goes off making speeches or tweeting," says the person who is friendly with Bolton. "There is too much history about John. It's all about John. That's not appreciated by the President. He wants it to be all about him."
In March after the Trump administration rolled out additional North Korea sanctions, Bolton tweeted, applauding those sanctions. The next day, President Trump tweeted that additional large-scale sanctions on North Korea would be withdrawn.
The perception inside the White House is that Bolton has also been pushing for more control over the State Department and the Pentagon, this source added, saying, "It is getting a lot of people upset."