Two Hong Kong residents wanted for rioting have been granted refugee status in Germany, in a major blow to the city's international reputation as fears grow of shrinking political freedoms in the semi-autonomous Chinese zone.
A spokesman for the German immigration authorities confirmed that two applicants from Hong Kong "received refugee protection in Germany" last year. The New York Times identified them as Ray Wong and Alan Li, two advocates of Hong Kong independence who fled the city facing rioting charges after violent clashes between protesters and police in 2016.
Last year, Edward Leung, another independence activist previously barred from standing for office in Hong Kong, was jailed for six years for his part in the riot in the Mongkok district.
Responding to a question about Wong and Li, Hong Kong police said they would not "make any comment on this case as legal proceedings are in progress."
"In general, the police will, according to the circumstances of the case, track down the whereabouts of the suspects and arrest them by all possible means," a police spokesman said.
Chinese Foreign Ministry spokesman Lu Kang would not comment on the case in question, but said that issues in Hong Kong "are also China's internal affairs."
"Other countries don't have the right, nor should they interfere, in such affairs, no matter what made-up excuses they use," he said.
Wong told the Times that "if the German government thinks that the Hong Kong judiciary is independent, they would not grant me refugee status. It's because they think that Hong Kong uses the judiciary to persecute Hong Kong people."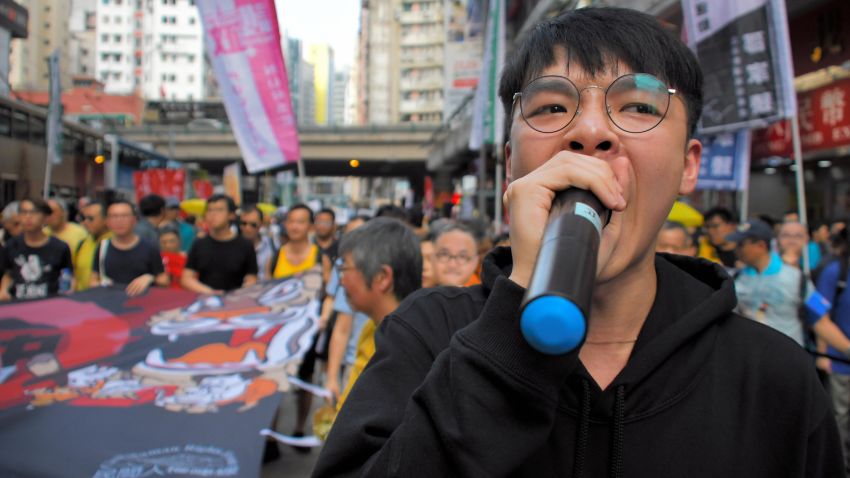 Thousands march in Hong Kong against extradition law
The news comes amid a furious debate in Hong Kong's legislature over a proposed extradition bill which activists fear could be used to send dissidents and critics of Beijing to mainland China. Lawmakers came to blows earlier this month, as the government tried to push the bill through the semi-democratic legislature.
Hong Kong officials argue the extradition law is necessary to close loopholes in current legislation that make it difficult to transfer suspects to countries and territories with which the city does not have an extradition treaty.
In particular, they have pointed to the case of a man wanted for murder in Taiwan who cannot be extradited under the current law. However, Taipei has since stated that it will not seek his return to the island if the proposed legal change puts Taiwanese in Hong Kong at risk of being extradited to China.
Multiple international and local bodies have weighed in against the bill, saying it risks undermining Hong Kong's freedoms and rule of law. Critics point to previous incidents in which critics of Beijing have been snatched in the city and taken across the border, and to the widespread use of politically-motivated prosecutions in China.
On Tuesday, Beijing's top official responsible for Hong Kong affairs, Vice Premier Han Zheng, spoke out in support of the extradition bill. He said the central government "completely supports the work launched by the Hong Kong government, and strongly believes that through the hard work of the government and the rational debate held by different sectors, doubts will surely be cleared and a consensus reached."
Fled to Germany
Wong and Li jumped bail in 2017 and traveled to Germany, where they applied for asylum, according to the Times.
Under German law, refugee status can be granted where applicants are able to demonstrate a "well-founded fear of being persecuted" on the basis of race, nationality, political opinion, religion or membership of a particular social group.
Examples of persecution include "legal, administrative, police and/or judicial measures which as such are discriminatory, or are applied in a discriminatory manner (and) disproportionate or discriminatory prosecution or punishment."
Under the "one country, two systems" principle adopted when Hong Kong was handed over from British to Chinese rule in 1997, the city became a special administrative region of China but retained its legal and political systems, including freedoms of speech and assembly not enjoyed in mainland China.
While it is unclear under what grounds Wong and Li received asylum, independence activists have faced increasing political pressure in Hong Kong since 2016. Last year, the government banned a separatist party for the first time, reiterating its "zero tolerance on 'Hong Kong independence'."
Proponents of Hong Kong independence and of greater legal autonomy from Chinese rule have been barred from standing for election, and disqualified from the city's legislature.