(CNN) —
Every year during commencement season, influential people from all spheres of life pop up at colleges and universities to share words of wisdom and, hopefully, reflect upon the state of the world into which new college graduates are about to be deposited.
This year, despite the country being in the thick of a presidential election season with a fairly new crop of political stars born out of last year's midterm elections, it appears as if elite colleges and universities are eschewing political speakers in favor of representatives from the realms of the arts, activism and business.
For instance, Hillary Clinton spoke at Yale University last year. This year, the university hosted author Chimamanda Ngozi Adichie. Cory Booker spoke at Princeton University last year, while this year, actress and Princeton alumna Ellie Kemper will take the podium for the University's Class Day.
That's not the case at all schools. For instance, German Chancellor Angela Merkel is speaking at Harvard's commencement on May 30.
Here is a look at some of the commencement speakers who have spoken, or are scheduled to speak at commencement events this season:
Brown University: actor-director John Krasinski
Dartmouth College: cellist Yo-Yo Ma
Harvard University: German Chancellor Angela Merkel
University of Pennsylvania: criminal justice reform leader Bryan Stevenson
Princeton University: actor Ellie Kemper
Yale University: author Chimamanda Adichie
University of California, Berkeley: Teach for America founder Wendy Kopp
Duke University: former CEO of the WNBA Lisa Borders
Tulane University: Apple CEO Tim Cook
University of Wisconsin: NFL star JJ Watt
MIT: entrepreneur Michael Bloomberg
UCSD: former Secretary of State Madeleine Albright
Georgetown University: chef and activist Jose Andres
Cornell University: scientist Bill Nye
University of Florida: author James Patterson
Ohio State University: journalist Fareed Zakaria
Arizona State University: Political commentator David Brooks
University of Texas at Austin: CEO of Dell Technologies Michael Dell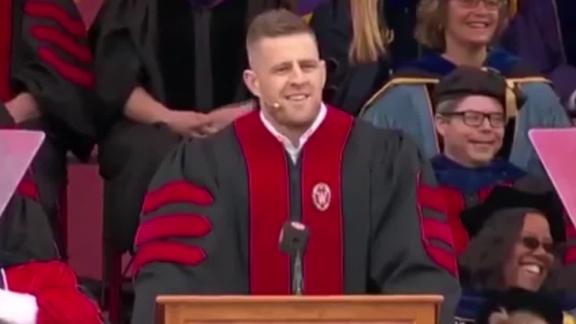 @UWBadgers/Twitter
Of course, universities aren't shying away from politics altogether. Journalists, activists and other people of influence can obviously speak to the political environment at large. Scientists like Bill Nye have also waded into the political waters. But big names like Hillary Clinton and members of the wide field of Democratic Presidential candidates have chosen less high-profile speaking engagements.
Clinton will speak at Hunter College in New York City this month. Democratic presidential candidate Cory Booker spoke at South Carolina State University on May 10, and Senator Kirsten Gillibrand spoke to New England College graduates on May 11.
Despite a general trend among some schools to forgo abjectly political speakers, there is still a demand for the country's current leaders to dispense of their wisdom. President Trump will speak to graduates of the US Air Force Academy on May 30. Vice President Pence spoke to students at Liberty University, one of the largest Christian universities in the world, on May 11.