Editor's Note: Diane McWhorter, author of "Carry Me Home," is writing a book about Huntsville. The views expressed here are hers. Read more opinion on CNN.
Some years ago, with the Confederate flag in vogue on state license tags, civic boosters in Alabama's high-tech mecca of Huntsville came up with a more dignified vanity-plate statement – "First to the Moon," in honor of the Saturn V rocket invented there. (True, the inventors were German, Hitler's missile engineers brought to the United States after the war, but their celebrity leader Wernher von Braun liked to say, "You can see I speak with an accent – that's because I come from Ahlahbahma.")
Now, as the Rocket City cranks up the 50th anniversary celebrations of the Apollo 11 moon landing, it faces a backlash against the in-your-face near-total abortion ban passed by the state legislature this week in a frank bid to overturn Roe v. Wade.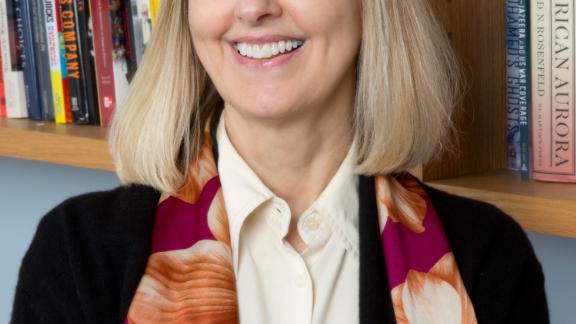 Martha Stewart
And so it goes in Alabama, our laboratory of democracy, with the loftiest accomplishments and most dismal fails. Birmingham and Selma have become synonymous with the expansion of civil rights they helped forge; that history is in eternal tension with the drive to shrink this progress back to the oligarchic dark ages of the 1901 state constitution.
Huntsvillians used to lament that the state line wasn't drawn some 20 miles south at the Tennessee River, but now they elect politicians very much in step with Alabama values. In March, their congressman, Mo Brooks, read from "Mein Kampf" on the House floor (to be fair, he was comparing Democrats to Hitler) the same week that local scholars were hosting a symposium on NASA in the South. And the area's two state senators, one a former Democrat, were among the 25 white Republican men who made abortion a crime this week, with no exceptions for pregnancies caused by rape or incest.
To read the names and places of those 25 white men is to enter some alt-right Disneyland of American history. There is Steve Livingston of Scottsboro, namesake town of the nine black "Scottsboro Boys," who earned international fame as victims of judicial lynching after being falsely accused of rape by two white women (from Huntsville). There's the state senate's President Pro Tem Del Marsh of Anniston, scene of the 1961 Klan firebombing of the Freedom Riders; 50 years later he made civil rights history himself as a cheerleader for the 2011 anti-immigrant law that recast Jim Crow as Juan Crow. Huntsville's own state Sen. Sam Givhan is the grandson of Walter Givhan, a state senator who was a top dog of the White Citizens Council, the Klan's white-collar analog in the 1950s.
It's unfair to impugn the younger Givhan just because his grandfather accused the NAACP of seeking to "open the bedroom doors of our white women to the Negro men," though both Givhans seem to share certain assumptions about women's agency over their bodies. But given that the majority of pregnancies terminated in Alabama are by women of color, it may seem counterintuitive that today's Constitution-defying legislators are so keen on protecting the "rights" of future human life that will very likely be dehumanized by the civil society those same white men created: substandard schools from which children are pipelined to suicide-inducing prisons; sewage-plagued communities shocking to UN poverty specialists and only miles from Selma, starting place of the famous 1965 march pivotal to the passage Voting Rights Act, which was undermined in 2013 by a landmark Supreme Court decision upholding a challenge out of Alabama.
In the yin and yang of Alabama, "civil rights" are its biggest curse and its greatest gift. In 2018, the state saw its biggest increase in tourism ever, according to Alabama's tourism director Lee Sentell. Visitors spent $15.5 billion, $1.2 billion more than the previous year; significant traffic was likely generated by the lynching memorial opened a year ago by Bryan Stevenson's Equal Justice Initiative in Montgomery, according to Sentell.
On the other hand, the business community is assuming the familiar crouch it took after the anti-immigrant law, the gay marriage showdown, and the US Senate candidacy of an alleged child molester, in anticipation of boycotts and lost development opportunities in the aftermath of the latest abortion law. Birmingham Mayor Randall Woodfin confirmed to me today that the abortion ban affected two IT companies considering moves to the city – one canceled outright, while the other "put the brakes on negotiations."
But boycotts in response to this abortion law are more likely to punish the state's brave, embattled progressives than shame those who are without shame. Anthony Daniels (D-Huntsville), the educator-turned-House minority leader who led the walkout of Democratic legislators in protest of the abortion-crime bill, proposes a constructive alternative.
"We're the guinea pigs for bad pieces of legislation," he told me of his Republican-super-majority state. This has been true since an industrialists' front called the "Christian Americans" passed a "God-Given Right to Work" model law here in 1943.
Daniels urged that, rather than focus on "the shiny places that are the swing states," progressives invest more financial and strategic resources in red states such as Alabama.
"We have to change this at the ballot box," he said. It was Daniels who introduced the "rape and incest" amendment that made the ban's supporters cast a hard vote to force women to bear the children of rapists and/or relatives. And by spotlighting that bill's unpopular extremes – including the 99-year sentences for abortion doctors – rather than getting into the merits of the abortion debate, he was able both "to divide their base and to satisfy our base by giving them something to grab hold of."
Even if the "Alabama Human Life Protection Act" doesn't end up being the test case that gets the Supreme Court to rule up or down on Roe, Alabama has lived up to its legacy by forcing a stark moral reckoning. Just as the widely accepted "rape and incest" exception shows that abortion is not always murder in the eyes of its opponents, so does the latest polling suggest that supporters do not take an absolutist either/or position.
Perhaps proponents could concede that there is a moral argument against abortion. For one thing, there just is. And for another, acknowledging someone's aggrievement is a proven conflict de-escalator, as when doctors apologize to victims for medical errors and are consequently less likely to be hit with malpractice suits. And only from the safe distance of high ground, one might then be able to point out that "being pro-birth is not the same as being pro-life," as Daniels puts it, or consistent with being pro-death penalty and against birth control access, Medicaid, children's insurance and the rest of Alabama conservatives' pet peeves.
Every liberal here knows that the game is a long one. Back in 1976, the legendary liberal federal judge Frank Johnson – a Republican – took receivership of the state's prison system, writing that it beggared "any current judicial definition of cruel and usual punishment." Forty-three years later, Alabama's heinous prisons are back in the headlines and under a court order by Johnson's successor, Myron Thompson. Rather than comply, we fume, deflect and defy, spending scarce public resources to defend state pathologies that the money could have gone toward curing.
Get our free weekly newsletter
The occasional shining exception only underlines how much potential and opportunity have been lost to the rule of resistance. When Page Walley, then head of the Alabama Department of Human Resources, decided to tackle a 12-year-old 1991 court decree to correct the "depraved conditions" of the state's child welfare system, not only did he fix the problem, but he made Alabama a model by the standards of the union.
Maybe it could happen again. If we can put a man on the moon…