(CNN Business) —
The US economy is strong, yet discount retailers are booming. That's why "extreme value" supermarket chain Grocery Outlet believes its the perfect time to hit the public market.
The 73-year-old discount supermarket has grown to more than 300 stores in the United States, most of them on the West Coast. It hopes to raise $100 million through an IPO, the company said in a filing Monday.
Unlike many of the companies that went public this year, Grocery Outlet is profitable. It has posted 15 straight years of sales growth at stores open at least a year and reached $2.3 billion in revenue a year ago. And it doesn't even sell online.
Grocery Outlet's success is yet another sign of the strength in the discount sectors of the grocery and retail industries.
"Consumers' search for value is the new normal in retail," Grocery Outlet said in its filing. "The success of off-price retailers represents a secular consumer shift."
Despite a stronger economy in recent years, Americans across age groups and income levels are looking for bargains. Eighty-nine percent of all US consumers — and 90% of shoppers who make more than $100,000 a year — say they shop at discount retailers, according to a survey last year by the industry trade group National Retail Federation.
Other retailers have also recently capitalized on shoppers' hunt for deals.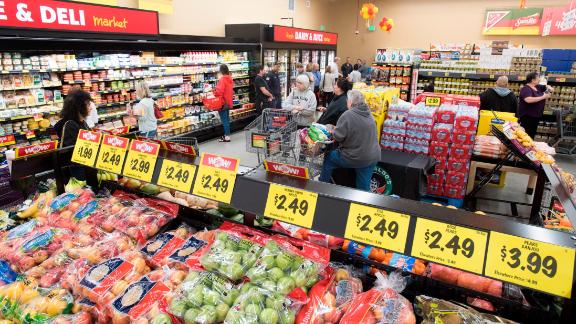 Paul Bersebach/Orange County Register/Getty Images
Dollar General (DG), Ollie's Bargain Outlet (OLLI), TJX (TJX), Ross (ROST), Burlington (BURL) and Five Below (FIVE) opened up thousands of stores last year, while German discount grocery chains Aldi and Lidl are on a major growth spurt in the United States. Aldi plans to become the nation's third-largest grocer by store count, behind Walmart (WMT) and Kroger (KR).
Grocery Outlet's business model is a lot like TJMaxx, Ross and Ollie's Bargain Outlet.
Like those rapidly growing discount retailers, Grocery Outlet buys brand name products directly from suppliers for cheap. It sells groceries, produce, refrigerated and frozen foods, alcohol, meat and seafood and health and beauty care items at its small, 15,000 square-foot stores for around 40% less than conventional grocers.
The company relies on an "opportunistic buying" strategy to acquire products from its 1,500 suppliers, many of whom are the country's top consumer products' companies.