(CNN) —
If someone asks you about what happened this week on that little dragon show you watch, you are more than allowed to just scream at full volume for an hour and 20 minutes. Because that's what this episode was. Just one, long 80-minute "AAAAHHH!!!"
Things start off quietly enough. Without Missandei around to braid her hair or apply her undereye concealer, Daenerys is leaning into the "foreshadowing fiery genocide" aesthetic while moping around Dragonstone. She's mad at Jon, mad at Tyrion and especially mad at Varys for going around blabbing about Jon's true lineage. It appears the "Master of Whispers" has become the "Master of Discussing Deadly Secrets at Full Volume," and before you can even get emotionally prepared for this week's carnage, everyone's standing on the beach looking stoic and Dany is sentencing Varys to death and Drogon is bearing his 3,000 teeth and wow, we're off to the races.
One major character death down, a shocking amount left to go.
Tyrion, full of doubt and fear and definitely not used to either, finds Jaime who has been captured and imprisoned at Dragonstone. The two brothers share a good hug and Tyrion outlines a plan for Jaime to escape with Cersei and start life anew in Essos, where ostensibly they are more forgiving of murderous incest.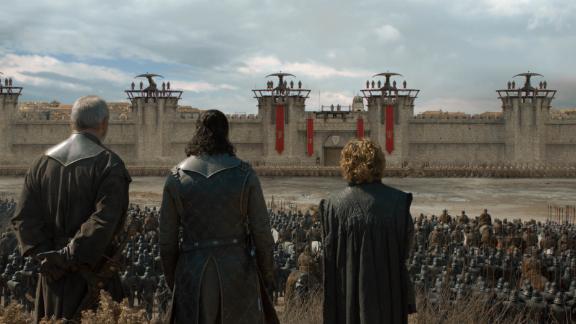 Courtesy of HBO
But first, it's time for war. The mood is tense in Kings Landing, where throngs of common folk are being herded inside the Red Keep, and the Golden Company and the Iron Fleet are assuming their positions as unwitting dragon appetizers. If Dany's general haggard appearance wasn't foreshadowing enough, we get lots of good, salt-of-the-earth shots of the innocent citizens of Kings Landing with their doe-eyed children in tow. By the laws of television, you only get affectionate close-ups of the unwashed if something really, really terrible is about to happen to them.
And, happen it does. Drogon drops out of the sky like a 10-ton seagull, and within minutes the Iron Fleet, the Golden Company and all of the Lannisters' fancy dragon-killing equipment is flambeed to oblivion. Grey Worm, who is so deep in his feelings he completely forgets his helmet, dispatches the leader of the Golden Company, and with that, the Unsullied and the smattering of remaining Dothraki set about sacking the city.
It's a laughably easy win for Daenerys and company. Even Cersei sees it, perched atop the Red Keep with a concerned Qyburn. Side note: Ol' Cers must be about 500 months pregnant now, so why does she have the belly of someone who had, like, five bites of a burrito for lunch?
Anyway, she's hemmed in and she knows it. As the city's fortifications burn to ash and enemy forces close in, the bells of surrender begin to sound. A single tear rolls down Cersei's proud face. Drogon and Daenerys let up, the Unsullied and the Lannister forces exchange a hearty round of handshakes and the two sides proceed with a peaceful transfer of power.
Just kidding! Dany goes full-on Mad Queen and burns the living hell out of EVERYTHING. Innocent children? You get a Dracarys! Entire city blocks? You get a Dracarys! Everyone gets a Dracarys! Jon and Tyrion's faces say it all. This is definitely not how it was supposed to go. Daenerys Targaryen has gone rogue.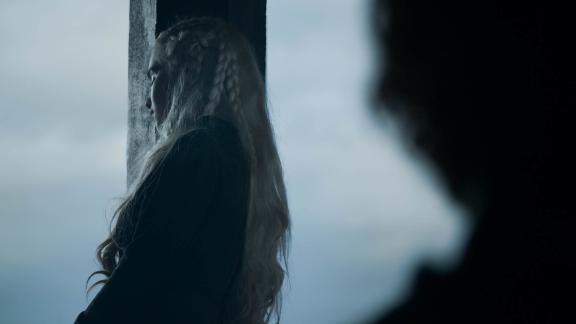 Courtesy of HBO
However, don't think that just because thousands of people are being burned alive and King's Landing is literally crumbling to the ground that there isn't time to have a slapfight about who gets to be Cersei's boyfriend. Somehow, among everything going on, Euron, the drunk cockroach of Westeros, finds Jaime and they have an extremely athletic tussle on the banks of Blackwater Bay. It's not all bad though: Jaime kills Euron, which we can agree is a personal favor to us all.
Oh, right! By the way, Arya and the Hound must have ditched their horses for high speed rail, because they're also here in Kings Landing. The Hound urges Arya to get out while she can, and they part with as much tenderness as two soft murder beings can muster. There's nothing like apocalyptic dragon fire to make a girl forget all about her kill list, and before long Arya is running terrified through the streets like everyone else.