(CNN) —
Doris Day, the box-office queen and singing star whose wholesome, all-American image belied an often-turbulent personal life, has died, her foundation announced Monday.
She was 97.
The actress passed away early Monday surrounded by a few close friends at her Carmel Valley home in California, according to the Doris Day Animal Foundation.
She had just celebrated her 97th birthday last month with nearly 300 fans who gathered in Carmel.
Day recently contracted a serious case of pneumonia that resulted in her death, the foundation said.
Day was arguably the top female box-office star in Hollywood history, with a No. 1 ranking in 1960, 1962, 1963 and 1964. She had her first hit as a big-band vocalist during World War II before making nearly 40 movies in the next two decades, reigning supreme at a time when her contemporaries included Audrey Hepburn, Marilyn Monroe and Elizabeth Taylor.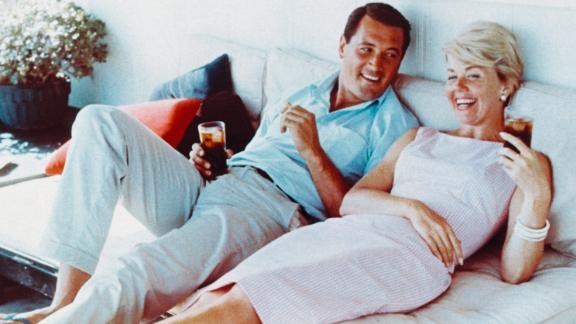 Silver Screen Collection/Getty Images
Sex comedies such as "Pillow Talk," "Lover Come Back" and "That Touch of Mink" established her as a sunny but slightly uptight career woman who fought off men's advances.
"My public image is unshakably that of America's wholesome virgin, the girl next door, carefree and brimming with happiness. An image, I can assure you, more make-believe than any film part I ever played," Day told A.E. Hotchner in her memoir, "Doris Day: Her Own Story."
Or as one-time co-star Oscar Levant famously joked, "I knew Doris Day before she was a virgin."
The chaste screen persona seemed at odds with her private life.
She married four times and had a child before she was 20. She described her first husband as a "psychopathic sadist" who beat her. Her second husband told her by letter that he was leaving her after eight months. Husband No. 3 was agent Martin Melcher, who mismanaged her fortune and left her in debt when he died. Her fourth, restaurateur Barry Comden, complained to the press that she kicked him out of bed for her pets.
Day also suffered from panic attacks in the early '50s, what she later described as "tantamount to a nervous breakdown."
As singer, one of 'the best in the business'
She was born Doris Mary Ann von Kappelhoff on April 3, 1922, in Cincinnati.
She dreamed of a career as a dancer until she injured her right leg in a car accident as a teenager. During a long convalescence, she immersed herself in the big-band sounds of Tommy Dorsey and the vocals of Ella Fitzgerald.
She soon became a performer on local radio and then joined a swing band. The bandleader feared that her last name, Kappelhoff ("von" had been dropped), was too long for a marquee, so he dubbed her Doris Day after a song of hers, "Day After Day."
"But I never did like it. Still don't. I think it's a phony name," Day said more than 30 years later.