(CNN Business) —
Just days after they appeared to be on the verge of brokering a deal, the United States and China are fighting a trade war again.
The Trump administration made good on its threat to raise tariffs on $200 billion worth of Chinese exports from 10% to 25% earlier on Friday, marking a sharp escalation in tension between the world's two largest economies.
After months of talks aimed at ending a year-long dispute that has already hurt global growth and rattled stock markets around the world, the latest US salvo risks triggering a new wave of tit-for-tat responses.
Beijing on Friday expressed "deep regret" at the latest US move, and reiterated that it would "have to take necessary countermeasures." It did not specify what they would be or when they would be imposed.
What happens next could have enormous implications for businesses, consumers and investors.
China's response
The coming days could be crucial. US and Chinese negotiators ended another round of talks on Friday without a deal to resolve American concerns on market access and intellectual property theft.
China is constrained in its response to the latest US tariffs by the fact that it buys far fewer goods from the United States than the other way round. It imposed tariffs on US exports worth about $110 billion when the trade war started last year, leaving only roughly $10 billion worth of goods to target now.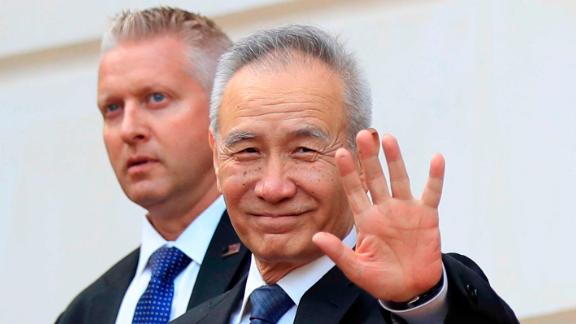 Manuel Balce Ceneta/AP
"China … is running out of American imports to tax," said Brock Silvers, managing director at advisory firm Kaiyuan Capital. "The fact that Beijing has yet to declare a specific retaliatory intent shows that China is still hoping the peace process can be salvaged," he added.
The Chinese government could hike the level of its existing tariffs on US products, rather than go after a new list of exports, according to Julian Evans-Pritchard, senior China economist at Capital Economics.
"They have a 25% tariff on agricultural commodity imports from the US, they could double that potentially," he said. "I think it's a balancing act for them. They want to retaliate for political reasons … but actually in economic terms probably their best option would be to do nothing."
The trade war has already hurt American farmers and some of the biggest companies on both sides. Apple (AAPL) partially blamed the trade war for a revenue decline in the first three months of 2019, and construction company Caterpillar (CAT) said that Chinese tariffs cost it more than $100 million in 2018. Top Chinese firms like Alibaba (BABA) have also warned that the increased tensions are hurting business.
Further escalation?
Even as the two sides were still talking on Friday, Trump tweeted that "the process had begun" to apply a 25% tariff to virtually all Chinese exports to the United States.
"The fact that the White House has increased the tariff rate suggests that the probability has risen that tariffs will increase on the remaining roughly $300 billion in imports from China that the US has not yet targeted," Goldman Sachs said in a note on Friday.
In response, China could make life harder for American companies operating within its borders with hurdles like customs delays and heightened scrutiny by regulators. Big names like Boeing (BA), Nike (NKE), Tesla (TSLA), General Motors, Intel (INTC) and many others all