(CNN) —
About a mile from the White House, a group of American activists are sleeping on couches and inflatable mattresses inside the Venezuelan Embassy.
And they won't leave until embattled President Nicolas Maduro's diplomats return.
About two weeks ago, members from the anti-war group Code Pink arrived at the four-story brick building in Washington's Georgetown neighborhood. Most were only carrying a few clothes, blankets and their toothbrushes.
"We are not there for a party," said Ariel Gold, the group's national co-director. "We are there to protect the building."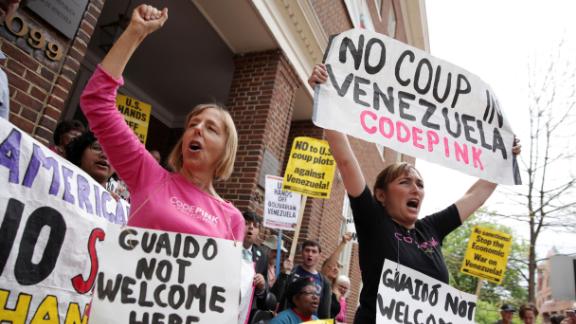 PHOTO: Alex Wong/Getty Images
The embassy staff recently left the building, weeks after Venezuelan opposition leader and self-proclaimed interim President Juan Guaido challenged Maduro's leadership with the support of the United States and dozens of other nations.
Activists decided to move into the building, concerned that Guaido's supporters would take over the embassy, fueling tensions between the US and Venezuelan governments, and eventually leading to military intervention.
Medea Benjamin, one of the group's founders, said Maduro's diplomats allowed them to stay in the embassy and gave them key cards to access the building before leaving. She said the group mostly operates out of a conference room on the second floor.
Photos taken inside the embassy show empty offices, a few desks filled with stacks of passport applications, boxes marked as "fake passports," children's toys and computers without hard drives.
Most days, about 25 people discuss the political situation and take turns to clean the rooms surrounded by portraits of Maduro, the late former President Hugo Chávez and legendary leader Simon Bolivar. They cook veggie omelets or oatmeal for breakfast and have rice and beans for dinner.
Some Venezuelans want them out
Venezuelans in the United States have descended on the embassy over the past few days to protest against the American activists with loud bullhorns, and they've formed human chains to block the building's entrances.
As many of her relatives and friends took to the streets this week in Venezuela, Cynthia Cortes headed to her country's embassy in Washington to answer Guaido's call to protest.
Cortes quickly joined other Venezuelans chanting the National Assembly leader's name and waving her country's yellow, blue and red flags, but it surprised her to see Americans occupying the embassy.
"We're doing our part from wherever we are around the world to bring light into the Venezuelan plight. And there's invaders in our embassy that are not Venezuelans," Cortes said.
"This is the Venezuelan people for Venezuelan democracy; this is not about right or left in the world. I hope and I beg that people don't use my country and the suffering of my people for their own personal flags that have nothing to do with what's going on."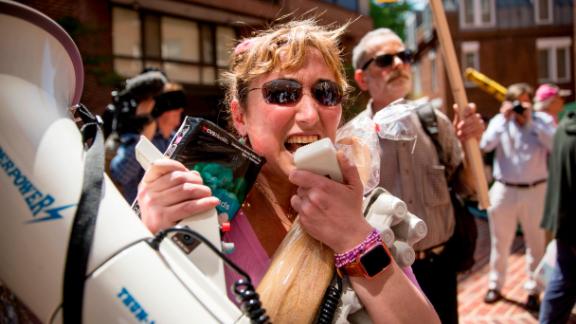 PHOTO: Andrew Harnik/AP
On Friday, Gold said her group had to use a rope to pull containers with food and medicine up a window on the second floor after Venezuelan protesters would not let the supplies be brought into the building.
The US State Department said any unauthorized individuals on the property are considered trespassers.
"The Venezuelan government, led by Interim President Juan Guaido, has legal authority over the Venezuelan Embassy in Washington, D.C.," a State Department representative said in a statement.
"We encourage the remaining unauthorized individuals to vacate the building and to conduct any future protest peacefully and through legal means."
But Benjamin said they have no plans to leave.
"We think it's important to protect the embassy," she said, "until some kind of arrangement can be worked out between the US and the Venezuelan government."
CNN's Jennifer Hansler and CNN en Español's Isabel Morales contributed to this report.