Montana is home to some of the most beautiful scenery you'll find anywhere in America. It's also home to one of the country's ugliest statistics: Native American people there are almost five times more likely to be reported missing than everyone else in the state.
Native Americans make up only a sliver of Montana's total population – less than 7% – but accounted for 26% of all missing person reports from 2016 to 2018. Almost two-thirds of those Native Americans reported missing are women or girls.
The problem is especially acute in Montana, and not at all new, but on Friday the first piece of legislation to address the issue became law when Montana Gov. Steve Bullock signed a measure known as Hanna's Act. The law comes at what may be a watershed moment for the national epidemic of missing and slain Native American women. There is more pending legislation in Montana, and federal lawmakers are debating their own legislation to get a grip on the problem that is little known outside the reservations.
In Montana, Hanna's Act, named for Hanna Harris, who was killed on the Northern Cheyenne Reservation in 2013, will appoint a missing person's "czar" to oversee a new database of missing people and help facilitate better communication between law enforcement agencies working on the cases.
Montana State Sen. Jason Small lives on the same reservation where Harris was killed. He sponsored a second bill that aims to better get the word out on missing people within the first few days, because the vast majority of missing natives are not listed in an official federal database. Montana's legislature meets every two years. This year's session had 12 seats filled by Native American lawmakers, the most in state history. Small credits that and the 2017 film "Wind River" for raising awareness of the problem and spurring legislative action.
"I'm not saying it was the only thing, but it darn sure helped," he said of the 2017 film, which starred Jeremy Renner and Elizabeth Olsen.
'I'm just hoping that something will be done'
Help can't come soon enough for the family of 20-year-old Shacaiah Harding. Harding, who goes by her middle name, Blue, went missing on July 23, 2018, from Billings, Montana. Harding had struggled with addiction and was in and out of a teen crisis center. Her mother, Tamera Bearcomesout knew she was missing days after she was last seen, but because she had disappeared and come back before, she didn't file an official missing person's report until almost a month later, thinking Harding would turn up eventually. She never did.
Bearcomesout said it "felt like they quit trying" after the Yellowstone County Sheriff's Office learned Harding allegedly had traded sex for drugs before.
"Regardless of her past, or her addiction, she's still my daughter, still my baby," she said, fighting back tears. "I'm just hoping that something will be done. It's getting too long."
Yellowstone County Sheriff Mike Linder said his office is still following every lead that comes in, including at least one reported sighting in recent months and reports that Harding had communicated on Facebook since her disappearance. He denied her lifestyle affected the investigation. "That's absolutely not the case. We're not judging people," he said. "Her history does not determine how hard we try."
Help came far too late for 14-year-old Henny Scott, who went missing from the Northern Cheyenne Reservation on December 7, 2018. She had called home from a friend's house to ask if she could attend a weekend basketball tournament in Billings. She was told to come home, but "she never showed up," said her mother, Paula Castro-Stops, who was clearly emotional as she recounted that phone call.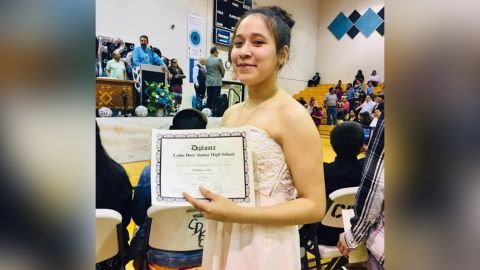 On December 9, Castro-Stops posted on Facebook that her daughter was missing. Four days later she filed an official missing person's report with law enforcement on the neighboring Crow Reservation, where she believed Henny may have been. The media was alerted December 26, 17 days after Henny was reported missing. Her body was found on the Northern Cheyenne Reservation near the town of Lame Deer on December 28, about 100 yards away from the house she had called from. The FBI is investigating, but there have been no charges filed.
"We've kind of lost a little bit of hope, but I'm praying there is [justice]," said Castro-Stops.
The Crow Bureau of Indian Affairs, which handles law enforcement on that reservation, did not return calls for comment.
Castro-Stops said police agencies were slow to share information with one another, if at all. She said Montana's new laws would have been helpful at the time of Henny's disappearance.
"If [police] had of put it out there right away, more people would have known," she said. "I was just using Facebook."
Small, the state senator sponsoring some of the legislation, said the Henny Scott case is a prime example of jurisdictional issues between tribal police, federal Bureau of Indian Affairs agents, and non-Native American local and state police failing to adequately communicate.
"It's really just a huge messy situation," he said.
Castro-Stops thinks the issue runs much deeper than jurisdictional quagmires. "I believe they use that as an excuse," she said. "We're a minority who don't have many resources."
'Indian Country is not mainstream media'
This week, US Rep. Deb Haaland, a New Mexico Democrat and a member of the Pueblo of Laguna tribe, introduced the Not Invisible Act in the US House of Representatives. She was joined by three other members of Congress who are Native American tribe members, making it the first congressional bill in history to be introduced by four members of federally recognized tribes.
If passed, the Not Invisible Act will get victims, tribal leaders, federal agencies and law enforcement in the same room to recommend solutions to the plague of missing and slain Native American women.
Haaland, who is co-chair of the Congressional Native American Caucus, also plans to introduce separate legislation that aims to count the number of missing and killed Native Americans. One estimate from the National Crime Information Center shows 5,712 reports of missing Native American women in 2016 alone, though reliable data is difficult to come by.
Last year, Washington state passed a similar law that requires the state patrol to count the number of missing and killed Native American women. Their first report is due in June.
What took Congress so long to do something about a problem that goes back decades? "It's no one's fault," said Haaland, explaining that lawmakers before her have had all kinds of priorities, though it certainly helps now that there are four Native Americans in Congress, the highest number on record.
"There's so many issues in Indian country that nobody knows about. Indian country is not mainstream media." She half-joked that the most mainstream media attention Native Americans get is "When the President calls Elizabeth Warren Pocahontas," a reference to the Massachusetts senator who once identified herself as Cherokee, despite lacking tribal enrollment or an identifiable Native American relative.
"I think that the attention that will be paid [to missing Native Americans] as a result of the bill will help generate the kinds of questions we need to solve these issues," Haaland said, acknowledging that her legislation is only the beginning of an effort to end what she calls a "crisis" that's gone on for too long.
CNN's Sara Weisfeldt contributed to this report.