New York Times editorial page editor James Bennet recused himself from his desk's coverage of the 2020 presidential election, the newspaper announced Thursday, a decision made in response to his brother, the Democratic senator from Colorado, entering the race.
"He will not discuss, assign or edit any editorials, Op-Eds, columns or other Opinion pieces focused on candidates or major issues in the campaign," the Times said in a statement.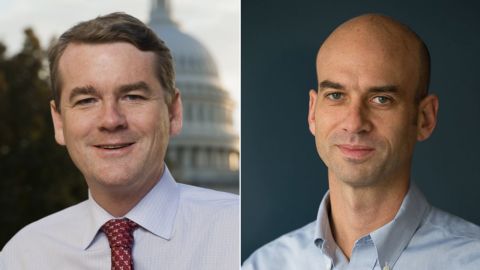 Michael Bennet, the two-term Colorado senator and older brother of James, announced Thursday morning that he will become the latest Democrat to enter a field of more than 20 other candidates vying for the party's presidential nomination.
The Times noted that James Bennet "has not been involved in any editorial decisions related to the senator," and said that "[a]s long as Sen. Bennet's campaign is active," deputy editorial page editors Kathleen Kingsbury and James Dao will handle all responsibility for political coverage. The recusal applies to "any work generated by the opinion desk related to the 2020 presidential election."
The decision was telegraphed earlier this year when speculation of a Michael Bennet presidential bid began to surface. Times spokeswoman Eileen Murphy told Vanity Fair if Sen. Bennet were to announce "an exploratory committee or a potential run for president, his brother, editorial-page editor James Bennet, will recuse himself from any work generated by the opinion desk related to the 2020 presidential election."
Depending on how long Sen. Bennet remains in the race, the move will sideline James from what will undoubtedly be one of the top stories over the next year-and-a-half. The editorial page covers a broad purview, running a number of pieces in any given week that fall outside the bounds of American politics.
But as the country's domestic and international concerns are increasingly seen through the prism of the 2020 campaign, those stories might dwindle.
James Bennet took the helm of the Times' editorial page in 2016 after a 10 year run as editor-in-chief of The Atlantic. Under his leadership, the Times' editorial page has routinely found itself at the center of media firestorms with a host of widely criticized pieces and hires.
Just this week, Bennet published an editorial criticizing his own department after an anti-Semitic cartoon appeared in international editions of the Times.
In 2017, Bennet testified in a defamation suit brought against the Times by Sarah Palin over an editorial suggesting that an advertisement from the former vice presidential candidates' political action committee incited Jared Lee Loughner, the man who carried out the 2011 shooting in Arizona that killed six people and severely wounded former Congresswoman Gabrielle Giffords.
The Times was forced to issue a correction the next day. At the trial, Palin's lawyers questioned Bennet about his brother, noting that Michael's office had received threats days following the Giffords shooting and that Palin endorsed his opponent in the Colorado senate race.
A federal judge ultimately dismissed the suit.