(CNN) —
Taiwanese businessman and presidential hopeful Terry Gou has met with US businessman and current President Donald Trump, and received this advice: Being president is a tough job.
Gou, the 68-year-old founder of electronics manufacturing giant Foxconn, is Taiwan's richest man. He met with Trump in the White House in Washington on Wednesday afternoon, the White House confirmed Thursday.
Following the meeting with Trump, Gou made a lengthy post on Facebook where he called Trump an "old friend," adding that they had met for 50 minutes.
"President Trump sent me a signed souvenir – and even gave me the pen – and told me that being president was a tough job," Gou wrote. He attached a photo of his White House haul, as well as two hats bearing US and Taiwan flags with the phrase "Make America Great Again."
From Terry Gou/Facebook
Gou also posted a number of tourist photos from his Washington trip, showing him posing in the pink cap outside the White House and saluting in front of a statue of former US President Abraham Lincoln.
"Although it wasn't my first (visit), this time my state of mind was different because I am a Taiwanese presidential candidate," said Gou, who has an estimated net worth of over $7 billion.
Last month, Gou threw his hat in the ring for Taiwan's upcoming presidential race, saying the sea goddess Mazu had told him to "step forward and do something for the people of Taiwan," according to state media.
As well as Mazu, Gou may have been inspired by another source: Trump. According to multiple media reports, the Foxconn chairman is rumored to have been inspired by Trump's 2016 run and began thinking that he too could be a head of state.
Gou's company, Foxconn, is is the world's largest electronics manufacturer, providing parts for Apple, Huawei and others. The Taiwanese company is hugely involved in China, where it employs hundreds of thousands of people. In 2017, it pledged to build a plant in Wisconsin in return for $4 billion in state and local tax incentives, although those plans have since faced harsh criticism.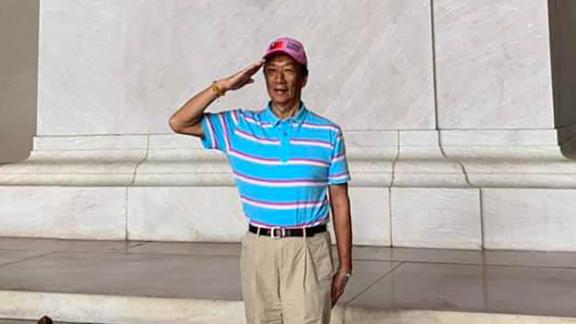 From Terry Gou/Facebook
In a statement, White House press secretary Sarah Sanders called Gou a "brilliant" business leader who was spending a lot of money in Wisconsin – and would soon announce more investment there.
"The President and Mr Gou did not discuss support for his campaign in Taiwan, he is just a great friend," Saunders said.
In a statement Wednesday, Foxconn said that the two discussed the progress of the Wisconsin Valley Science and Technology Park project, among other matters.
If Gou wins a primary election to be selected as Kuomintang Presidential candidate, he will "withdraw from daily operations" at Foxconn, according to the company. If selected, Gou would likely face off against Taiwan's incumbent President Tsai Ing-wen in the 2020 election, scheduled for January 11.
CNN's James Griffiths contributed to this story.