A South Korean politician was locked in his office by rival lawmakers for over six hours Thursday, in an effort to prevent him attending a meeting ahead of a major vote.
Chae Yi-bai of the Bareunmirae party and four of his aides were trapped in his office at Seoul's National Assembly. Eleven members of the rival Liberty Korea Party entered at 9 a.m. (8 p.m. Wednesday ET), Chae's office told CNN, proceeding to block the door with a sofa and sit on it.
Five hours in, Chae delivered an impromptu press conference to reporters gathered outside his window. The lawmaker discussed ripping out the window to escape, and asked a nearby firefighter for assistance.
He was eventually freed when police arrived at 3 p.m.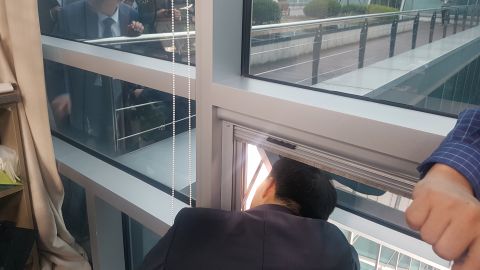 Chae was recently appointed to a key committee role by the Bareunmirae party leadership to vote in favor of a bill that would expand proportional representation in South Korea. The Liberty Korea Party strongly opposes the bill, saying in a recent statement, "Proportional representation will rip the assembly into pieces and render it a multi-party system. The law will allow the president to do as he likes."
The bill will be voted on before the general election in April 2020.
This isn't the first physical confrontation to take place in South Korea's National Assembly. In 2004, a scuffle broke out as lawmakers voted on the impeachment of then-president Roh Moo-hyun.
In 2011, an opposition politician set off a tear gas canister, hoping to derail the passing of a free trade agreement with the United States.