Editor's Note: Marie Le Conte is a French journalist, based in London. The opinions in this article belong to the author.
As flames ripped through the roof and into the spire of the Cathedral of Notre Dame on Monday night, French President Emmanuel Macron addressed his citizens.
Looking distraught, he said: "Notre Dame is our history, it's our literature, it's our imagery. It's the place where we live our greatest moments, from wars to pandemics to liberations … I'm telling you all tonight – we will rebuild this cathedral together. This is probably part of the French destiny."
And perhaps for the first time, he spoke for the nation.
Macron never did seem suited to the dull realities of day-to-day life. He has only been French President for two years and only has been in politics altogether for a few more. But it is hard to imagine him anywhere else.
He sauntered into the Élysée while still in his late thirties, his mix of intellectual gravitas and childlike arrogance already proving controversial then. All has not been well since.
In fact, Macron was scheduled to record a televised address on Monday night, partly to discuss the concerns of the "gilets jaunes" – the yellow vest demonstrators whose protests began months ago over fuel tax hike – and the national debates that followed, and partly to launch what was dubbed Phase 2 of his presidency, a hopeful new start after some unstable months.
No one knows what the President was going to say or how it would have been received. As he was getting ready to record it, the Cathedral of Notre Dame caught fire.
When the images got worse, he dropped what he was doing and headed towards the River Seine. First, he tweeted just after 7 p.m. local time. His message spared a thought for "all Catholics and all French people," adding that "as all our countrymen, I am sad to be watching this part of us burn tonight."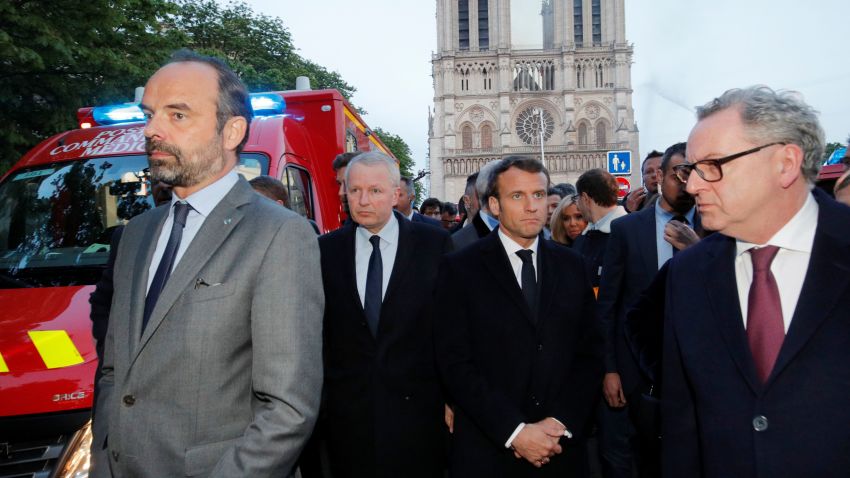 Emmanuel Macron: We will rebuild Notre Dame
The wording could have seemed excessive. After all, Macron has long been derided for his love of pompous allegories and unnecessarily flowery language – and France isn't exactly known for its restraint in that area.
Still, it seemed to hit the mark for once, as did his televised speech later that evening.
It is the way he expresses himself and the way he thinks. Simultaneously fascinated by the past and obsessed with the future, he seldom appears to be someone comfortable governing in the present.
This has nearly led to his undoing a number of times. Appearing distant and with no sincere interest in the dreary, real lives of real people, he quickly gained the nickname "President Des Riches," which should speak for itself.
But even this characterization isn't quite right. While his policies have been criticized for favoring the better-off, his out-of-touch image goes beyond class concerns.
Take his initial decision to take a Jupiterian, nearly distant approach to the presidency, or his revealing comment in an interview during the campaign about French people secretly yearning to be ruled by kings again.
This worked for him early on, as his predecessors Nicolas Sarkozy and François Hollande had been profoundly, sometimes embarrassingly human. But one cannot run a country with sweeping vision alone.
It is unclear whether Macron even likes the France that he is in charge of. He adores France for its history, waxes lyrical about the France shown in its classical literature, has a million and one ideas about what France could and should become and how it should present itself to the world. But all of these things are not the France that people live and work in today.
A country isn't simply the image of a country, and Macron has demonstrably struggled when dealing with the more granular aspects of governing. Rarely has someone so obviously wished to be leading in poetry while being trapped in tedious prose.
Luckily for him, the fire that ravaged Notre Dame Cathedral fit squarely into his comfort zone. Notre Dame is far more than a building: It is a symbol recognized across the country and the world. It shows France at its best and the weight of its history in all its shame and glory.
Gen. Philippe Pétain was there, but so was Charles de Gaulle. Napoléon crowned himself emperor within its walls, and Victor Hugo made sure its roof would be remembered forever.
Countries struggling to know what they stand for can find themselves clinging to the symbolism of inanimate objects, and France is no exception. It wasn't only a building burning down; the melancholy was deeper. In this context, Macron's grand words felt welcome and appropriate.
Back in 2017, only a day after he was elected, not-quite-yet President Macron was told by Senate grandee Gérard Larcher: "It's going to feel odd, at your age, but you're the father of the nation."
It hasn't always felt like it, and perhaps will never feel like it again. But on that Monday evening, as Notre Dame was going down in flames, Emmanuel Macron did appear to be carrying France on his narrow shoulders, and it suited him quite well.