When Stephani Lohman got her first look at her newborn in the delivery room, she playfully hit her husband, Eric, on the arm. She made a flustered comment about how ultrasounds could get the sex of the child wrong.
The doctors in the Ontario hospital were silent. Eric knew that the situation was more serious than a mixup.
"I sort of looked around at that moment, and I saw what I would describe as panic on all of the medical staff's faces," Eric said.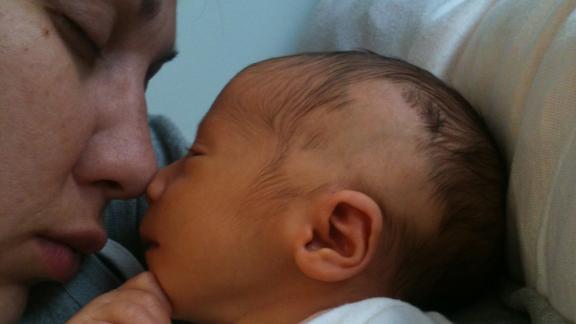 Courtesy Lohman family
They had expected their baby, Rosie, to be a girl, but her parents saw what seemed to be a penis. Eric remembered learning when he was getting his doctorate about babies born with genitalia that wasn't typically male or female. He realized right away that Rosie was like those babies.
"I wanted the baby to be put on my chest right away, because I just had her, and I worked really hard for that moment, and they didn't," Stephani said, recalling that day in 2012. "And I was scared."
The doctors covered Rosie with a blanket and took her across the room for what seemed like a long time, Eric said. When they returned, they offered what they knew: Rosie had atypical genitalia, and more tests were needed to determine whether she was genetically a girl or a boy and if she had a serious medical condition, Eric said the doctors told them.
"It basically went from very celebratory, very exciting, to very scary," Eric said.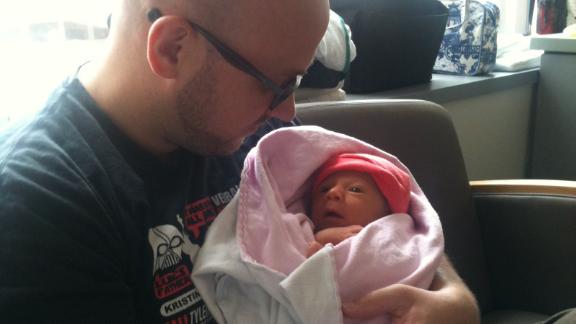 Courtesy Lohman family
The next few days were filled with extensive tests and examinations until the doctors were finally able to make a diagnosis. Rosie had two X chromosomes, and so was considered to be female, they said, but she had salt-wasting congenital adrenal hyperplasia, a severe form of a condition called CAH for short. People with CAH are missing an enzyme that the adrenal glands need to produce cortisol. Rosie's body is unable to retain enough sodium.
The adrenal glands also produce the initial ingredients of sex hormones, so when the brain gets signals that cortisol levels are low, it demands that the adrenal glands work harder. That leads to a higher production of sex hormone ingredients, which results in an excess of male hormones. Those hormones are what cause the formation of atypical genitalia in fetuses with two X chromosomes while they're in utero.
Rosie's condition is classified as a DSD, or differences or disorders of sex development, by many physicians. Some patients and parents of patients – including Eric and Stephani – dislike this classification. They prefer the term intersex.
Many conditions under the DSD/intersex umbrella could result in a variety of different physical sex characteristics on individuals, such as an enlarged clitoris or a micropenis.
Atypical genitalia does not always occur in patients with CAH, but when it does, doctors sometimes encourage plastic surgery.
Eric remembered learning about these operations as a student, and he was skeptical.
Stephani stayed in the hospital with Rosie, who was still being monitored, and began to research the surgeries. At home, Eric did the same. They familiarized themselves with the list of potential long-term risks, such as chronic pain, an inability to orgasm or eventual rejection of gender assignment. If the doctors proposed surgery, Eric wanted to say no. Stephani didn't even anticipate that it would come up.
"My idea, because I was very naive about it, was that they would never recommend anything that wasn't necessary right now," Stephani said. "Like, they wouldn't put a tiny baby under the knife for no reason. Can you imagine a world in which they're just doing cosmetic surgeries on babies? I couldn't even imagine that existed."
An 'easy' fix
The surgical approach to CAH and other DSD/intersex conditions began in the 1960s, when doctors found ways to perform surgeries that reduced some of parents' anxieties about their babies. The surgeries were intended to help patients conform more with the mainstream characteristics of one sex or the other. But sometimes, the outcomes of these surgeries didn't align with patients' eventual gender identities.
Over the years, some who had these surgeries grew to feel a misalignment between their sex and their gender, or felt that surgery had left them mutilated because their genitals lacked sexual sensation. This led to a wave of activism referred to as the intersex rights movement, with people speaking out and protesting medically unnecessary surgeries on children.
Today, these surgeries are starting to be viewed more as cosmetic procedures instead of emergency treatments, but they are still performed.
There's legislative pushback from the intersex community too, most recently seen through a California bill, SB 201.
The bill would prohibit doctors from performing surgeries on minors with atypical genitalia unless the procedures are determined to be "medically necessary" or the child can provide informed consent beforehand. It is sponsored by Democratic Sen. Scott Wiener of San Francisco.
The California Medical Association has formally opposed the bill and wrote a letter of opposition to the state Senate Committee on Business, Professions, and Economic Development.
"The bill makes an exception for any procedure or treatment that is deemed medically necessary, which is defined in such a way that cannot properly address the complexity of DSD cases and potentially endangers the physical and emotional health and future of the patient," the letter stated.
In 2017, Human Rights Watch released a report on infant genital surgeries that are performed on babies with atypical genitalia, declaring it cruel and unnecessary. It provided detailed testimonials from individuals who had the surgeries and felt violated and damaged.
About 1 in 2,000 babies is born with genitalia different enough that doctors might recommend surgery, according to the report.
Tiger Devore, a Las Vegas-based clinical psychologist and advocate for people considered to be sexually different, said the rate of surgeries hasn't really changed since the 1960s. A 2016 study in the Journal of Pediatric Urology found that of 37 babies with what researchers called "moderate-to-severe genital atypia" who were born after 2011, 35 were subject to genital surgery.
Devore was born in 1958 with hypospadias, a condition in which the urinary opening is on the underside of the penis instead of the tip. He had over 25 surgeries, many of them when he was a child. He describes them as painful and unnecessary.
"There are people who have grown up having these surgeries very early on in life. They're making it very clear to the medical society that these surgeries don't work, we don't like the outcomes, this shouldn't have been done to us as children," Devore said. "It's our genitalia, and we want to grow up with our own genitalia. Not the genitalia that our doctors thought was right, not the genitalia our parents thought was right. It's our body."
Surgeries are typically performed to treat the anxiety of the parents, which is not fair to the infant, he said.
The notion is that kids will have a better life because their genitals will look normal, but often that's not the case, he said.
"If you do plastic surgery on the genitalia, you do not magically get normal male or female genitalia. We get intersex genitalia that has had plastic surgery done to it," he said.
The parents' decision to consent rests heavily on their education on the subject, he said.
"If they take a moment to do a little research, it can make a huge difference for the future of the child," he said.
Feeling the pressure
Three days after Rosie was born, Eric and Stephani were invited to a meeting with specialists to discuss steps. They recall walking into a room with more than a dozen medical staff: pediatric gynecologists, geneticists, pediatric urologists, endocrinologists and a social worker.
"It was probably the most intimidating room I've ever been in," Eric said.
Rosie's parents said a pediatric urologist presented them with two options only: They could reduce the size of Rosie's clitoris and create a vaginal canal, or solely do the vaginal canal surgery.
He recommended that Rosie have both procedures done simultaneously at about 6 months old, and preferably not much later than that. The argument was that the younger Rosie was, the faster she would heal, and she wouldn't have to experience looking physically different from other children.
After thorough research, Rosie's parents knew that they didn't want either procedure.
To their dismay, not having any surgery was never presented to them as a possibility, Eric said. And when he brought it up, the doctor said that was a choice he wouldn't recommend, due to the risk that Rosie might eventually experience psychological trauma from not looking like other girls.
The rest of the staff stayed silent, Stephani said.
"It would have been nice to think that we had one ally in there, but we didn't," Stephani said.
The doctor's sentiment was that if Rosie looked normal, she would feel better about herself. Eric and Stephani felt there was nothing wrong with appearing different, and if there was going to be a surgery, Rosie deserved a choice in the matter. They remained adamant about not consenting to the surgeries.