President Donald Trump could initiate chaos and grave economic disruption by finally making good on his threat to slam shut the southern border, yet he's clearly tempted to do it anyway.
Such a dramatic gesture would fulfill many of Trump's most fundamental short-term political goals and indulge a domineering personality and a desire to please his most vehement supporters that drives so much of his behavior as President.
"Our detention areas are maxed out & we will take no more illegals. Next step is to close the Border!" Trump tweeted on Monday, after telling reporters over the weekend, "I'm not playing games."
Trump's anti-immigration rhetoric and willingness to flout international norms suggest he cares little about the humanitarian and diplomatic implications of such a radical move, which he has threatened to take as early as this week.
Yet the swift and severe economic impact of closing the border – on industries like auto manufacturing, retail and fresh produce, and on US exports to a top trading partner, Mexico – could finally stay the President's hand and suggests he could be bluffing again.
There were also signs Monday that the administration could be using the threat of a border closure to leverage more action from regional governments to stop the flight of migrants, when Stephen Miller, Trump's senior adviser, said the President was not quite ready to decide on a border closure.
"We will see how much progress we are able to make in the ensuing days, in terms of getting more enforcement with Central and South America, so that we are not getting swamped by meritless asylum claims predominantly from Central America," Miller told top administration immigration surrogates on a conference call, according to notes taken by a listener and obtained by CNN.
A border closure could immediately hike prices of fruits and vegetables all over the United States at a time of the growing season when Mexico is an especially important source of America's food. Within a few days, shortages could ripple around the country, including in Trump's political heartlands of the Midwest and the South.
"We haven't seen a time in the US when supermarket shelves are bare from fresh produce in a long time," said Lance Jungmeyer, president of the Fresh Produce Association of the Americas. "We have grown very accustomed to having all the food we want when we want to eat it and at a price that is reasonable."
So while Trump would be handing a win on immigration to his supporters on one hand, he could be taking away something even more vital on the other – a political equation that may weigh against a border closure.
"The impact in the US in general, including with the President's base, would be quite substantial and happen quite quickly," said Geoff Thale, vice president of programs at the Washington Office on Latin America, a human rights and advocacy organization.
A potential political dead end
WH Official: 'Anyone's guess' whether Trump will close border
Another big political downside for the President is that a border closure may not be the most effective way to mitigate a crisis sparked by a rush of asylum claims. It could cause other problems at the border and walk him into a political dead end from which he would find it hard to extricate himself.
As with many other administration initiatives – including the recent Justice Department decision to back the eradication of Obamacare – there's not much evidence of planning ahead by the White House.
Despite sending more customs and border personnel to the US-Mexico frontier on Monday and considering the appointment of an immigration czar, the administration has yet to explain how all or part of the border could be closed or what such a step could mean.
Still, senior White House officials, in public and in private, say they can't predict what the President will do to address what Homeland Security Secretary Kirstjen Nielsen says is a "careening" crisis over a spike in migrants flocking to the border. According to Customs and Border Protection, final figures of border crossings by undocumented migrants in March were set to top 100,000, with 40,000 children taken into custody during the month. Nielsen herself left bilateral security meetings in Europe on Monday to return to the US to continue managing the situation at the southern border, a Department of Homeland Security official told CNN's Geneva Sands.
White House acting chief of staff Mick Mulvaney said on ABC's "This Week" on Sunday that it would take "something dramatic" for the President to step back from his threat to close the border. Trump's political counselor Kellyanne Conway warned on "Fox News Sunday" that her boss's warning "certainly is not a bluff."
CNN's Pamela Brown reported on Monday that officials had explained the legal and practical implications of closing the border to the President earlier in his administration – including the fact that some people live on one side of the border and send their kids to school or work on the other side.
But Trump is deeply frustrated and is fixated on a closure and has asked aides why the law can't be skirted.
Why closing the border would be so like Trump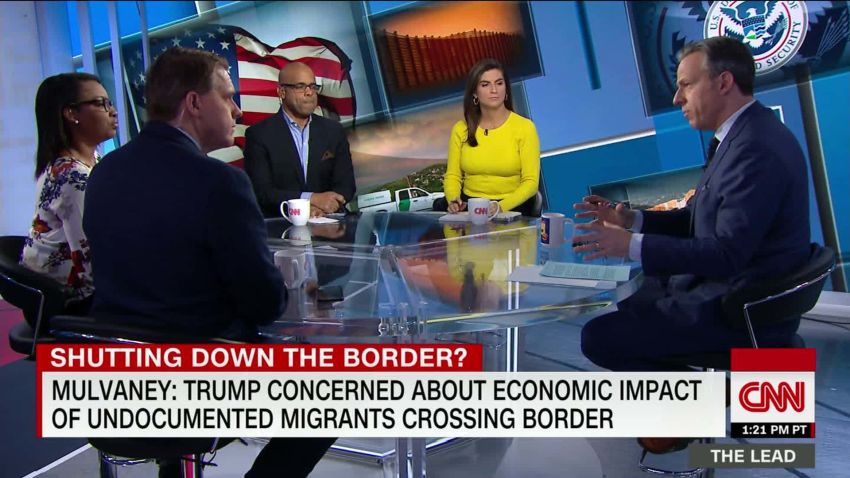 GOP Operative: Trump cutting aid to Central America will hurt not help
If he is true to his most basic instincts, Trump will follow through on his threat.
Closing the border would be the kind of sweeping use of executive power that Trump loves. It would identify – and punish – an enemy, Mexico. A border shutdown would defy experts and the permanent bureaucracy in Washington who are worried about the dire consequences of such a step.
And pleasing his base on immigration has been a driving force of his presidency.
It's not clear that weeks of briefings by top officials worried about the impact of closing the border, or warnings by groups like the US Chamber of Commerce that Trump would invite "economic calamity," will sway the President when his mind is set.
He has, after all, an idiosyncratic view of trade, suggesting improbably over the weekend that sealing the border could cut the trade deficit and be a "profit-making operation."
During the longest government shutdown in history, Trump was prepared to inflict pain on hundreds of thousands of Americans – government workers – in the vain hope of trying to deliver a political victory for himself by forcing Congress to finance his border wall.
The President also has a tendency to prioritize short-term gains and ignore potential serious damage from his strategies farther down the road.
A case in point was his politically pleasing decision over the weekend to halt hundreds of millions of dollars in aid to Central American nations. The move is likely to eventually exacerbate the poor security and social conditions that make migrants flee the lawless countries they call home and head to the US border.
But his move was an aggressive use of presidential power and a blow against the concept of foreign aid in line with his "America First" policy, and it made him look tough to his supporters.
Unlike many other presidents, Trump has often been prepared to gamble with America's reputation and to ignore the implications on complicated international diplomatic questions of decisions on the world stage that benefit him politically.
He has yet to pay a long-term price for moving the US Embassy in Israel to Jerusalem or pulling out of the Iran nuclear deal. He was warned that both decisions could cause an uproar and damage America's reputation, so he may treat warnings from aides less seriously than might be expected.
Closing border posts along the US-Mexico frontier could exacerbate the migrant crisis – however politically satisfying it may be for Trump.
One side effect might be to push asylum seekers away from official crossings into upcountry areas. Such a scenario might be used by the President to argue that there is an even greater need for his border wall – although such spin would represent an audacious manipulation of the facts even for Trump.
A more targeted approach would be an emergency influx of legal officials, judges and asylum specialists to quickly process claims. New emergency accommodation for undocumented migrants along with caregivers could ease grim humanitarian conditions.
Yet the chance of Washington's battling political factions coming together to act seem slim since immigration is an issue that has defied bipartisan solutions for over a decade. Divides have been further exacerbated by Trump's inflammatory rhetoric on an issue that did more than any other to power his political ascent.
"Work with Congress and let's enact comprehensive immigration reform," Democratic Sen. Ben Cardin of Maryland told CNN's Dana Bash on Monday when asked what Trump should do.
"If the President really wants to get our immigration system the way it should be, work with us for comprehensive immigration reform and stop doing these types of activities that just turns our neighbors against us."
CNN's Pamela Brown, Jim Acosta and Abby Phillip contributed to this story.