Editor's Note: Father Edward Beck is a Roman Catholic priest and a religion commentator for CNN. The views expressed in this commentary are his own. View more opinion on CNN.
(CNN) —
Should voters care what political candidates believe theologically or to what faith tradition, if any, they subscribe? I don't. It doesn't matter to me if they find spiritual inspiration in a church, synagogue, mosque, temple, ashram, Yellowstone National Park or their own house.
But I do believe that political candidates, especially presidential ones, need to have the moral rectitude and ethical backbone to make wise political decisions based on compassion and the common good.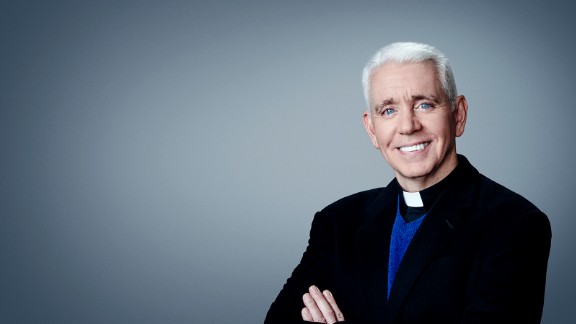 Jeremy Freeman
Many Americans have formed their consciences and instincts toward right behavior as part of the Judeo-Christian tradition based on love of God and neighbor. Religion has provided their moral compass.
Out on the presidential campaign trail, candidates have been engaging the issue of religious faith head-on. Indeed, at several recent CNN town halls, Democratic presidential candidates, such as Sens. Cory Booker and Elizabeth Warren, have brought up issues of morality and spoken about their faith.
And at his town hall a few weeks ago, Pete Buttigieg, mayor of South Bend, Indiana, discussed his views, contrasting them with those of Vice President Mike Pence, who was Indiana's governor during part of Buttigieg's tenure in office.
Buttigieg told the audience that his feeling "is that Scripture is about protecting the stranger, and the prisoner, and the poor person, and that idea of welcome. That's what I get in the Gospel when I'm in church." He said that the vice president's perspective "has a lot more to do with sexuality, and, I don't know, a certain view or rectitude."
A few weeks before Buttigieg made those comments, I had the opportunity to sit down with him to explore in depth his ideas about faith, religion, God and Scripture. According to a 2016 Pew Research poll, most Americans want a president to have strong religious beliefs. I wanted to know what influence religion has had in the development of this candidate's ethical and moral view of the world.
Of course, I make no endorsement of any candidate, but I welcomed the chance for the discussion with Buttigieg. Our interview was lengthy and wide-ranging, so it has been condensed and edited for clarity and flow.
We began by talking about Buttigieg's early experience of religion.
Father Edward Beck: You were baptized Roman Catholic, and your father was a Roman Catholic from Malta?
Buttigieg: Malta was personally converted by St. Paul, so Catholicism is extremely deep and universal among the Maltese. My father's journey was a little complicated. He became or started to become a Jesuit. And then somewhere on the back end of that he was a leftist intellectual immigrant living in America. His experience of the '60s is a little murky to me. My family in Malta for the most part remains deeply religious. And I was baptized, I think more or less right away, by a theologian of science and religion at Notre Dame.
Beck: I think you've said that your father did not remain religious because your family didn't go to church much or anything like that. It was just important that you got baptized.
Buttigieg: Yes, if anything my mother considers herself more religious, although she was not as likely to attend church either. Her mother was Methodist, but Mom identified more with the Anglican faith. She taught at National Cathedral School for a time, around the time my dad was a Jesuit, I think.
Beck: So, the Jesuits made your father lose religion, huh? (Laughter)
Buttigieg: A lot of things are blamed on the Jesuits, but I don't want to contribute to that.
Beck: Even though you didn't go to church much, you did go to a Catholic high school.
Buttigieg: For me a lot of it was soaking up a tradition that I hadn't understood very well at first. I felt that many of the social teachings that I was imbibing were either very much consonant with what I believed or led on to what I was coming to believe. The teachings on justice, on what had happened around the world, learning about El Salvador, for example, in a government class, learning about Catholic commitments to human rights was very powerful because it helped me understand why many different people could overlap onto the same intuition about right and wrong. And maybe the most helpful thing of all was the instruction on Scripture.
A faith evolving in adulthood
Beck: When you were a Rhodes scholar at Oxford, your encounter with religion began to change.
Buttigieg: By the time I was an adult I didn't view myself as Catholic. When I began to view myself as religious was really something that happened while I was at Oxford. I had been very committed to and am very committed to Enlightenment values but … finding the humility to realize that there were forms of truth that I was not going to be accessing through reason kind of prompted me to look for more.
I found myself going to services at Christ Church, which happened to be across from my college, Pembroke, at Oxford and found in that very simple liturgy a way to begin to organize my spirituality. So that by the time I came back to the US I felt like I was more-or-less Anglican.
When I got back to South Bend and was looking for a church home, I found in (the Episcopal Cathedral of) St. James this faith community that really takes seriously that it's urban, that it's part of a city. And just very quickly felt drawn to that community. And now for about 10 years it's been my faith home. So it was important for me to be married in the church. And when Chasten and I go together I think it brings us closer together. It was a mix of faith but also of community that really made it the right place to be. And, of course, the fact that we were welcome.
Beck: You describe your faith as more liturgical than theological. So does that mean that you don't consider yourself having private, individual spirituality or a life of prayer outside of that gathered community?
Buttigieg: I don't know why I wound up liturgically conservative other than maybe habit, but I do feel that way. If there's going to be music, I want an organ, not a guitar. … And I've always struggled with prayer as a concept, just because the idea that when you address the Almighty, we do it, grammatically, in the imperative mood. It's an interesting thing.
Granted, in a literal sense, it's asking for things, but that's problematic, too, as though we encounter God, and he hasn't already figured out what we need. So I guess in that sense I do find that ritual organized prayer makes sense because it is a way to tune my own heart to what is right.
On the moral weight of military service
Beck: You've served in the military (in 2014 Buttigieg was deployed to Afghanistan for seven months). As a Christian how did you approach military service ethically and morally?
Buttigieg: What I told myself at the time was that there are cases where violence is necessary in order to prevent greater violence. And I believed in our mission in the sense both that it was protective of my country, and also in the sense that it was a pretty grim thing to see what the Taliban had done and what they would do given the chance.
To the extent that I experienced any injury as a consequence of having been there, it was not from moments when I was afraid of being killed, as much as it was from moments when I may have participated in killing. Over time I began to realize that was the part I was having the hardest time coming to terms with.