It's rare for a CEO to admit to feeling like an impostor, but Gwyneth Paltrow embraces it.
The Founder and CEO of Goop, a lifestyle content and retail website, says the learning curve has been steep.
"The provenance of how I got here — it's unusual, and I didn't finish college. I don't have an MBA … I had no business starting a business," she told CNN during a Boss Files interview at the SXSW festival. "So I've had to really, really learn on the job."
Paltrow has said her U-turn from Oscar-winning actress to C-suite executive has made her the most fulfilled she has ever been.
"I have this incredible company and I love my role, I love my team," she said. "I feel like I have a lot of agency and I feel so thrilled by all the challenges and so excited by how much there is to learn every day."
Today, the privately-held Goop places its valuation at roughly $250 million. But Paltrow admits that even now, more than 10 years after founding the company in her kitchen, she still has a lot to learn.
"There are still days where something comes across my desk and I think, I don't know what I don't know about this. That is the scariest thing for me," she said.
But unlike many of her peers in the C-suite, she says she's not afraid to ask questions others may view as "dumb."
"I was really afraid to ask dumb questions in the beginning, especially with the acronyms … I'd be in a meeting Googling 'What is a SAS business?…What is AUR? Wait, why is that different from an AOV?" Frustrated, she said, she'd finally just blurt out the question to her team.
Paltrow now credits much of her success in the business world to that vulnerability and sense of self-awareness. "It's scary until you decide asking questions is not a measure of lack of intelligence," she said. "You might be ignorant about something, and the way to cure that is to ask the question."
Paltrow's road as a leader has been long, and not without controversy. Last year, Goop settled with the California District Attorney's office over "unsubstantiated claims" related to two products sold on the Goop website.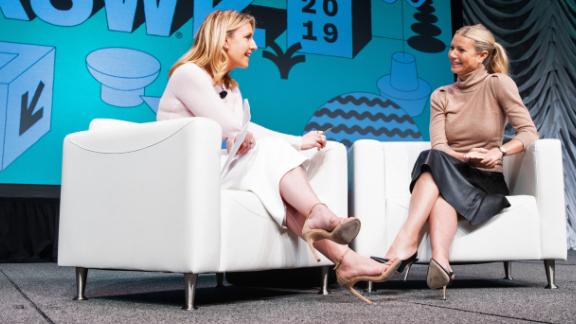 Lorne Thomson/Redferns/Getty Images
Paltrow says there were "no customer complaints ever" about the items, and says the experience has ultimately made Goop a stronger company.
"We were a young company and … We didn't understand about compliance and regulations. We just thought we were writing a blog … It's been an incredible lesson because also we came to understand the power of our influence."
Another struggle she's had along the way is giving people "difficult feedback," which she says is a critical skill for a successful leader. "I think that's harder for women somehow," she says.
She says she'd like to see more "vulnerable" leaders in the business world, including more women.
"I think it's part of how I strive to be as leader and empower the women that I work with, who will go off and be CEOs of their own companies one day," Paltrow says. "I try to lead from this model of being an actual woman and harnessing all the great things that inherently come with being a woman."
Asked what she thinks America would look like with more female leaders in business, she says, "Well I think we would have gotten a lot further than we've gotten so far."