Salt Lake City, Utah
CNN
—
How can you fill an emptiness that has always been part of your life and that of your entire family?
Only a miracle can do that.
Our family was lucky enough to receive that miracle this week in Salt Lake City, Utah.
Second Lt. Lynn Wilson Hadfield, my great-uncle who was killed in World War II, is finally home.
Uncle Lynn was piloting an A-26B invader plane over Europe on March 21, 1945, when he was shot down by the enemy. Through the generations, that was really all we knew. But those just aren't enough details for a grieving family – particularly for the children he left behind, a toddler and a baby who would never have the privilege of knowing their father.
My cousin, Mary Ann Hadfield Turner, was that toddler and is now the only surviving member of Uncle Lynn's immediate family. Just 2 years old when her dad was killed, Mary Ann holds no memory of him. She has photos of herself in his arms and has carried "a haunting and aching emptiness" with her through the decades.
Today, the mystery of his death, the acceptance of the unknown and the great emptiness are things of the past.
A hero and his bomber vanish
On March 21, 1945, during his first combat mission, Lynn was piloting an A-26B invader from Couvron, France to Dülmen, Germany. Intending to obstruct German troop movements ahead of the Allied troops crossing the Rhine River, the squadron encountered enemy anti-aircraft fire.
Uncle Lynn, as he was known to me, has been a constant presence throughout my life. Lynn's little sister was my grandmother, Carol Hadfield Robertson, who just idolized her big brother. Photos of Lynn hung on the walls at Grammy's house, and stories of their childhood were shared freely and often.
A crash site yields priceless proof
In June 2016, researcher Adolph Hagedorn found a crash site in a horse paddock in Hülsten-Reken, Germany, and reached out to the Defense POW/MIA Accounting Agency, or DPAA. The property owners had planned to develop the land but agreed to delay while the area was excavated.
To expedite the recovery, the DPPA partnered with History Flight, a nonprofit that recovers and repatriates American war dead. The excavation took place in November and December of 2016. Because the ground was frozen, dome tents with heaters were placed to thaw the earth before archaeologists could proceed.
It took more than two years from the time the crash site was found until positive identification.
"The wreckage was found in 2016. We have been holding our breath since then," Mary Ann, Uncle Lynn's daughter, said of the wait, which had by then stretched on for four generations.
In addition to human remains, the History Flight archaeologists gently and meticulously recovered identifying pieces of the plane and even some personal items. Among those artifacts were Uncle Lynn's flight wings, an identification tag and a gold pen cap engraved with his name – all about 4 feet below the surface.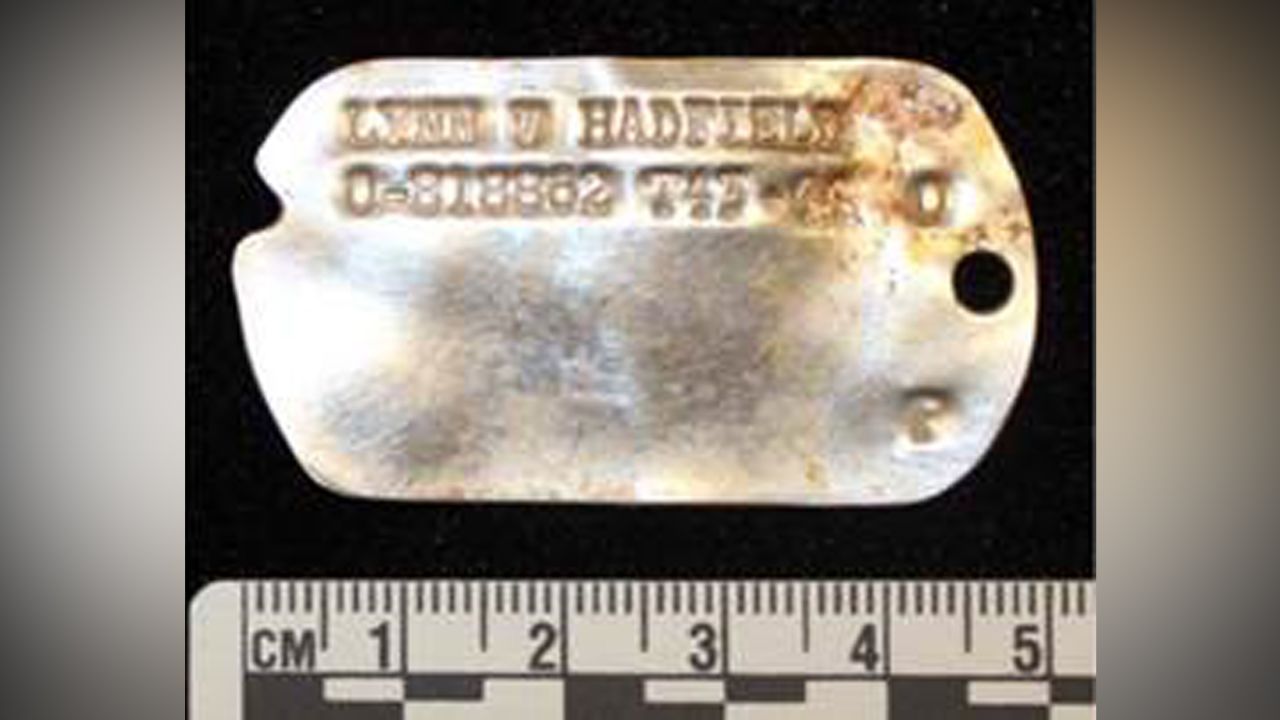 A grateful nation pays its respects
With our hearts racing and nervous energy building, we stood in mid-March on the tarmac of the Salt Lake City International Airport under a cool, clear blue sky surrounded by snowy mountains. Led by police cars with lights flashing and sirens wailing, the American Airlines plane carrying Uncle Lynn rounded the corner and emerged through a water arch created by fire engines on each side.
Tears welled and breath caught as the gravity of the moment sank in. Uncle Lynn was home.
His great-grandson, Utah National Guard Staff Sgt. Sean Scheller, accompanied Uncle Lynn's remains on the flight. A uniformed honor guard carried his flag-draped casket from the airplane to the hearse, where Mary Ann was finally reunited with her dad.
Besides his family on the tarmac, the airport ground crew stood at attention, the passengers aboard the plane gazed at the scene and the windows of the gate were filled with peering faces. The respect and honor shown to our Uncle Lynn, not just by family and military but by every person we could see was awe-inspiring.
A police escort led our small procession across the Salt Lake Valley through rush-hour traffic. At the funeral home, it was all I could do to unravel the reality that had been so long coming. The thought that keeps recurring to me is just how pleased my Grammy would be to finally have her brother home.
That night, as dozens of us gathered around the TV, Uncle Lynn's homecoming was the lead story on the late local news. The next morning, his face was on the front page of the Salt Lake Tribune. Realizing that strangers understand how monumental his return is falls nothing short of humbling.
A grateful family finds true closure
Family members from Washington, Arizona, Colorado and California joined their Utah kin to honor Uncle Lynn and reconnect with one another. While most of us have only heard stories, one relative can vividly remember him: 92-year-old cousin Stuart Craig.
My Uncle Lynn was eight years his senior, and Stuart recalls him hanging out with his older brothers. "They would ski together, play together, chase girls together," Stuart recalled with a wry grin.
My cousin, Scott Hadfield, a pilot like his uncle and father, honored Uncle Lynn in his own way. "Dad gave Mary Ann his wings, so I'm giving him a pair of mine," he said, as he placed a letter and flight wing pin into Uncle Lynn's casket.
During the funeral, exactly 74 years after he died, Uncle Lynn was described as "a cut-up," quick to laughter and slow to anger. He was also a skilled artist.
Among those in attendance were five members of the History Flight team, responsible for the excavation of the crash site. When the group was asked to stand and be recognized, the hundreds in attendance burst into applause. I can't say I'd ever seen that at a funeral.
From the mortuary to the cemetery, we drove in an old-fashioned funeral procession, arriving to members of the military already in place around the grave site, standing at attention.
Raindrops dried up and gray skies began to brighten. A bagpiper played "Amazing Grace," and the grave was dedicated. Seven soldiers fired rifles in a 21-gun salute, and tears fell as a bugler played taps.
And just as Uncle Lynn was settled in to his final resting place, the American flag protecting him was folded and presented to Mary Ann, as Apache helicopters flew overhead in the missing man formation.
A flag-draped coffin.
A fire hose arch.
An honor guard.
A police escort through rush hour.
A 21-gun salute.
An Apache helicopter flyover.
True closure.
No matter how long it has been since the ultimate at sacrifice was made, our country and its citizens still answer the call.
And this family will forever be grateful.