(CNN Business) —
Jamie Dimon is no fan of tariffs. But the CEO of JPMorgan Chase concedes that President Donald Trump's love of tariffs just might be paying off.
"As a negotiating strategy, it might've worked," Dimon told CNN's Poppy Harlow.
It's a notable admission by Dimon, the fiercely pro-trade face of Corporate America.
The comments are in stark contrast with at least one Trump adviser. Former White House economist Gary Cohn, who was once second in command at Goldman Sachs, flatly said last week that "tariffs don't work." If anything, Cohn told the Freakonomics podcast, tariffs "hurt the economy."
Dimon said he agrees with Cohn that tariffs "don't work technically" because they cause negative side effects, namely rising costs for consumers and businesses.
"But if the president were here, he'd say, 'They worked. I got them to the table and no one else did,'" Dimon told CNN.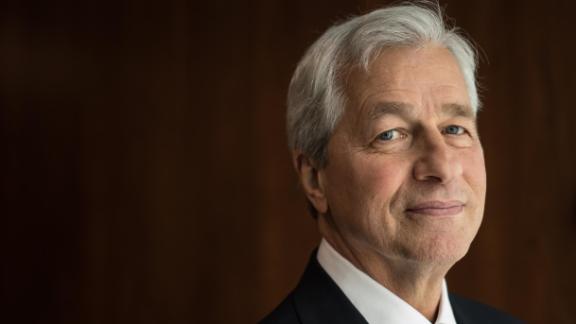 Kholood Eid for CNN
Trump lobbed tens of billions of dollars of tariffs on Chinese products in a bid to ramp up the pressure on Beijing. China retaliated with tariffs on US products like soybeans, leaving American farmers caught in the middle.
Dimon said that tariffs increase the odds of a full-blown "trade war" between the world's two largest economies.
Washington and Beijing are now trying to hammer out a landmark trade deal, buoying hopes on Wall Street of trade peace.
But a breakthrough appears to have been delayed as negotiators have been stymied by struggles about how to enforce a deal.
Dimon doesn't sound worried about a potential collapse in trade talks.
"In the long run, America will be fine," the JPMorgan (JPM) CEO said.
No 'free ride' for China
He sounded less confident in China's future, pointing to the country's "enormous corruption," 400 million people in poverty, weaker legal safeguards and complex regional challenges.
"It isn't like they have a free ride for the next 20 or 30 years," Dimon said.
While China's economy is under heavy pressure from the trade battle, Dimon is upbeat about the United States.
"America's consumer is in good shape. Wages are going up," Dimon said, pointing to recent pay raises for lower income workers.
The JPMorgan boss downplayed recent concerns about rising auto loan delinquencies. A record seven million Americans are 90-plus days behind on their auto payments.
"Some companies did too much on subprime," Dimon said, referring to the practice of offering loans to people with weaker credit histories. "We do very little of that so it's not going to effect JPMorgan. I don't think it's going to take down a major company or anything."
No 'panic' over America's record debt
So what is keeping Dimon up at night?
He pointed to a potential debt ceiling crisis as a concern, as well as high levels of debt among governments around the world.
But Dimon said he's not freaked out about the $22 trillion of debt that the US federal government has racked up. He noted that America's debt is far smaller as a percentage of GDP than Japan's.
"You don't have to panic over it," he said, noting that most of that debt is owned inside the United States.
Despite his comments, Dimon went out of his way to distance himself from the Modern Monetary Theory (MMT) movement, which argues governments can spend as much as they want in their own currency.
"I'm not of the MMT group," he said.
Dimon urged Washington to come up with a game plan that addresses the burden caused by entitlement programs. But he also suggested the country still has time to hash things out.
"If it doesn't happen in the next couple of years," Dimon said, "it's not going to be a disaster."