Any doubts as to whether Warren Gatland is amongst rugby's greatest ever coaches have effectively been put to bed over the past few weeks as Wales surged to a third Six Nations grand slam under the New Zealander's guidance.
Recent victories have been hard-fought and unspectacular, built on gritty defense and tactical nous rather than individual brillaince. But as a collective, Wales has shone – a record 14th consecutive win against Ireland in Cardiff taking Gatland's side up to second in the world rankings.
No coach has accrued more grand slam titles than Gatland, and sandwiched within his decade coaching Wales have been two successful stints with the British and Irish Lions that culminated in a drawn series against New Zealand in 2017.
The upcoming Rugby World Cup will be Gatland's last act with Wales, after which his services are likely to be in high demand. And with Steve Hansen also announcing he'll be vacating his role as All Blacks' head coach, Gatland could be poised to get his hands on the most prestigious job in the sport.
"I know he's a very proud Hamilton man, he'd want to go home I'd imagine," Wales' record try-scorer Shane Williams tells CNN Sport. "And who knows? Every Kiwi's dream is to be an All Black … perhaps coaching the All Blacks is the next step. He won't be short of offers, that's for sure."
READ: Wales clinch Six Nations and grand slam clean sweep
'An adopted Welshman'
Williams played under Gatland during the latter stages of his 11-year international career, part of the side that won the 2008 Six Nations grand slam just two months after the New Zealander took charge.
Few could have foreseen Gatland having such success with Wales, given his previous spell as an international coach ended seven years previously when he was sacked by Ireland.
"Without doubt he is the most successful coach we've ever had," says Williams.
"He's one of the best coaches I've worked with personally. He gets the players, he gets the best out of the players, he gives them confidence and that's something perhaps Wales as a nation in the rugby jersey haven't quite grasped over the years.
"But now they are a team that believe in themselves. It'll take a very good team and performance to beat them and a lot of that is down to Mr. Warren Gatland. At the moment he deserves all the credit he gets."
READ: Sonny Bill Williams' tearful tribute to terror attack victims
Eyeing the All Blacks
The reasons behind his success, Williams explains, are down to his likeability as a person as much as his rugby brain.
"He was a good man-manager," says the winger, who ended his 87-cap career with Wales in 2011. "He was a good people person, very friendly and very approachable. He listened to the players and knew that he wasn't going to be right 100% of the time. He learned from the players around him as well.
"He's just a really nice guy. I know that sounds like a silly thing to say for a coach but I've worked with coaches as well and sometimes it's hard work to get a conversation with them. Warren, he's very sociable, he enjoys the interaction with the players and he learns every game, whether he wins or loses.
"He developed with the Welsh team and slowly has become an adopted Welshman. He's a very, very good coach."
There will be heavy competition for Gatland's signature after the World Cup – a period that will see a number of high-profile coaches leave their roles.
"The job he'd obviously like to have is the New Zealand job," Dafydd James, who scored 16 tries in 48 appearances for Wales between 1995 and 2007, tells CNN Sport.
"Steve Hansen's going to be stepping down and there's going to be a few top nations trying to get his services and one would probably be England with Eddie Jones not really having the run that they thought he probably would get … We'll see how that pans out."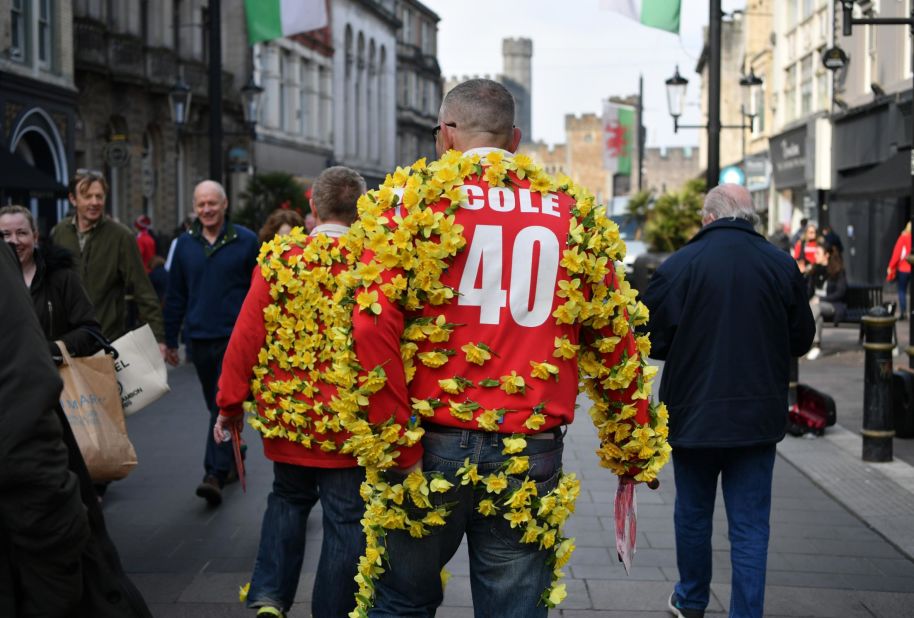 Six Nations: Why fans love Europe's rugby showpiece
World Cup semifinals 'at least'
To solely credit Gatland for Wales' success over the past year, says James, would be overlooking the impact of the wider coaching team he's assembled around him.
In Englishman Shaun Edwards, Wales has had access to arguably the best defensive coach in the world and this year's Six Nations campaign was proof of that, conceding just seven tries and boasting the best tackle completion rate in the competition.
"He's been very instrumental in the way Wales have performed," says James. "He brings that hard edge and resilience to the defense and he binds the team. He commands that respect. He's going to be really missed [after the World Cup] but it will be another opportunity for another man coming in."
READ: 'The carpet was pulled from under me' – Dafydd James on fighting depression after rugby
The World Cup will give Gatland, Edwards and co. another chance to enhance Wales' reputation, contesting a pool alongside Australia, Fiji, Georgia, and Uruguay.
"There's no reason why Wales can't perform exceptionally well," says James.
"I think it's the greatest opportunity we've got to progress right to the latter stages. If we don't get to the quarterfinals, I'll be bitterly disappointed. We've got to be looking at semifinals at least really."
Visit CNN.com/sport for more news, features and videos
Williams agrees that the current Wales team is a tough one to beat. "It is probably the strongest depth of a team I've seen certainly in my lifetime and that's what's winning them the games at the moment," he says.
"They are so stubborn, they play with such pride and passion that they don't want to lose games. They're probably not playing their best which is a very frightening prospect."