Rep. Ilhan Omar's controversial comments about Israel and Jews have driven a wedge through her Democratic Party in Congress.
But in her home district in Minnesota, her words are bringing some Jewish and Muslim activists, constituents and leaders together … in denunciation.
Omar Jamal, Steve Hunegs, Mohamed Ahmed and Avi Olitzky agree on the characterization of language Omar used. When Omar talked about Israel "hypnotizing" the world, they said it was anti-Semitic. When she said American support for Israel was "all about the Benjamins baby," referring to $100 notes, they said it was anti-Semitic. And when she questioned whether American lawmakers and lobbyists had loyalty to Israel, they said it was anti-Semitic. Local leaders want her to understand why her words were causing so much pain.
Omar's office did not respond to a request for comment on this story.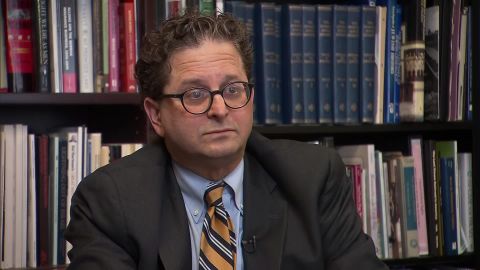 "I don't think we were looking into her heart and accusing her of being an anti-Semite," said Hunegs, who is the executive director of the Jewish Community Relations Council of Minnesota and the Dakotas (JCRC).
Hunegs was one of several faith leaders who met recently with Omar, the first Somali-American representative in Congress and one of two Muslim women elected last year.
"We wanted to show her how what she had said was consistent with the statements of anti-Semites and anti-Semitism over time," Hunegs said.
Olitzky, a senior rabbi, said he was contacted by some of his many congregants alarmed at what they had heard and read from Omar, and also had the opportunity to address it with her.
"Congresswoman Omar shared with me that she understood our pain and listened to that pain. But then the tweets continued and the comments continued," he said.
Both he and Hunegs said they had been approached by local Muslims, including Somalis, asking how they could help their Jewish neighbors in Minneapolis.
"We can reinforce the good relationships that already exist, because in a sense people are kind of sick and tired of it and they want to move forward and find ways to work together," Hunegs said.
Jamal said the excitement of Omar's election was "beyond imagination" for him and other Somalis and Somali refugees who had fled to America. But what has happened since has been disappointing.
"(When you are elected,) you're supposed to bring people together, you're supposed to create a sense of unity instead of farther dividing them and pitting one group against the other," Jamal said.
Ahmed dismissed the argument that Omar was merely criticizing the Israeli government – something all the men interviewed by CNN said was her prerogative and not the problem.
"I speak as a friend of Israel and a brother to the Palestinians by faith," he said. "We believe in Palestinian rights and freedoms, but we will not do it denigrating our Jewish community."
Ahmed and Jamal acknowledged their views were not echoed throughout the entire local Somali Muslim community and could even stir anger. Ahmed says people in his own family don't see things the way he does when it comes to Rep. Omar.
But he and Jamal hope she will now watch her words so she can move on to more pressing local issues in Congress and at home they can move on too.
"We have more other urgent issues to talk about. We have other concerns … in this country at this moment," Jamal said.
The disappointment among them is palpable.
Hunegs said: "It's unfortunate and, almost in the classical sense, tragic because she has the capability of being an important bridge builder."
That's part of what's frustrating to one of Rep. Omar's supporters.
"I think we are throwing the baby out with the bathwater here if we just tear her down as a really incredible political leader that she has been," Minneapolis resident Andrea Halverson says. "And basically turn this into a smear campaign. That's a huge mistake."
Halverson says all of the circling around Omar over this issue has become a distraction.
But many are worried the distraction will keep Omar from being able to do her job.
Ahmed said: "It's only been two months. I'm exhausted. She's only been in Congress for less than three months."
The local leaders hope Omar makes up for what they see as a rough start in Congress by what she does next.
"Words can't cancel out words; actions cancel out words," Olitzky said. "And so, we continue to look to Rep. Omar to cancel out the words that she's already shared, with action."
Both Hunegs and Ahmed commented on the apparent support for Omar and her comments from white supremacist and former Ku Klux Klan grand wizard David Duke.
"When David Duke of the Ku Klux Klan agrees with you, you're not doing something right," Ahmed said.
CLARIFICATION: This story has been updated to clarify that Rep. Ilhan Omar's comments about "hypnotizing" the world referred to Israel and to give more context about her comments on loyalty.