(CNN) —
China's Foreign Minister has said that Beijing supports Huawei's court case against the US government, adding that Chinese companies should not be "silent lambs"
Beijing's top diplomat, Wang Yi, became the highest Chinese official to openly endorse the lawsuit during comments made Friday at a news conference on the sidelines of China's annual parliamentary meeting.
The embattled Chinese tech giant announced it was suing the US government on Thursday in an attempt to challenge a US law that bans federal agencies from buying its products.
US prosecutors have indicted Huawei and its chief financial officer, Meng Wanzhou, on charges including sanctions evasion and bank fraud. Huawei and Meng, who was arrested in Canada and faces possible extradition to the United States, both deny any wrongdoing.
Meng has even filed a lawsuit against Canada, accusing authorities of illegally detaining her.
Wang said the case against Huawei was "not a pure judicial case but deliberately political suppression," adding that China will take "necessary measures" to protect Chinese businesses.
"At the same time, we support the company and the individual in question in seeking legal redress to protect their own interests and refuse to be victimized like silent lambs," said Wang.
"We must protect not only a company's rights and interests, but a country and a nation's legitimate rights of development."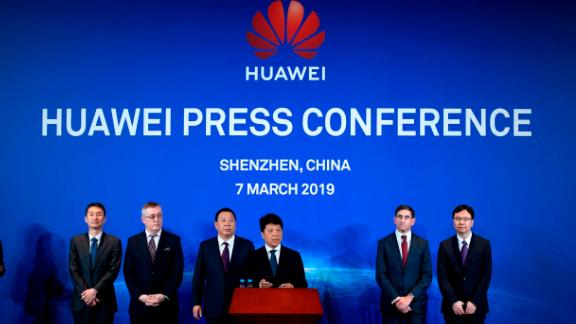 WANG ZHAO/AFP/Getty Images
The legal action against the US by Huawei is just the latest in a long, international battle between Washington and Huawei, the world's biggest maker of telecommunications equipment.
In the past few months, top US officials have encouraged American allies and partners to block Huawei from providing technology for superfast 5G networks over fears it could be used by the Chinese government for spying.
In a speech in Europe last month, US Vice President Mike Pence said his country had been "very clear" on the threat posed by Huawei.
Huawei denies its products pose a security risk and says it would refuse any demand from Beijing to use its technology for spying.
Canada's arrest of Meng, the daughter of Huawei's founder, in December sparked outrage in China, and Beijing immediately demanded her release. On Friday, Wang obliquely mentioned Meng, describing "political" actions against individuals.
The Chinese foreign minister said he hoped all parties would "create a level playing field for the businesses of all countries."
"Justice naturally inhabits people's heart and truth will prevail in the end," he said.