(CNN) —
In March 2009, Megan Harmon's life took a drastic turn.
She had just gotten her motorcycle back from the shop and was heading out on the highway when the driver of a nearby car did not see her. The car slammed into Harmon's leg, breaking it in several places. After two weeks in the hospital, doctors were hopeful they would save her leg, but then a blood clot formed in her foot.
"They did everything they could, but my foot ended up dying. They had to amputate. They chose to go above the knee because there was so much nerve damage."
Determined not to let the accident slow her down, Harmon got her first prosthetic in July of that year and was walking unassisted within two weeks.
"I think I was trying to be really strong for my whole family because I could see they were visibly upset. I kept telling them, 'It's going to be OK. I'll be that cool girl with a robot leg.' Eventually, though, I had to process those emotions. I went through a pretty bad depression for about a year and a half."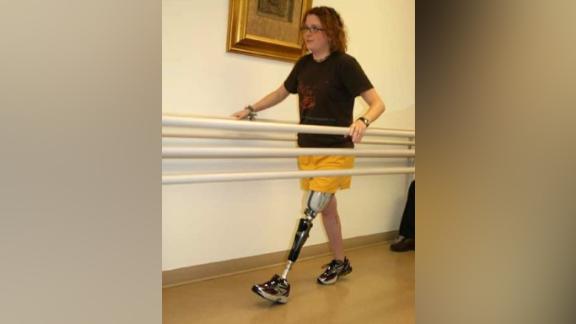 Carving out her future
Harmon's family, in return, played a big role in her recovery. Her father found out about the adaptive sports programs run by the National Ability Center in Utah. The winter after Harmon's accident, he signed her up for a week of lessons.
Even though she grew up in Alabama, Harmon's father had introduced her to skiing at a young age, and she had fallen in love with it. Trying to adjust to the ski slopes now with a prosthetic, however, proved challenging.
"I tried skiing, but it was terrifying. I was like, 'No, thank you.' I had always wanted to try snowboarding, so this was a great opportunity."
The tradeoff worked. After switching to a specialized prosthetic, not only was Harmon more comfortable on the snowboard, she soon was excelling past able-bodied riders.
"It's something that I can do just as well as everybody else. I don't feel disabled when I'm snowboarding. I'm better and faster than a lot of other people on the mountain."
By 2012, she decided to move to Utah full-time so she could train and compete. She has now raced all over the world, including in Finland, Chile, Spain and Canada. In 2014, she accomplished one of her biggest feats: representing the United States at the Paralympic Games in Sochi, Russia.
"Ten, 15 years ago, if you told me that I was going to be at the Paralympics, there's no way I would have believed you. I don't think I would have ever expected my life to turn out this way."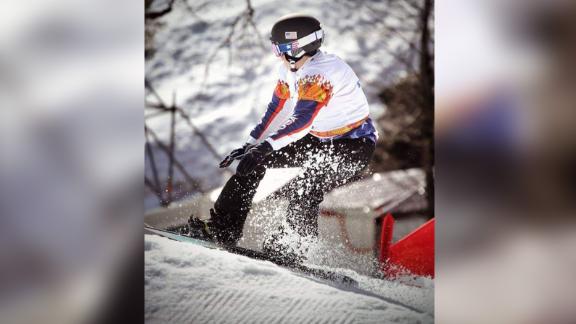 Athlete with the mind of a rocket scientist
Harmon now competes with Team Utah, an able-bodied snowboard squad that requires her to push a little harder.
"It's super beneficial for me because I'm riding with people that are faster than me and a little more agile than me."
And when she's not shredding the slopes, she's putting her love for speed to work at her day job: working on rockets.
"You could say I'm a rocket scientist. I'm working for a company that makes rocket motors. I love a challenge, and rockets are always a challenge. You have to use your brain and really think things out logically."
Whether she's challenging herself on the racecourse or in the rocket lab, Harmon thinks that pushing herself both physically and mentally helps her maintain balance and keep her edge.
"I think those aspects really go hand in hand."