Nazanin Zaghari-Ratcliffe, the British-Iranian charity worker who was jailed in Iran almost three years ago on spying charges, has been given diplomatic protection by the UK government.
"The Foreign Secretary has today decided that the UK will exercise diplomatic protection in the case of Nazanin Zaghari-Ratcliffe as part of the government's continuing efforts to secure her release," a statement from the UK Foreign Office read.
The affording of diplomatic protection means that the British government has recognized that the jailed woman's treatment "fails to meet Iran's obligations under international law and elevates it to a formal state to state issue."
The Foreign Office statement criticized the Iranian government, alleging that the legal proceedings brought against the jailed woman "failed to meet international standards." It added that during her time in prison, Nazanin had "periodically been denied access to the medical care recommended by doctors."
Affording diplomatic protection is rare but allows a state to seek protection on behalf of one of its nationals, if it believes it has been wronged by another state.
Jeremy Hunt, the British foreign secretary, said that the decision was not taken lightly.
"My decision is an important diplomatic step which signals to Tehran that its behavior is totally wrong. It is unlikely to be a magic wand that leads to an overnight result. But it demonstrates to the whole world that Nazanin is innocent and the UK will not stand by when one of its citizens is treated so unjustly."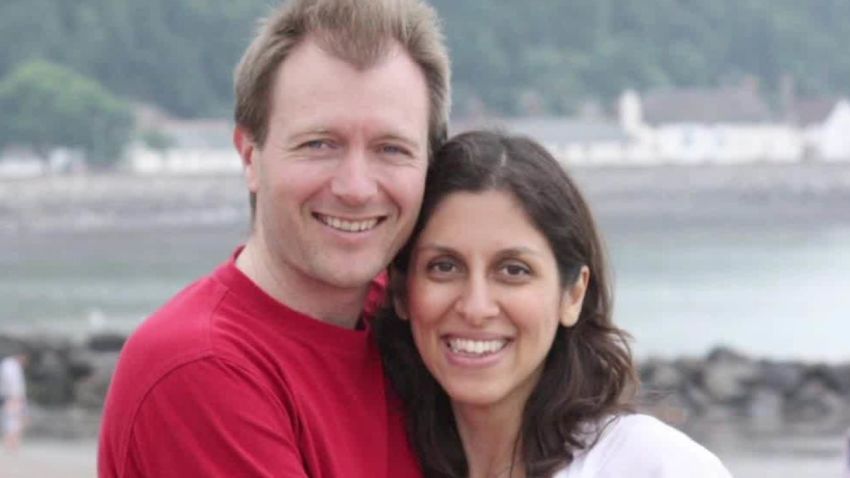 Husband: Iran detained wife without charges
In January, it was reported that Zaghari-Ratcliffe's husband, Richard Ratcliffe, was set to meet Hunt to lobby the government to grant her diplomatic protection.
"We want the government to stop saying tough words and (start) making tough acts," Ratcliffe said at the time.
The Iranian ambassador to the UK tweeted that the Foreign Office's move "contravened international law," insisting that Zaghari-Ratcliffe's Iranian citizenship meant that the UK could not extend her diplomatic protection.
"Govts may only exercise such protection for own nationals. As UK Govt is acutely aware, Iran does not recognize dual nationality. Irrespective of UK residency, Ms Zaghari thus remains Iranian," he tweeted.
Long imprisonment
Zaghari-Ratcliffe was arrested at Tehran airport in April 2016 while attempting to return home to London after visiting family with her daughter Gabriella, who was then 22 months old.
She undertook a hunger strike in an attempt to receive medical treatment, as her husband said that prison guards had asked her to spy on the UK in return for her freedom.
The Iranian government accused her of working with organizations allegedly attempting to overthrow the regime. She was sentenced to five years in jail and her child was placed in the care of her parents.
Her employer, the Thomson Reuters Foundation, rejects the allegations. In May last year, Iranian media reported that she was due to face a new trial for "security-related" charges.
In August last year, Zaghari-Ratcliffe was treated in hospital after suffering panic attacks, her husband said. The attacks came just days after she returned to prison after she was temporarily released to spend time with her family and daughter.
CNN's Sheena McKenzie contributed to this report.