(CNN) —
A Thai political party that nominated a princess as its candidate in upcoming elections has been dissolved by the country's Constitutional Court, in what could prove to be a blow for the pro-democracy movement.
The court ruled Thursday that by nominating Princess Ubolratana Rajakanya, the elder sister of King Maha Vajiralongkorn, Thai Raksa Chart Party (Thai Save The Nation, or TSN) was deemed "hostile to the monarchy institution."
The party's executive members will be banned from politics for 10 years, the judge said.
TSN intended to contest 174 of 375 constituencies around the country – those candidates will no longer run as the deadline to register with another party has long passed.
Ahead of the ruling, about 1,200 police officers were deployed around the court in Bangkok, to control expected crowds in a case that has stirred widespread national attention.
Party chief Preechaphol Pongpanich said he felt "deeply saddened" by the verdict. "Disbanding a political party is certainly affecting basic political freedom and rights of candidates and people who are heading to election on March 24," said Pongpanich in a statement outside the court.
The shock nomination of 67-year-old Ubolratana in February – for a party aligned with exiled former prime minister Thaksin Shinawatra – threatened to upend Thai politics.
The candidacy of a close member of the royal family would have been unprecedented in Thailand. Absolute monarchy ended 86 years ago but the crown remains highly revered and influential.
A day after his sister's announcement, the King said Ubolratana's candidacy would be "inappropriate." Thailand's Electoral Commission disqualified her from the March 24 election, the first since a military coup in 2014, saying that the "monarchy must remain above politics."
The commission called on the court to dissolve the party on the grounds that it broke election rules by "undermining the constitutional monarchy."
Last week, the court said that it had enough evidence to proceed.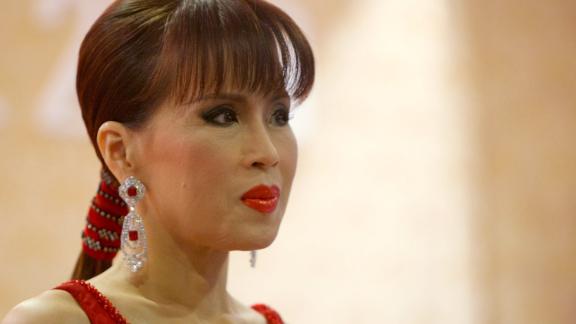 Kristian Dowling/Getty Images
Party politics
Populist former leader Thaksin's party has won every election since 2001.
But in 2006 he was ousted in a military coup. His sister Yingluck Shinawatra took office but was kicked out just before another coup in 2014. The pair continue to wield considerable influence despite both living in self-imposed exile.
The party the princess wanted to stand for, Thai Raksa Chart Party (TSN), is the an offshoot of the latest incarnation of Thaksin's Pheu Thai.
TSN's dissolution will be a blow to Thaksin's party chances in the polls.
Pheu Thai was counting on a bloc of smaller parties, including TSN, to secure seats and get around new charter rules that disadvantage big parties.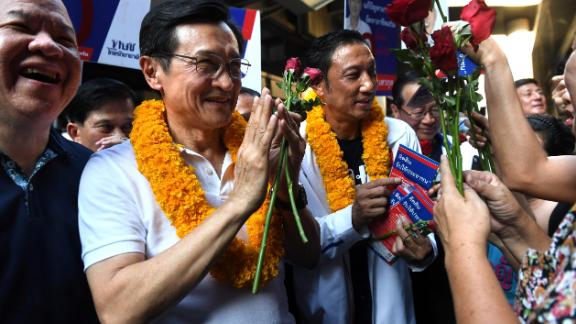 LILLIAN SUWANRUMPHA/AFP/Getty Images
Since seizing power in 2014, Prime Minister Prayut Chan-o-cha has consolidated the military's role in politics through an army-drafted 2017 constitution widely seen as designed to prevent Pheu Thai from returning to power and ensuring a continuing say for the army.
Analyst Paul Chambers said Tuesday's ruling should be interpreted as a "kangaroo court sham" – another tactic to block Pheu Thai from gaining a majority in the lower house.
"The ruling means that Thailand's courts are to be a major anti-Shinawatra force not only regarding the upcoming election but under Thailand's new frail democratic system," said Chambers, a lecturer at the College of Asean community studies at Thailand's Naresuan University. "We must remember that the judges now sitting on the Constitutional Court were endorsed by the junta."
Later this month, Thais will vote for the 500-seat lower house of parliament. But the 250-member upper house, or Senate, will be chosen entirely by the military.